Kyong Eun Oh
Associate Professor
School of Library and Information Science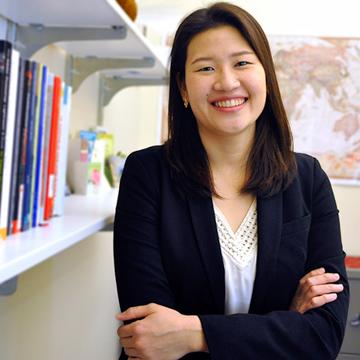 About Me
Kyong Eun Oh joined the Simmons SLIS faculty in the fall of 2013. She earned her Ph.D. at Rutgers University, School of Communication & Information. She received her M.A. in Library & Information Science from Yonsei University, and her B.A. in English Language & Literature as well as Library & Information Science from Yonsei University in Seoul, Korea.
Oh's research interests include categorization, information organizing behavior, and personal information management (PIM). In her dissertation research, she explored the process of organizing personal information from a cognitive sociological perspective, and developed a model that explains the process. Her dissertation, The Process of Organizing Personal Information, won the 2015 ALISE/Eugene Garfield Dissertation Award. She has been involved in a number of funded research projects including those funded by the National Science Foundation (NSF), Hewlett-Packard (HP) technology, the Center for Executive Leadership in Government (CELG), and the Korea Research Foundation (KRF).
Oh has taught undergraduate and graduate courses in information organization, metadata, research methods, and information technology. She is currently on the governing board of the Dublin Core Metadata Initiative (DCMI) and serves as a section editor of Open Information Science. Oh also served as a co-chair of the 2016 ALISE/Jean Tague-Sutcliffe Doctoral Student Poster Competition, the publicity chair of the 2015 International Conference on Asia-Pacific Digital Libraries (ICADL), and a program committee member of 2016 iConference. 
Kyong Eun Oh's Curriculum Vitae
What I Teach
LIS 415 Information Organization (masters)
LIS 445 Metadata (masters)
LIS 642 Applied Statistics for Library and Information Science (doctoral) 
LIS 488 Technology for Information Professionals (masters) 
LIS 403 Evaluation of Information Services (masters)
LIS 501 Independent Study (masters)
LIS 601 Independent Study for Doctoral Students (doctoral)
Research/Creative Activities
Kyong Eun Oh's primary research areas include information organization, information behavior, and personal information management. In particular, Oh investigates how people organize information and how classification influences the way people find and use information. At Simmons, she has been a faculty member of two research labs: Simmons Metadata Inquiries Lab (SMIL) and The Human Information Behavior (HIB) Research Group.
Information-Organizing and Information-Keeping Behavior
People organize their information in certain ways in their daily lives. Despite its importance and close relationship with our lives, little is known about information organizing behavior, especially what process people go through when organizing information. In a panel discussion presented in 2015 at the 78th Association for Information Science and Technology (ASIS&T) Annual Meeting in St. Louis, MO., Assistant Professor Kyong Eun Oh expressed the need to explore how people organize their personal information in everyday life.
The Use of Google Scholar and Academic Library Websites Among Academics
This study aims to investigate and compare the use of Google Scholar and academic library websites among academics including undergraduate students, graduate students, and professors/researchers. The purpose of this study is examining the use and efficacy of each site in finding scholarly information resources. To collect data, an online survey has been conducted with 978 academics in Research 1 public universities in the United States.
Mobile News Information Behavior: An Exploratory Diary Study
Over the summer of 2016, Professors Tang and Oh, together with their research assistant Alison Fisher, conducted data collection of an online diary research on mobile news behavior of undergraduate and graduate students in the US. Following the completion of their diary entries, a number of participants were involved in the follow up interviews. In Fall 2016, they continued a second wave of data collection. Currently the diary session is still ongoing.