Justin Jones
Professor of Practice and Associate Chair of the Physical Therapy Department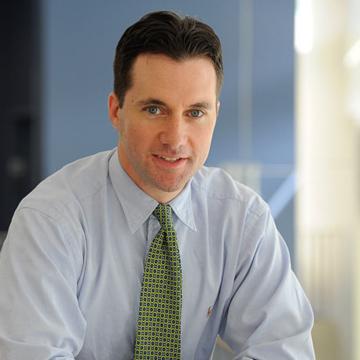 Education
DPT Physical Therapy, Graduate School for Health Sciences, Simmons University
Fellow Graduate, APTA Education Leadership Institute (ELI)
MSPT Physical Therapy, Graduate School for Health Sciences, Simmons University
B.S. Exercise Science, School of Public Health and Health Sciences, UMASS Amherst
License/Certification
Massachusetts licensed physical therapist since 1999
Orthopedic Certified Specialist (OCS) American Board of Physical Therapy Specialties
About Me
Growing up, and being involved in athletics, I have always been interested in how people maximize their functional potential as well as how they recover from injury and disease. Physical therapy has allowed me to pursue these interests from several perspectives. As a licensed physical therapist and board certified orthopedic clinical specialist, I treat patients with a variety of orthopedic conditions and have a specific focus and interest in complicated shoulder problems. Teaching at Simmons in the musculoskeletal sequence of the physical therapy program allows me to share my past and current clinical experiences with students in the classroom. This allows for a more dynamic and interactive lecture and lab experience, where I can utilize relevant clinical examples to highlight the content being taught. Additionally, working closely with research faculty, I have been able to look at the issues that I see clinically in combination with the material I teach and formulate research questions in collaboration with my colleagues who can put them into a laboratory based research study. I feel that this allows my clinical practice to inform my teaching, which informs my research. Ultimately, with the evolving technology and access to information that students have, my teaching philosophy is to maximize students time on campus with real life, hands on problem solving experiences that facilitate their growth as future clinicians and evidence based practitioners.
What I Teach
DPT 672 Frameworks of Physical Therapy Practice Musculoskeletal System I
DPT 673 Frameworks of Physical Therapy Practice Musculoskeletal System II
DPT 821 Advanced Topics in Musculoskeletal Physical Therapy
Research/Creative Activities
Kinematics and musculoskeletal adaptations to windmill pitching in softball, implications to injury mechanisms.
Scapular dyskinesis: mechanisms and relevance to shoulder pathology.
Publications
Peer Reviewed Publications
Seitz AL, McClelland RI, Jones WJ, Jean RA, Kardouni JR. A Comparison of Change in 3D Scapular Kinematics with Maximal Contractions and Force Production with Scapular Muscle Tests Between Asymptomatic Overhead Athletes with and without Scapular Dyskinesis. IJSPT June 2015
Book Chapters
Jones J. Subacromial Impingement Case Example. In Shamus E. ed Color Atlas of Physical Therapy. McGraw-Hill Publishers. New York, New York. 2013 www.accessphysiotherapy.com
Peer Reviewed Professional and Scientific Presentations
Jones J. Subacromial Impingement. In Shamus E, ed. Quick Answers Physiotherapy. McGraw-Hill Publishers, New York, New York, 2012. www.accessphysiotherapy.com

Jones WJ, Jean R, McCelland RI, Seitz A. Scapular muscle strength and 3D kinematics with maximal contractions in asymptomatic overhead athletes with scapular dyskinesis. Presented at APTA CSM 2015 Indianapolis, IN

Dashottar A, Leonard K, Jones WJ. Shoulder joint position impacts the internal rotation range of motion measurement in Softball athletes. Presented at APTA CSM 2015 Indianapolis, IN

Jones WJ, Jean R, Seitz AL. The Reliability of Rehabilitative Ultrasound Imaging to Assess Scapular Muscle Thickness in Individuals with Scapular Dyskinesis. Presented at the APTA Massachusetts Chapter Meeting 2012 Babson Park, MA
Professional Affiliations & Memberships
American Physical Therapy Association (1999-present)
MA Chapter APTA Shoulder special interest group (2008-present, served as treasurer from 1/09-1/13)
Awards
Teacher of the Year award: Simmons School of Nursing 2012