Jenna Stuebe Powers
Assistant Professor of Practice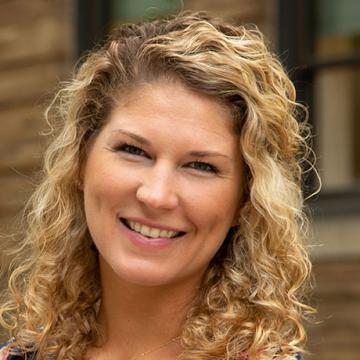 Education
Doctor of Physical Therapy, Quinnipiac University
Bachelor of Science, Health & Science Studies with Minor in Biology, Quinnipiac University
License/Certifications
Licensed Physical Therapist, Commonwealth of Massachusetts
APTA American Board of Physical Therapy Specialists: Board Certified Specialist in Cardiovascular & Pulmonary Physical Therapy
About Me
Dr. Powers started as an adjunct faculty member at Simmons in 2017 and transitioned to a full-time faculty member in 2019. She has worked as an acute care physical therapist since 2013 in states including NJ, RI and MA. Dr. Powers continues to actively practice as a clinical specialist at Brigham & Women's Hospital in Boston, MA where she started as a resident of their Cardiovascular & Pulmonary PT Residency Program in 2016. She is now a faculty member for the program. Clinically, her areas of expertise include the cardiovascular and pulmonary populations, more specifically patients with complex critical illness, patients with heart failure, patients that are status post cardiac surgery, patients with chronic pulmonary conditions and patients undergoing heart and/or lung transplant. Dr. Powers is very passionate about patient education and empowering patients to be an active participant in the management of their health and wellness.
Transitioning from being a full-time clinician to faculty member, Dr. Powers loves sharing her clinical experiences with students. She emphasizes the importance of breaking down concepts in a way that allows for retention and mastery that can continue to be developed. It is her goal to foster her students to become autonomous practitioners as well as well-respected members of patients' interdisciplinary medical teams.
When she is not teaching or caring for patients, Dr. Powers values time for fitness and spending time with her family and friends. Nothing makes her happier than a beach or boat day on Cape Cod with her husband and their golden retriever, Cora!
Area of Expertise
Cardiovascular and Pulmonary PT
What I Teach
DPT 631 Clinical Medicine
DPT 713 Professional Seminar
DPT 772 Frameworks for Physical Therapy Practice: Cardiovascular & Pulmonary Systems
SNHS 450 The Health Care System: Interdisciplinary Perspectives
DPT Research Advisor
Publications/Presentations
Stuebe, J et al. A Pragmatic Preoperative Prediction Score for Nonhome Discharge After Cardiac Operations. The Annals of Thoracic Surgery. 2017; 105(5): 1384 –1391.
Kras A, Powers JS, Rydingsward J, Rae P. We Know We Can... but How? Building Successful Mobility Programs for Patients Requiring Mechanical Ventilation. Accepted for presentation at 2022 Combined Sections Meeting; APTA Academy of Acute Care, San Antonio, TX.
Kras A, Powers JS, Rydingsward J, Sullivan SK. Thinking Critically About the Critically Ill: Working with Patients on Temporary Mechanical Circulatory Support. Presented at 2021 Combined Sections Meeting; APTA Academy of Cardiovascular & Pulmonary PT, Virtual.
Kras A, Mellett L, Stuebe J, Rydingsward J. Advanced Heart Failure: Physical Therapy Across the Continuum of Care. Presented at 2019 Combined Sections Meeting; APTA Academy of Cardiovascular & Pulmonary PT, Washington, DC.
Professional Affiliations & Memberships
American Physical Therapy Association
Brigham & Women's Hospital