Janie Ward
Professor Emerita
Critical Race, Gender, and Cultural Studies
Education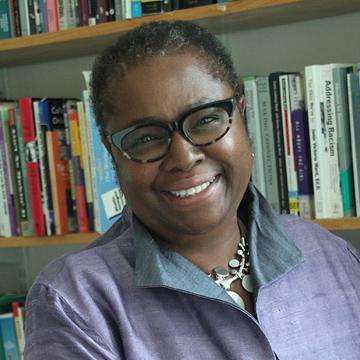 Education
B.F.A., New York University
M.Ed. Counseling and Consulting Psychology, Harvard Graduate School of Education
Ed. D. Human Development, Harvard Graduate School of Education
About Me
I am the co-editor of three books, Mapping the Moral Domain: A Contribution of Women's Thinking to Psychological Theory and Research (Harvard University Press, 1988), Souls Looking Back: Life Stories of Growing Up Black (Routledge, 1999) and Gender and Teaching, with Frances Maher, published in 2001 by Lawrence Erlbaum. I also wrote the book, The Skin We're In: Teaching Our Children to be Emotionally Strong, Socially Smart and Spiritually Connected (Free Press/Simon and Schuster, 2000).
In 1990-92 I was the recipient of a Rockefeller Foundation Postdoctoral Fellowship at the Center for the Study of Black Literature and Culture, University of Pennsylvania, and in 1996-97 I was a Visiting Scholar at the Wellesley College Centers for Women. From 2000-2003, I served as the Director for the Alliance on Gender, Culture and School Practice at Harvard Graduate School of Education. With Harvard Professor Wendy Luttrell, I was Co-Principal Investigator of Project ASSERT, a five-year school based research study and curriculum development project exploring issues of gender, culture and school practice for urban elementary and middle school teachers. This project ended in 2006.
What I Teach
AST 101 Intro to Africana Studies
AST 102 Black American Cultures and Society
AST 275 Soul, Funk and Civil Rights
GEDUC 445 Educational Psychology
Research/Creative Activities
For over twenty years my professional work and research interests have centered on the developmental issues of African American adolescents, focusing on identity and moral development in African American girls and boys. Along with my teaching responsibilities I work with youth counselors, secondary school educators and other practitioners in a variety of school-based and out-of-school settings. I recently completed a study of socialization practices of White mothers of Chinese daughters and a chapter on educational and clinical interventions with children in schools against everyday colorism.