Eric Luth
Assistant Professor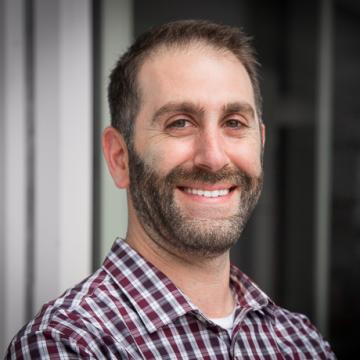 Education
Ph.D. Neurobiology Harvard Medical School (2014)
BA Biology (concentration in Neuroscience) Colby College (2005)
About Me
I am a neurobiologist who is passionate about teaching and training scientists. I have investigated several questions related to cellular and molecular mechanisms of neurologic disease during my career. While at Harvard Medical School, I purified a Parkinson's disease-associated protein from human brain tissue and explored the effect of toxic forms of this protein. Over the last several years, I have been using cellular, molecular, genetic, and behavioral approaches to identify and characterize genes that regulate the development and function of neuronal connection with the hope of better understanding how these processes can go awry in the context of disease.
My overarching goal, one that motivates each aspect of my role as a Simmons faculty member, is that I want students to see themselves as capable and integral members of the scientific community. I strive to help them understand scientific concepts and processes, gain experience and confidence communicating science to others, and feel welcome and empowered as a scientist.
In my free time I enjoy going for walks in the woods with my family and taking (far too many) pictures.
What I Teach
Neurobiology (BIOL 334)
Seminar in Neuroscience (NB 347)
Animal Physiology (BIOL 222)
Anatomy and Physiology (BIOL 231)
Independent Lab Research (BIOL 350)
Research/Internship Experiences in Biology
Research/Creative Activities
Our entire experience of the world and our ability to interact with it relies on neurons communicating effectively with each other. This happens at specialized connections called synapses where neurons send and receive neurotransmitter signals. My lab uses cellular, molecular, genetic, and behavioral approaches to investigate how these connections form, stay strong, and change in the face of disease or environmental contamination.
Collaboration is at the heart of my research program. Through collaborations with Harvard Medical School, Tufts University School of Medicine, and internally within Simmons, my students and I are working to validate potential new drug targets to treat Parkinson's disease, explore the adverse effects of "forever chemicals" on the nervous system, and discover more about the cellular mechanisms that underlie learning and memory.
To address these challenges, we enlist the help of a small, but powerful organism: the microscopic worm C. elegans. These worms have a completely defined nervous system (meaning we know the precise location of all their neurons and their connections to each other) and carry out behaviors associated with the function of specific neuronal circuits. Best of all, they're transparent. This means we can observe the abundance, localization, and movement of fluorescent proteins in intact, living animals, and we can use optogenetics to activate individual neurons with light to trigger specific behaviors!
Research has taught me how to collaborate, ask critical questions, solve problems, be resilient in the face of challenges, and communicate with a variety of audiences. I feel strongly that these transferable skills are useful to all students regardless of whether they choose a career in biology.