Colleen Kiely
Professor and Department Chair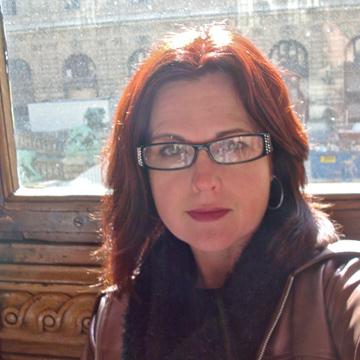 About Me
Colleen Kiely is Associate Professor of Art and has taught studio art courses at Simmons University since 2005. In addition to her regular rotation of courses, Kiely designed a unique upper level studio seminar for Simmons titled "Looking at Herself: Contemporary Women Artists and the Female Body". This course focuses on contemporary figuration by women artists in all media, exploring issues of gender and feminist art practices. Prior to joining Simmons, she taught at institutions including Bowdoin College, Massachusetts College of Art, School of the Museum of Fine Arts, Northeastern University and Montserrat College of Art.
Kiely is an artist whose work explores preconceptions of taste, class and meaning. Kiely's paintings and drawings are inspired by vernacular visual culture, including consumer gift items, devotional imagery and snapshots of daily life. Her work has been exhibited widely in museums and galleries in New England including the Museum of Fine Arts, Boston, The Institute of Contemporary Art and The Rose Art Museum at Brandeis. It has also been exhibited in New York, Chicago and New Delhi. Kiely has received numerous awards including the Bunting Fellowship at the Radcliffe Institute at Harvard University and three fellowships at The MacDowell Colony. Her paintings and drawings are represented in private and public collections including Fidelity Corporation, The Boston Athenaeum and The DeCordova Museum. Kiely earned her B.F.A. in painting from Rhode Island School of Design and her M.F.A. in painting from the School of the Museum of Fine Arts. Her work can be viewed at www.colleenkiely.com.
What I Teach
Art 111 Draw What You See
Art 112 Color Studio
Art 183 Life Drawing
Art 211 Drawing II: Contemporary Visions
Art 213 Painting I: Observation to Expression
Art 222 Collage & Mixed Media
Art 231 Special Topics in Studio Art
Art 331 Special Topics in Studio Art
Research/Creative Activities
Beau: Model, Muse and Collaborator
Colleen Kiely's current body of work with Beau, her eleven-year old basset hound, is a natural extension and inversion of that tradition. Rooted in observation, these images can be seen in many ways - portraits of Beau; documentation of an intimate relationship; a questioning of the contemporary portrait genre and a conversation with art history; an embrace of the ephemeral and a nod to mortality; explorations of the formal language of painting and drawing; and perhaps most of all, embodiments of love.