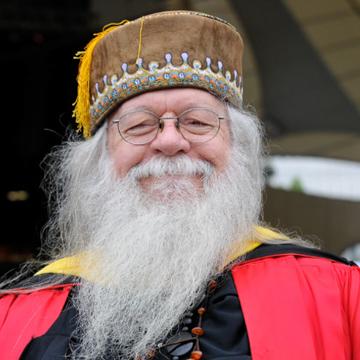 Education
A.B. - College of the Holy Cross
M.S. - Boston University School of Public Communication
Certificate - School of the Museum of Fine Arts, Boston
About Me
I consider myself to be "The Luckiest Boy In The World." I love to teach, I love to write, and I love to make still and moving pictures. A student once gave me a recording of Neil Diamond's "Brother Love's Traveling Salvation Show," and told me this is what my class was like. My love of film began around the time that I started going to the movies when I was about eight years old. Television was one thing, but the big screen was BIG. I started making little films with my family's home movie camera. In college I discovered a world of films beyond Hollywood, which were really examples of film as art and literature.When I came to Simmons I produced each class as I would a film. My classroom is a theater and the lecture is like the Traveling Salvation Show. My specialty is computer animation, and I make about one short animated movie each year.
What I Teach
Communications Media
Serves as an introduction to communication arts and theory, and the world of still and moving pictures. Involves the analysis of media from the point of view of the audience, and the production of media from the point of view of the communicator. Numerous screenings supplement examples and exercises in film, animation, multimedia, and the graphic arts. The atmosphere of the classroom is a media environment: a comfortable theater supported by light and sound.
Video Production
Explores the working methods and production of narrative, personal, documentary, and music video filmmaking. Examines historical examples from Maya Deren to the present, and requires students to plan, shoot, and edit their own short pieces. A course for women who want to make movies, it teaches the variety of conditions that lead to the creation of professional productions.
Animation
Introduces the technology of three-dimensional computer animation, grounded in the history of traditional animation, applied creatively to individual projects.