Meet Dean Norman
Dr. Brian Norman is the Dean of The Gwen Ifill College of Media, Arts, and Humanities. He is a scholar of American and African American literature, professor of English, and academic administrator.
It's an exciting time at Simmons. I feel fortunate to be aboard and I hope you will, too. It is inspiring to name a new college after alumna Gwen Ifill and her legacy of professional achievement, intellectual curiosity, civic engagement, and inclusive community.
With the launch of the Gwen Ifill College of Media, Arts, and Humanities, Simmons has an opportunity to show the world what is possible through a transformative education that equips students to become lifelong leaders in their professions and in their communities. We know the arts, media, and humanities are central to a healthy, diverse, and vibrant democracy. We also know that engagement with these fields equips students for lives of purpose and success. Ifill graduates aren't only equipped to land first jobs -- and they do! -- they also have the skills, talent, and confidence to pursue lives and careers that make a lasting difference.
Central to that transformative education is the faculty. In Ifill College, we have writers, artists, historians, philosophers, activists, archivists, readers, journalists, musicians, and intellectuals, all of whom are devoted to drawing on the best of their fields to help graduate and undergraduate students make sense of the world and find their places within it. Students can trace women's changing roles with a noted historian or literature scholar, explore race relations with an education professional or arts administrator, learn the art of typography or public relations with skilled professionals, or learn about contemporary publishing at the Center for the Study of Children's Literature. Students also get first-hand experience with courses that go into the city of Boston, internships at the state house, jobs at the campus radio station or art gallery, student-designed research projects, or dean's fellowships to engage the academic life of one of our departments.
Since its founding in 1899, Simmons has been committed to an education that empowers women, an expansive vision of leadership, and a thoughtful integration of the liberal arts and preparation for work in the world. In many ways, the rest of higher education is catching up.
Me? I've got my eyes on our students: they will show us what the future can look like. Come join us.
Brian Norman, Ph.D.
Dean, The Gwen Ifill College of Media, Arts, and Humanities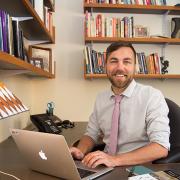 Brian Norman, Ph.D.
Dean, The Gwen Ifill College of Media, Arts, and Humanities