Accessibility Services
At Simmons University, we are committed to the full participation of all students in our programs and activities. Simmons University is mandated by Section 504 of the Rehabilitation Act of 1973 and the Americans with Disabilities Act of 1990 to provide equal access to facilities, educational and co-curricular programs, campus activities, and employment opportunities to qualified individuals with disabilities. The University makes every effort to provide reasonable accommodations so that students can be ensured equal access and works to remove any barriers which may prevent this from happening.
Please see the information on this website to help answer your questions. Students will find information in the left menu: Accessibility Services. Faculty will find information in the first tile below: Information for Faculty.
Office of Accessibility Services (OAS) COVID-19 Information:
The Office of Accessibility Services (OAS) is providing remote virtual support during the COVID-19 pandemic and ensures that continuous support will be available to students, parents, staff, and faculty throughout this period. OAS is available Monday through Friday, 8:30 a.m. to 4:30 p.m. In addition, OAS staff are able to provide flexible Zoom meeting times in the early evening if necessary to fit individual schedules.
OAS is best reached by email at [email protected]. You may still call our front office at 617-521-2658 if you wish and we will receive your voicemail. Please leave your preferred email address in your message.
---
About the Office of Accessibility Services
The Office of Accessibility Services(OAS), located in the Center for Student Success, is a strategy-based service that supports students in their academic endeavors both on the ground and online. Students registered with OAS are expected to adhere to the same academic and behavioral standards as the rest of the University. A student's initial connection and ongoing interaction with OAS is self-propelled. Accommodations are applied on a prospective basis - students are not entitled to have accommodations applied on a retroactive basis.
We invite you to contact the Office of Accessibility Services at [email protected] with any questions or concerns. You are welcome to make an appointment and visit us in the Center for Student Success, on the Ground Floor of Lefavour Hall. Please refer to this Simmons Access Info Sheet. We look forward to working with you!
The following information will help you to learn how to register with the OAS; how to schedule use of the Testing Center for assessments (exams and quizzes); and other important information. Please note: students must be fully registered and receive confirmation of eligibility before requests for academic accommodations can be made.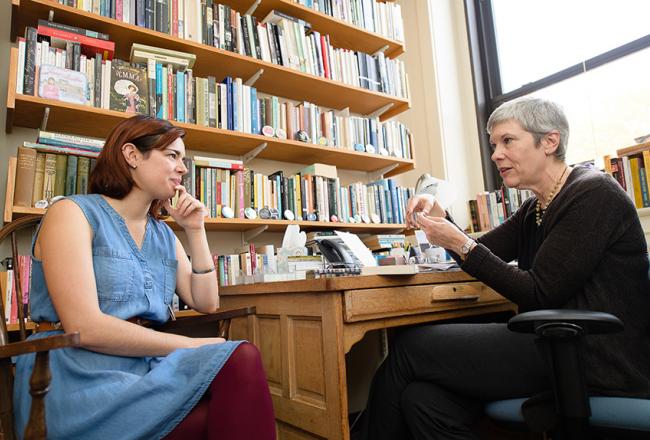 Information for Faculty
The Office of Accessibility Services collaborates with faculty and staff across Simmons University. Our goal is to provide you with information for most frequently asked questions. Please do not hesitate to reach out to us with any other questions!
Information for Faculty
Accessibility Services
On Ground and Online Programs
(617) 521-2658

Monday - Friday 8:30 a.m. - 4:30 p.m.

Onground: Center for Student Success, Ground Floor, Lefavour Hall | Online: Remote
Brianna Giacoppe
Accessibility Coordinator (Online)