Abel Djassi Amado
Associate Professor
Political Science & International Relations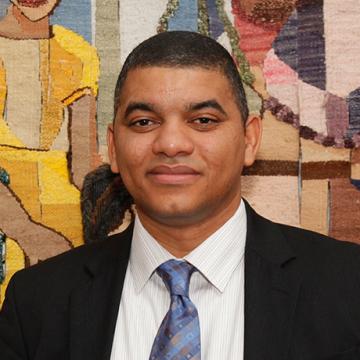 About Me
Abel Djassi Amado joined the Simmons University Department of Political Science and International Relations in 2016. He did his undergraduate studies in International Relations at Technical University of Lisbon, Portugal, and in Political science at UMass Boston. He holds a PhD in Political Science/African Studies from Boston University. Prior to joining Simmons University, Amado had taught in other universities and colleges in Massachusetts and Rhode Island. He has also co-directed the University of Rhode Island Summer Abroad in Cabo Verde for many years. Amado is an active board member of the West African Research Association (WARA), a US-based non-profit scholarly organization that promotes investigation and study of West African issues and encourages academic linkages between scholars on the two sides of Atlantic.
Beyond academia, Abel Djassi is an engaged member of the Cabo Verdean community in New England. He served as secretary to the Nos di Tchada i Amigos, Inc. and he was a board member of the now defunct National Alliance of Cabo Verdean Organizations (NACVO). His social activities also include writing for the Political Matter, an international blog focusing on African political affairs, where he analyzes domestic and international politics of Cabo Verde. Abel Djassi is married to Helia Resies and the two have a daughter, Kenya Maria.
What I Teach
POLS 101 Introduction to American Politics
POLS 215 Politics of Exclusion
POLS 242 Government and Politics of Africa
Research/Creative Activities
Abel Djassi's main area of expertise and research is the African countries with Portuguese as an official language (known by the Portuguese acronym, PALOP). He pursues three major research lines: The first and primary line of research is the relationship between language policy and planning and the quality of democracy in post-colonial African states. He is interested in understanding the extent to which post-colonial language policy has created a state that is linguistically distant from its respective society. He has published an article and a book chapter on this topic. He is currently working on a book manuscript on the topic deriving from his doctoral thesis.
A second line of research relates to political history of anti-colonial nationalism in the PALOP. As a historical institutionalist, Abel Djassi understands that history matters. The understanding of contemporary political affairs in the PALOP must emphasize the period of liberation struggle—which set in motion both a path dependency while it constituted a critical juncture in their political history. He is researching for publication about political history of the PAIGC, the liberation movement that led the struggle for independence in Guinea-Bissau and Cabo Verde.
Lastly, Abel Djassi also writes about foreign policy and diplomatic relations of the PALOP. He has written two book chapters on the topic. He has written two book chapters on the diplomatic history between the United States and Cabo Verde. He is particularly interested in the new pattern of relationship between those two states, which has moved towards militarization and securitization.
Professional Affiliations & Memberships
African Politics Conference Group
Lusophone Africa Studies Organization