Alumnae/i Feature
Whitney Andrews '11 Applies Creativity to Financial Planning Role at L'Oréal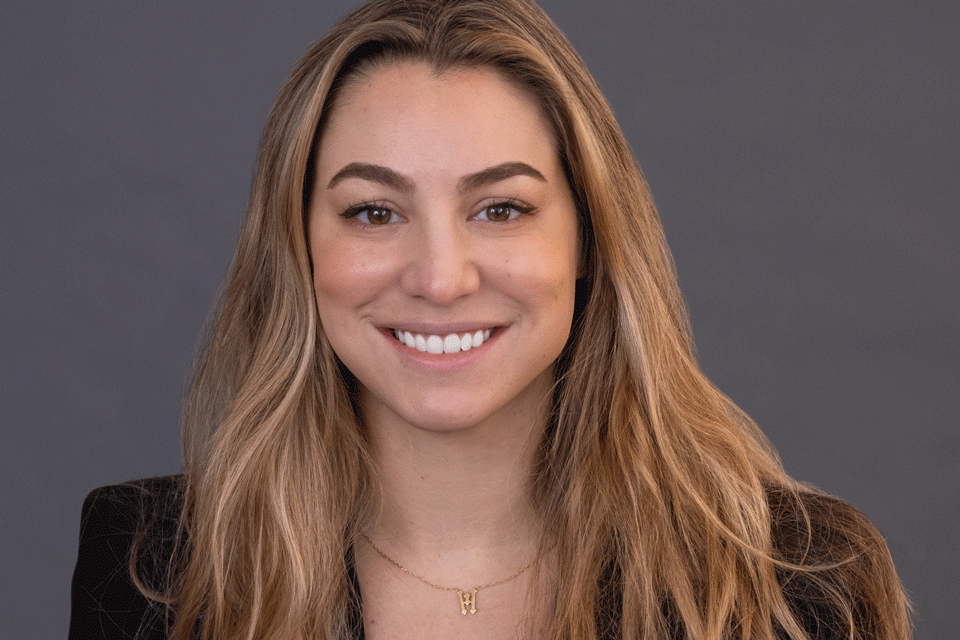 Creativity can be used in looking at processes and envisioning how things can evolve, and being comfortable with that exploration. It's definitely a misconception that business is rigid and doesn't allow for creativity.
Whitney Andrews '11 is an abstract thinker. While pursuing a dual major in art and mathematics at Simmons, she found more to connect the two fields of study than one would expect.
"The math curriculum at Simmons is very focused on theory," Andrews recalls. "The bridge between math and art is conceptual thinking. I enjoy that aspect, thinking abstractly about concepts before taking them to a place of application."
Now a financial planning and analysis (FP&A) manager at L'Oréal, she chose Simmons for her undergraduate degree because it allowed her to explore her disparate interests. "Math and art are my two passions. I draw and paint and love art history, but I also love math and quantitative analysis."
Simmons offered the flexibility she needed, along with smaller class sizes and personalized academic instruction. "I didn't actively seek out an all-women's college, but it ended up being a really good choice for me. The safe environment helped me focus on academics, learn, and explore. Simmons was exactly what I needed to build my confidence and learn leadership skills."
The location was another benefit, next door to the Isabella Stewart Gardner Museum and walking distance to the Museum of Fine Arts Boston. "The Gardner is such a unique space, and I loved the ability to pop over in between classes," she recalls. "What a treat to have it right next to campus." While at Simmons, she took the travel course, Arts Administration Institute/New York City, where students saw the inner workings of art institutions. "Now I'm a member of a lot of museums in the city — I indulge in art as a patron. This was ignited by that course."
Simmons was exactly what I needed to build my confidence and learn leadership skills.
Her current role is analytical, but it does require abstract thinking. "Accounting is a function of record-keeping and looking back in time," she explains. "The FP&A role is about looking forward in time. You are helping to align financial goals to business plans, working with cross-functional partners to achieve those goals and achieve a positive outcome."
Andrews works closely with marketing and sales departments to ensure sound financial decisions across the company. "Creativity can be used in looking at processes and envisioning how things can evolve, and being comfortable with that exploration. It's definitely a misconception that business is rigid and doesn't allow for creativity."
The ability to be flexible in a changing environment has led to job growth. Recently, Andrews has been working on forecasting and building a business plan for a small business L'Oreal acquired recently. "Integrating a smaller business into a large global conglomerate required the ability to create processes and structures. I had shown that I could be flexible, adjusting on the fly as business changed, especially in the last year. I was seen as someone who could decisively lead projects and be comfortable working in an unstructured environment."
Simmons planted the seeds for that leadership. "Simmons taught me to have confidence in my voice and share my opinions." She was also able to think critically about what it means to be a female in a male-dominated environment. "Even in a large beauty company, finance is still dominated by men. Empathy, graciousness, and kindness are powerful traits for a leader. To some degree, you are in service to the people who work for you. You want to understand them and their needs, motivate them, and make them feel included. Kindness is an underrated leadership skill, I think, and it doesn't have to conflict with strength."
Andrews still promotes the benefits of a liberal arts education and urges current students not to worry too much about having a clear-cut career path. "You definitely don't need to know exactly what you're going to do. Be honest about your strengths, but know that you can pivot and try something new. Even if you have a path, chances are you'll diverge from it."
She is also happy to continue drawing for personal enjoyment. "For people with creative passions, there is an urge to integrate that work into what you do for a living. But it's also okay to delineate between the two and keep the creative work for yourself as a way to decompress."