Student Story
Theo Hatfield '25 Presents Research at the American Society of Cell Biology Conference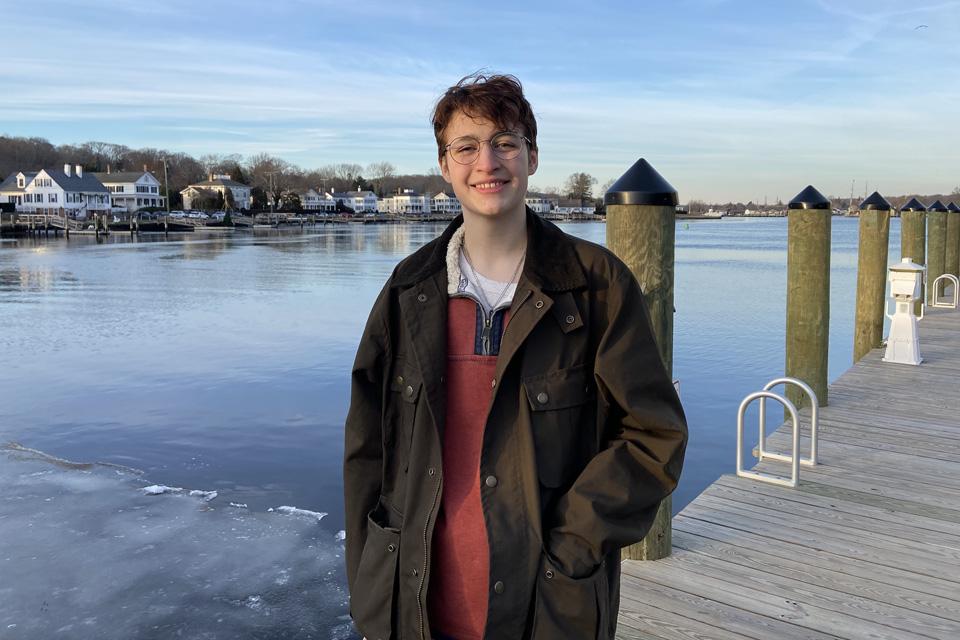 In December of 2022, Simmons student Theo Hatfield attended the American Society of Cell Biology (ASCB) annual conference, which took place in Washington D.C. Hatfield spoke with us about their original research and conference experience.
Why did you decide to attend the ASCB conference this year?
My advisor, Assistant Professor of Biology Seth Johnson, invited me to present my current research at the conference. He convinced me that it would be a good idea to share my findings with other scientists beyond our lab. I also wanted to take advantage of the opportunity to meet people within the field.
Tell us about the research you presented at the conference.
I did a poster presentation. Basically, presenters bring a poster that details our introduction, data, analysis, conclusions, and next steps. We stand by our poster for about a two-hour period, during which conference attendees may approach us and ask us questions about our research. These interactions often evolve into meaningful intellectual exchanges.
My project is entitled "The Neurobiological Basis of Tourette Syndrome: A Behavioral Assessment of the Drosophila gene Atg8a." This research focuses on the neurological background of Tourette Syndrome (TS), which is a complex, stigmatized, and misunderstood condition primarily characterized by vocal and motor tics. I conducted experiments on Drosophila melanogaster (the common fruit fly) to better understand the neurobiology driving TS.
Did you enjoy any meaningful interactions with leading researchers in the field?
I met many wonderful researchers at the ASCB conference and made connections with them. I really connected with a certain professor from the University of New Mexico, as we both do a lot of behavioral research. She also pointed me toward other professors that I should contact in the future who work on comparable projects that involve fruit flies.
I met several undergraduates who were also doing poster presentations. It was fun to connect with them and share our first conference experience together.
Were there any particularly memorable panels that you attended?
The panels I attended produced many great insights. For instance, my project involves autophagy, which is a cell's natural recycling process for any used or damaged parts. At the conference there were many wonderful, cutting-edge talks on autophagy.
I also attended engaging panels that discussed how art can be integrated into science. I found these talks very inspiring.
Moreover, I learned from experts working on how experiences, such as adverse childhood experiences, affect fear response and the brain in mice. This is an interesting approach to neurobiology.
How does attending this conference support your career goals?
This helped me connect with key people in the field. I also took away tips on how to improve my presentation style and what equipment to bring to a conference. Being in this new academic space was a huge learning curve, and I received feedback on my work from experienced scientists.
One attendee who came to my poster introduced me to a more effective way of reviewing my video footage of fruit flies grooming. Previously, I had been assessing the video content manually, which was very tedious and time consuming. The scholar I met at the ASCB conference told me about a software that enables researchers to automate behavioral observation in mouse models. I hope to adapt this method to apply it to Drosophila.
How did you decide on your major?
I am a Neuroscience and Behavior major on the Neurobiology track. Originally, I entered Simmons as a Nursing major, but I wanted to take different sciences courses than nurses traditionally take. At one point, I ended up in Professor Johnson's lab section. I worked with him to become involved in the SURPASs program [Summer Undergraduate Research Program at Simmons] over the summer, which is when I conducted the majority of my current research on TS. I eventually made the switch to Neuroscience.
Why did you choose Simmons?
When I visited the campus in the spring of 2021, I was really impressed by the community at Simmons. The health sciences program is very strong, and I like the fact that Simmons lies in close proximity to the Longwood medical campus. I attended an open house event, and everyone was so nice and helpful.
What are your plans after graduation?
I plan to pursue an M.D./Ph.D. program. I see myself working in some neurology-based field and practicing as a neurologist, but I have not yet selected an area of specialization. Combining the M.D. and Ph.D. degrees really prepares you for work in a clinical research lab. This will also help me explore a field that is not typically featured in traditional medical school.