Faculty Spotlight
Teaching Social Workers to Work with the Marginalized with Associate Professor Eugenia Knight '97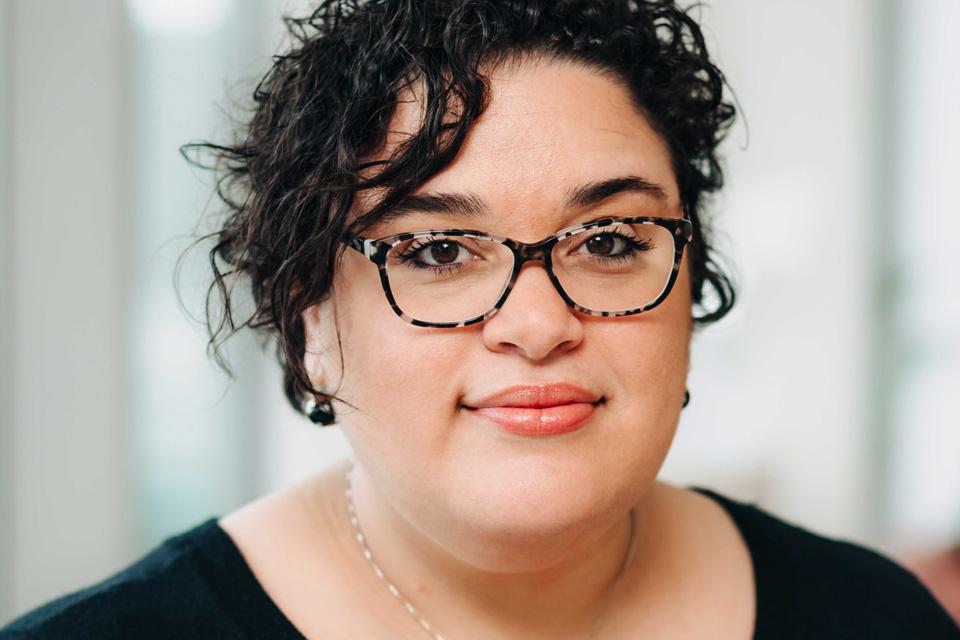 Eugenia Knight '97 is Associate professor of practice and director of field education for Master of Social Work. In March 2022, Knight was named the 2022-23 Center for Faculty Excellence Faculty Fellow for Teaching and Learning. For her year-long appointment she will work with the Center to support existing programming and implement an innovative teaching project of her own.
Why did you decide to attend Simmons?
As a first generation college student, I was on my own investigating schools. I attended an exam school in Boston that focused on math and science, and my physics teacher said to me, "You're a Simmons girl.""" He brought me to Simmons to meet a professor in the biology department, and I was granted a full scholarship.
What made you choose to pursue Africana Studies/Sociology/Human Services?
When I saw the course catalog, I was overwhelmed by the vast opportunities for interesting courses. Being from an immigrant family, I was interested in activism, human service, and public policy and was drawn to those courses. Because I excelled academically in high school, I was able to take tests to waive some required courses, which gave me more time to take courses that interested me.
How did Afro-American Studies impact your studies in Sociology/Human Services?
Initially, I didn't see these studies as connected. My pursuit of Africana Studies was very personal. My father was an immigrant from West Africa, and I was aware of significant omissions and curated narratives about Africa that I didn't trust. I needed to pursue the truth. I took so many courses in Africana Studies, based on personal interest, that I realized I only needed to take the Introduction course to add it as a third major.
In many ways, Africana Studies gave me a framework for assessing inequity, as well as the confidence to choose my educational path. That said, I was accustomed to paving my own way: my mother didn't speak English, so as the eldest child I was her connection to the world. I've worked since I was eleven years old and was aware of my family's financial burdens. I felt a deep sense of responsibility, even helping to parent my younger siblings.
How have these studies influenced your career?
My studies at Simmons connected me to leaders I identified with — visionaries and disruptors. I fell in love with them! As a student of history, I could see what approaches worked and what didn't work. I connected with Marcus Garvey, because my mother is from the Caribbean. I was so moved by speeches and writing and philosophy of these leaders, it was like a church experience. That informs how I look at the world and what I challenge. Now I have three teenage daughters, and I teach them to think critically and to challenge others to do the same.
What do you find most rewarding about your current role at Simmons?
I see my current role as harm reduction to marginalized communities. I was a social worker for 20 years before I became an educator, and I saw harm being done to my community by well-meaning social workers. When I can create transformative learning opportunities because of my approach, or my intersectional identities and experiences with other identities, that enhances the educational experience in a way that is unique to me and my experience. I transitioned from first generation college student to faculty member, and I remember the flood of emotions I felt of being accepted, just as I felt as a student. It's an honor to be here.
In my previous role as director of the Bachelor of Social Work, I immersed myself in teaching courses throughout the curriculum to explore aspects that could be revised to more intentionally address racism and identify and dismantle inequity. Now, as director of field education in the MSW, I meet with faculty and discuss how we can undo racism in our curriculum while supporting our field instructors. There is significantly more support for this work, now.
When Simmons was motivated to diversify the faculty, I made clear that we will need to supervise and support faculty of color through microaggressions and other issues that may arise. Also, students of color will often come to me by default, even if I'm not their advisor, in need of that support and safe space. We need to support the faculty of color who may carry higher workloads because of their identities.
Advice for students who are considering (or should consider) a major or minor in Africana Studies?
If you're living in this country, consider a minor in Africana Studies. You don't need to start with the Introductory course — take a course that's interesting to you. I started with an art course because I love the arts.