Alumnae/i Feature
Supporting Veterans through Librarianship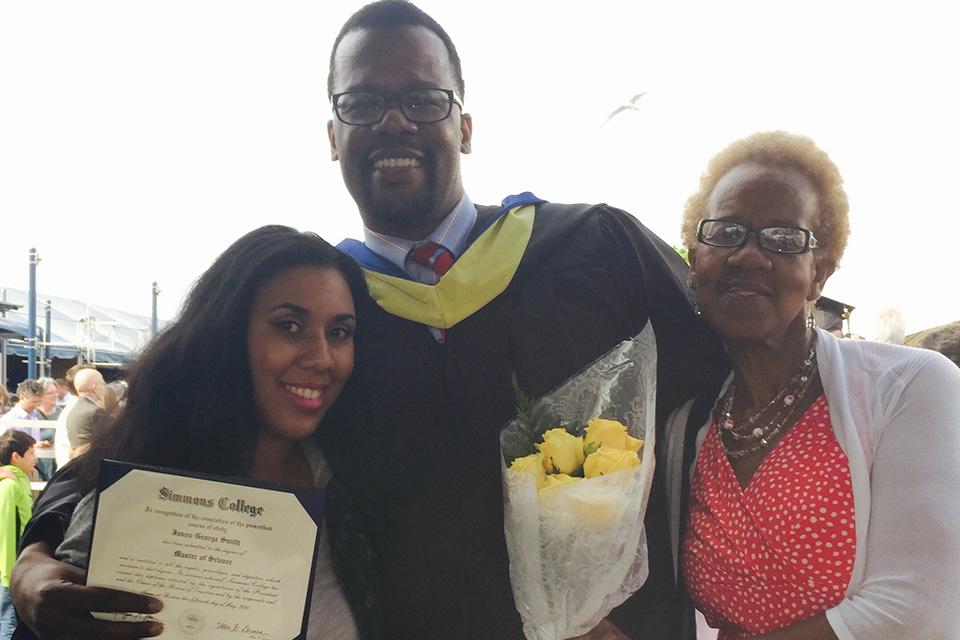 A Q&A with Jason Smith '15LS, Medical Librarian at the Department of Veterans Affairs
What inspired you to attend SLIS after your time in the military?
After serving in the Army, I wanted to use the educational benefits I had earned to get a college degree. I majored in Politics and Government at Bunker Hill Community College in Charlestown before finishing up my bachelor's degree in History at UMass Boston. At both I was required to complete what seemed like an endless number of research papers. Librarians and library staff were helpful and their assistance was instrumental to my academic success. As I completed my undergraduate work and looked for a career path I would enjoy, I thought of librarianship. 
How do you feel your SLIS experience prepared you for your current work?
My time at Simmons seemed to fly by. I genuinely enjoyed all of my courses. My instructors were knowledgeable and personable, and several experiences beyond  my coursework continue to hold meaning in this early stage in my career.
I was often told that I would learn more about being a librarian in my first few months on the job than I would in my entire time at library school. I've found this to be completely accurate. I have had exposure to databases, vocabulary, and organizational knowledge for which SLIS couldn't have possibly prepared me. At the same time, the ability to ingest, process, and repackage this new information was introduced to me and reinforced at Simmons.
I also actively sought to make personal relationships with my classmates, instructors, and internship hosts—anyone I came into contact with during my time at SLIS. Even before my first class, I met Dean Abels and a handful of other incoming students at an informal event at a cool little barbecue joint in Cambridge called Redbones. I still keep in touch with many of my classmates (now friends) through social media and ran into a couple of them at the ALA Midwinter Meeting in Boston. Dean Emeritus Jim Matarazzo was influential in helping me land a paid internship in a corporate library. The director of my capstone internship at the Massachusetts College of Pharmacy and Health Sciences (MCPHS) introduced me to my current senior colleague, the chief of library service for the Boston VA Healthcare System, who pushed extremely hard to get me hired into her organization. In short, my philosophy is "make every possible connection."
Can you share how your military experience has shaped your current career?
I served for three years as a combat medic in the US Army. I think this was a highlight of my resume when I was hired as a Special Projects Library Assistant at MCPHS, which involved entering information into a database that would eventually become a digital library of handwritten late 18th- and early 19th-century prescriptions. I made some meaningful contacts at MCPHS and even though that grant-funded position ended earlier than I had hoped, I was able to go back there as a general intern a few months later. My familiarity with medical terminology made my experience in both positions easier. Those pre-professional opportunities led directly to my current job. As I mentioned, the director of the MCPHS library is a friend of my senior colleague/supervisor. I interviewed the director as a requirement for my internship, and when he found out I was a veteran with a medical background he got the ball rolling that would eventually lead me to full-time employment.
What is it about your current job that you find satisfying?
I know my efforts support the medical treatment of my fellow veterans. It's the completion of a circle. One of the main things that attracted me to military service was the hope of earning a degree and having a career that was more fun than grind. I have accomplished that and now I get to apply my skills toward work that benefits people who I think deserve the best health care available.
What advice would you give to current students?
Have fun and make connections. The old adage, it's not "what you know" but "who you know," has merit at times. Everyone is in library school because they love information and its exchange in some form or another. We also entered the field because we want to find a job that involves doing something we enjoy. What might separate one student from others is a particular personal relationship they build. Your friend or your instructor or your internship host may just lead you to your dream job right out of SLIS.