Campus & Community
Successful Adaptations: Simmons World Challenge and Working Globally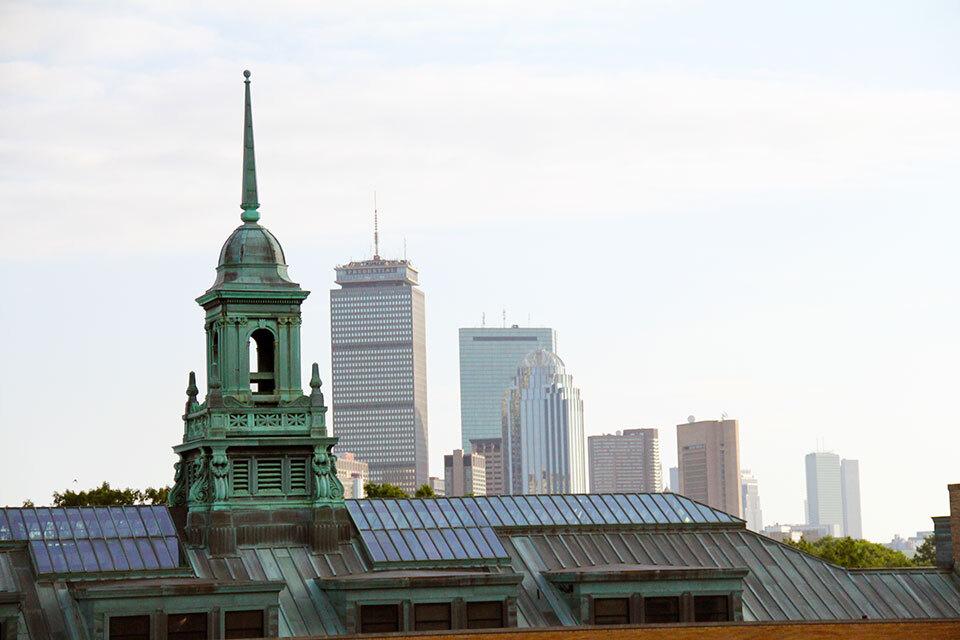 It was an excellent year. The skills the students learned aren't the same as those you learn on the ground, but they learned how to work in another country without actually being there.
— Associate Professor of Practice Kristina Pechulis
The Simmons World Challenge is all about learning from a global perspective.
"Students identify a local issue, then figure out what is happening statewide or globally to address it," says Kristina Pechulis, Associate Professor of Practice in Political Science & International Relations and Director of the Lee Family Foundation Fellowship Program. "This past year, we connected students with host offices in different countries to find out what these host organizations are doing to solve the identified problem."
As with all things, the World Challenge needed to adapt in 2020 due to travel disruptions caused by COVID-19. With global partners CAPA: The Global Education Network, SIT (School for International Training) Study Abroad, and API (Accommodations Plus International), Simmons placed students in remote internships around the world. "We wanted students to have a global experience, even though they couldn't travel," says Pechulis. "We found that interesting internships can happen remotely." The fall internships (six weeks) were hosted by organizations in Europe, the spring semester (12 weeks) was hosted by organizations in Asia.
Students focused on problems with a local and global scope, such as climate change, access to healthcare, and public health campaigns. They identified what the host organization was doing to solve that problem and researched strategies to address the issue locally.
Samantha Margolin '23, studying environmental science at Simmons, was assigned an internship with Innovative Urban Green in Shanghai, China, to research innovative and sustainable children's play structures for urban areas. "It was a little outside of my field," says Margolin, "but I got to bring the environmental perspective into my project."
That course has changed how I present myself, how I communicate my ideas... I gained a lot of confidence throughout the internship.
Margolin did about 25 hours per week of independent research, covering current theories about what children need in outdoor play areas and Chinese culture. "I met weekly with my mentor and two research assistants to go over what I had learned. The presentations became more image-based than text-based as the internship went on, to overcome the language barrier." Her research, which addresses an integrated approach to children's playground design, will be presented by the company at a convention for children's play structures.
The most challenging aspect of the internship for Margolin was finding the motivation for the independent research. "Once I took a more global approach, it caught my interest. I looked at what other countries are doing with their play structures and looked at it from an environmental perspective. It was much easier to spend those 25 hours per week working at it once it involved my own interests."
Margolin is taking some of those lessons and applying them to her interest in environmental science. "Our traditional approach to agriculture is not sustainable," she says. "I'm interested to learn more about hydroponics, urban farming — those technologies could revolutionize how we grow food."
Along with their internship, students attended a companion course, taught by a teacher from CAPA and featuring different guest speakers. "We learned about navigating different communication styles in a global setting and how best to represent your institution and your country in these settings," says Margolin. "That course has changed how I present myself, how I communicate my ideas. I learned problem-solving skills that I could apply to my internship in real-time. I gained a lot of confidence throughout the internship."
Students also participated in the API Abroad Virtual Innovation Lab, where they worked in teams with students worldwide to create a business model, using the United Nations Global Goals for sustainable development as a guide. 
"It was an excellent year," says Pechulis. "The skills the students learned aren't the same as those you learn on the ground, but they learned how to work in another country without actually being there. Sometimes that meant getting up for a meeting at six in the morning because of the time difference. They learned skills relevant to working globally. It was a different level of responsibility."