Faculty Spotlight
SLIS Lecturer Dr. Lisa Fagin Davis Discusses the Value of Medieval Manuscripts and Fragments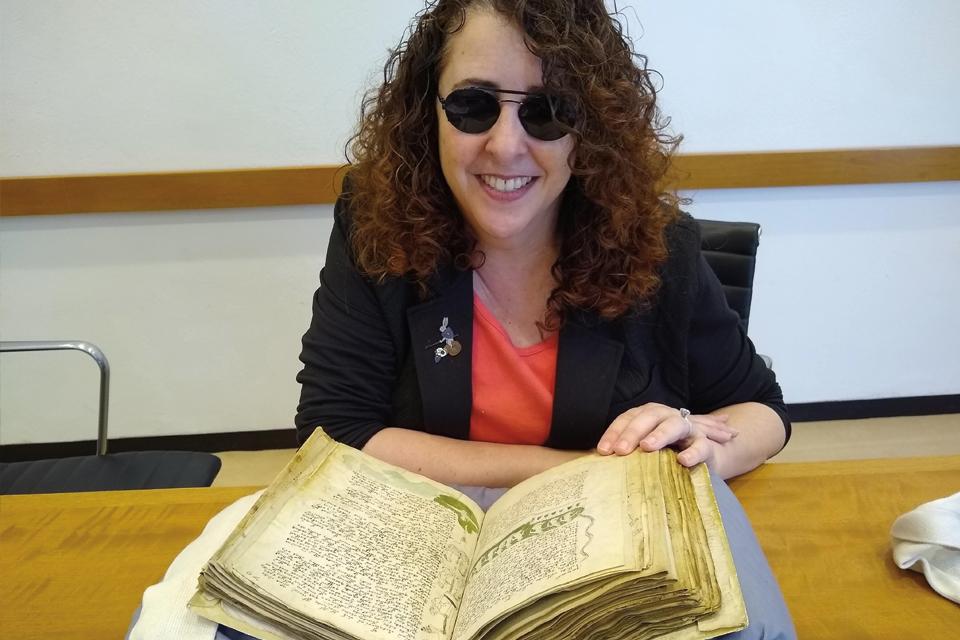 Dr. Lisa Fagin Davis, who teaches for SLIS, is passionate about medieval manuscripts. She directs the Medieval Academy of America and was recently featured on the Medievalists.net Podcast. Here Davis shares with us how a study of medieval artifacts can help train future librarians.
Can you explain what medieval manuscripts and fragments are?
Manuscripts are handwritten documents or books that are not mechanically printed (i.e., pre-Gutenberg). The definition of medieval is debatable; generally, we mean the period from the withdrawal of the Romans back to Italy in the third and fourth centuries through the 1500s. I work primarily in Western European languages, so the manuscripts I study are written in English, French, German, Spanish, and so forth. There are of course manuscripts from cultures all over the world, and mechanical printing was first developed in China several centuries before Gutenberg. Manuscripts are incredibly important artifacts from this period, and they preserve literature, art, decoration, music, science, and mathematics.
Many of them don't survive into modernity. However, there are hundreds of thousands of pieces of medieval and Renaissance manuscripts that do survive to the present day. In some cases, they fell apart, or were cut apart by collectors and scattered around the world. There are a lot of fragments in the United States because they are more affordable than a complete manuscript.
Why is it valuable to study fragments?
There are so many of them, especially in collections that don't have complete codices (bound books). And it is up to the librarians to catalog them so they are discoverable for researchers.
Why were so many manuscripts dismembered?
There are three eras of medieval manuscript fragmentation. The first is early modern recycling. Here binders would use leaves (single pages) of a parchment or a paper manuscript that had fallen apart or was out of date and used them as a binding structure for a new book. A lot of fragments come down to us from their use as bindings. Second, collectors in the 18th and early 19th centuries would cut out the illustrations of medieval manuscripts and put them in a frame. Finally, starting in the early 20th century rare book dealers and collectors would pull apart manuscripts and sell them by the page to increase their profits – this is a horrible thing and I would not recommend it.
How are you reconstructing medieval manuscripts digitally?
One of the most prolific persons who broke up manuscripts was Otto Ege, who lived and worked in Cleveland in the early 20th century and cut up and scattered hundreds of medieval manuscripts. Some of these manuscripts are very easily recognizable, so it is possible to identify multiple leaves that originally came from the same codex. We can use digital resources to reconstruct them. I started doing this with a manuscript called the Beauvais Missal, and I found 113 leaves from all over the world that belong to this manuscript.
Do Simmons students study fragments in your courses?
In my course at Simmons, "The Medieval Manuscript from Charlemagne to Gutenberg," the culminating project focuses on a manuscript that Otto Ege dismembered. Every student is assigned one leaf from the manuscript and has to catalog it according to the techniques we learned in class. Everyone works together to figure out the right sequence of pages. We also use a digital tool called Fragmentarium that helps with the reconstruction process. Once we have numerous leaves, we consider what we can learn about the manuscript that we did not know before. This project is often very successful and we have made numerous discoveries.
How does studying medieval manuscripts help prepare Simmons students for future careers as librarians, archivists, and curators?
There is nowhere else in the country where you can take a course quite like mine in library school. There are library schools that teach rare books, but they don't focus on manuscripts in North American collections. I am training my students in what they will likely encounter in the special collections world in this country. Most of these sources are not catalogued, so my students now know what to do with a miscellaneous box of fragments. They know how to catalog these artifacts and integrate them into databases. Most students coming out of library school do not have this specialized knowledge. Students can put this class on their CV and say that they created a record for this manuscript leaf. Their records live on the internet as a persistent URL, and students can point to this as a real marketable outcome when they apply for jobs.