Announcement
Simmons University Designated a Center for Academic Excellence in Cybersecurity Education by NSA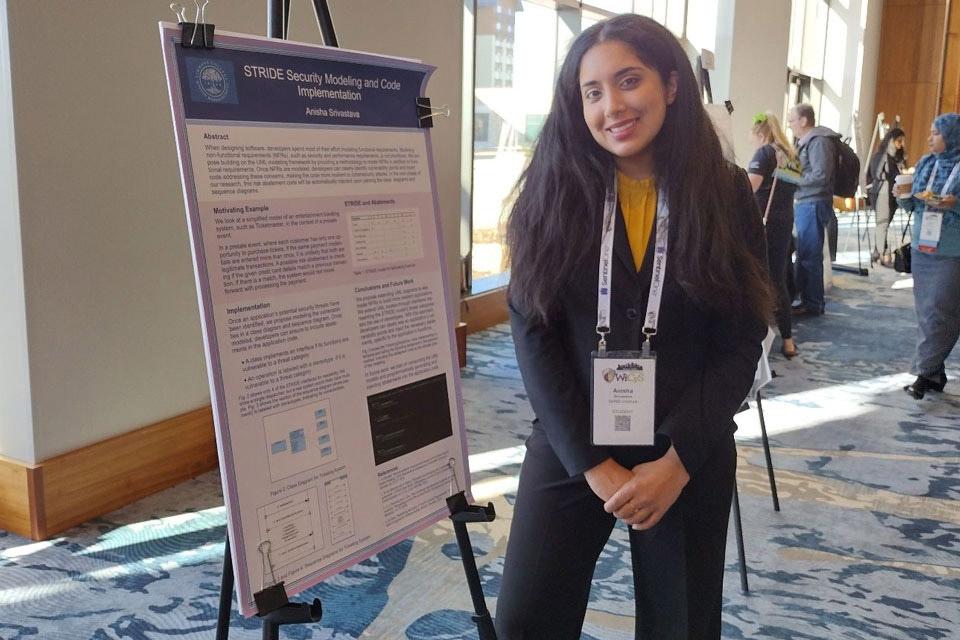 Simmons University has been designated a Center for Academic Excellence (CAE) in Cybersecurity Education by the National Security Agency (NSA) and the Department of Homeland Security. This prestigious designation recognizes Simmons' excellence in cybersecurity education and its commitment to advancing the field through research and outreach.
Simmons University is one of only a select group of institutions nationwide to receive this designation. The CAE program was established in 1998 to reduce vulnerability in the national information infrastructure by promoting higher education and research in cybersecurity and producing a growing number of professionals with cybersecurity expertise.
Simmons has demonstrated its commitment to cybersecurity education and research through various initiatives. The university offers a Bachelor of Science in Information Technology and Cybersecurity. The bachelor's degree can be pursued and earned either on the ground in the traditional degree program or online in the CompleteDegree program for adult learners. Students in these programs have access to cutting-edge technology and specialized faculty who are leaders in the field.
Aspen Olmsted, Associate Professor of Computer Science and Faculty Program Director of the CompleteDegree Computer Science Program, is working with faculty in Computer Science and the School of Business to offer cybersecurity courses to other departments within the university. "We've used material from classes in library and information science, business, and math to demonstrate activities students have successfully completed in cybersecurity," says Olmsted.
A Board of Advisors for Cybersecurity includes Simmons faculty and industry professionals, including staff from Amazon, Fidelity, and Microsoft. Students have also created a local chapter of Women in Cybersecurity, to create opportunities for career development outside of the classroom.
A few students attended a cybersecurity conference in Boston in April, working with local organizations to connect with people in the industry. Anisha Srivastava '23 presented a poster at the Women in Cybersecurity Conference (WiCyS) in Denver in March. "There were 2,000 women at this conference," says Olmsted, who also attended. "[Srivastava] presented work and talked to people from Europe, Asia - all over the world."
Srivastava, who worked in the tech industry before returning to school to study cybersecurity, encourages other students to submit their research to conferences. "I was nervous because I hadn't done this before," she recalls. "I thought it was going to be a very polished, one-way presentation, and then [the judges] would grill you, but it wasn't like that at all! It was very conversational. The whole culture at the organization is so supportive and encouraging, and that felt reflected in how people responded to my presentation. It was an empowering learning experience."
The gamification element of cybersecurity training — specifically, online programs that use typical elements of game-playing — can be a draw for many students. "Students solve cyber challenges and compete with other universities," he says. "The National organization, Women in Cybersecurity, hosts webinars every week with major corporations, and offers 'capture the flag' competitions, where players try to find particular information in a system, or teams attack each other, all in the cloud." Students gain free access to technology via online systems, and can access clusters of virtual machines hosted by other universities through a nationwide suite of infrastructure supporting "at scale" research in networking, distributed systems, security, and novel applications. "We participate in a National Science Foundation program, through which any Simmons student can access free cloud virtual machines," says Olmsted.
The field itself is showing growth and increased demand for Information Security Analysts, Computer and Information Systems Managers, and Computer Network Architects, among other roles. Olmsted emphasizes the value of welcoming women to the field. "The more diverse your group of problem-solvers, the better your solutions," he says, noting that cybersecurity is an issue of concern for any organization, be it a non-profit, government agency, or a large corporation. "If you don't defend your systems properly, you will pay the cost. And if hackers are successful in attacking you, they will have incentive to attack others. External costs are borne across society, but very little work is done on the public policy front. The federal government is putting resources into cybersecurity education."
For Srivastava, the camaraderie among women in the STEM fields was palpable at WiCyS. "I saw more of myself in that room [of women]," she says. "There is an abundance of opportunities in the field, if you have an investigative mind. I wasn't super excited about building software, but in cybersecurity you have to really understand software in order to make it secure. It pushes me to really understand the bigger picture and understand where things can go wrong. You have to be a detective and think about where people might target and where we need to be protected."
The CAE designation is valid for five years, after which Simmons University will be eligible to apply for renewal. The University will continue to work to ensure that its cybersecurity programs remain at the forefront of the field and prepare students to meet the growing demand for cybersecurity professionals.