Campus & Community
Simmons Shares: Celebrating Women's Equality Day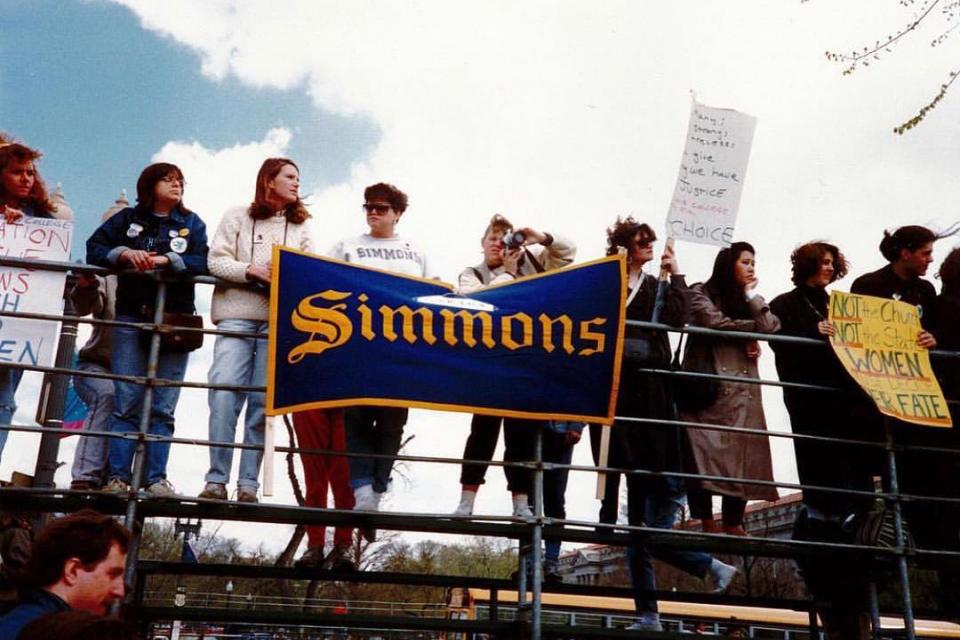 Happy Women's Equality Day!
In 1971, Congress declared August 26 as Women's Equality Day — created to celebrate women's constitutional right to vote in the US and the anniversary of the 19th Amendment.
Today, we recognize our students and alums who are working towards inclusion, equity, and breaking down barriers while bringing others along. Take a look at these stories we compiled over the last year which highlight their important work.
Be the Change: Bria Gambrell '19MA, '19MPP Promotes Intersectional Feminist Policy with Mass NOW
As Co-Director of the Massachusetts Chapter of the National Organization for Women (Mass NOW), Bria advocates for gender and racial justice for Massachusetts residents by writing and promoting intersectional feminist policy. This grassroots organization is one of the leading multi-issue, multi-strategy feminist groups in the state.
Key quote: "The most rewarding aspect of this work is connecting young Black women to these communities. We all deserve to be loved and nourished, and it's amazing to be able to make those connections for Black women like me."
Full story: Bria Gambrell '19MA, '19MPP
Cate Cox '23 on Addressing Trauma and Empowering Women
Cate interned with Sahiyo, an organization dedicated to empowering Asian communities to end female genital cutting (FGC) and create positive social change.
Key quote: "We have to start bringing these issues forward. We all need to do our part to better understand what so many women are experiencing and how partners, friends, and institutions can play a role in the healing process — because it is so isolating to be left alone in the dark."
Cheeznah Milord '21 Creates RISE Mentorship Program for Boston Scholars
With the help of Dr. Nakeisha Cody, Cheeznah created the RISE Mentoring Program, an extension of the Boston Scholarship. With this program, first-year Boston Scholars now have upperclassmen Boston Scholars as mentors to support and guide them through their first year of college.
Key quote: "Being a Boston Scholar always reminds me of my commitment to my community, whether it is Boston, Simmons or wherever I find myself."
Full story: Cheeznah Milord '21
Designing Pathways: Kenyora Parham '10 Dedicates Career to Serving Marginalized Communities
Kenyora is the Executive Director of End Rape on Campus and Founder of C-Suite in Living Color. In both positions, she focuses on building systems for women and girls of color, who often succumb to society's pressures and systemic oppression.
Key quote: "As I grew to understand my path in life, I knew that it wasn't building skyscrapers and homes — it was building systems and designing pathways for women and girls of color, who often succumb to society's pressures and systemic oppression."
Full story: Kenyora Parham '10
Emma Mecham '21 Fights to Protect Reproductive Rights
Emma interned with NARAL Pro-Choice Massachusetts, an organization that works to ensure equitable access to reproductive healthcare for everyone in Massachusetts.
"Sex education and access to reproductive healthcare are such game-changers — even if you help just one person, you've made a world of difference."
Fighting for Education: Leslie Morris '75 Dedicates Life to Empowering Young Women
Leslie Morris '75 is the Founder and CEO of Women of the Dream, a nonprofit organization dedicated to improving the lives of girls and young women in underserved areas and prepares them for personal, career, and economic success.
Key quote: "It's gratifying to see that I'm making a difference with Women of the Dream. Long after I leave this world, Women of the Dream will be my legacy, and hopefully I'm leaving this world better than it was."
Kimberly Calle '23 Provides Humanitarian Aid Services to Asylum Seekers on US Border
Kimberely designed an independent service project at Casa Alitas, an organization in Tucson, AZ, that provides temporary humanitarian aid services to asylum seekers.
Key quote: "I learned that I want to work with underprivileged populations as a nurse and want to get involved in politics to push for healthcare and immigration policy changes."
Full story: Kimberly Calle '23
Voices Heard, Stories Seen: Mackenzi Lee '14MFA on her #MeToo Essay and New Book
NYT best-selling author, Mackenzi Lee '14MFA, was featured in You Too?, a collection of essays for teens inspired by the #MeToo movement. In her piece, Lee wrote about her religious upbringing and the influence it had on her relationship with sex, sexuality, and sexual assault.
Key quote: "Working on the essay was a critical moment in acknowledging this dismissal and starting to work to dismantle it. I hope it adds to a larger conversation and will inspire others to continue building upon truth and destroying stigmas."