Campus & Community
Simmons 2023 Graduate Commencement Ceremony Instills Legacies of Personal Narrative and Collective Memory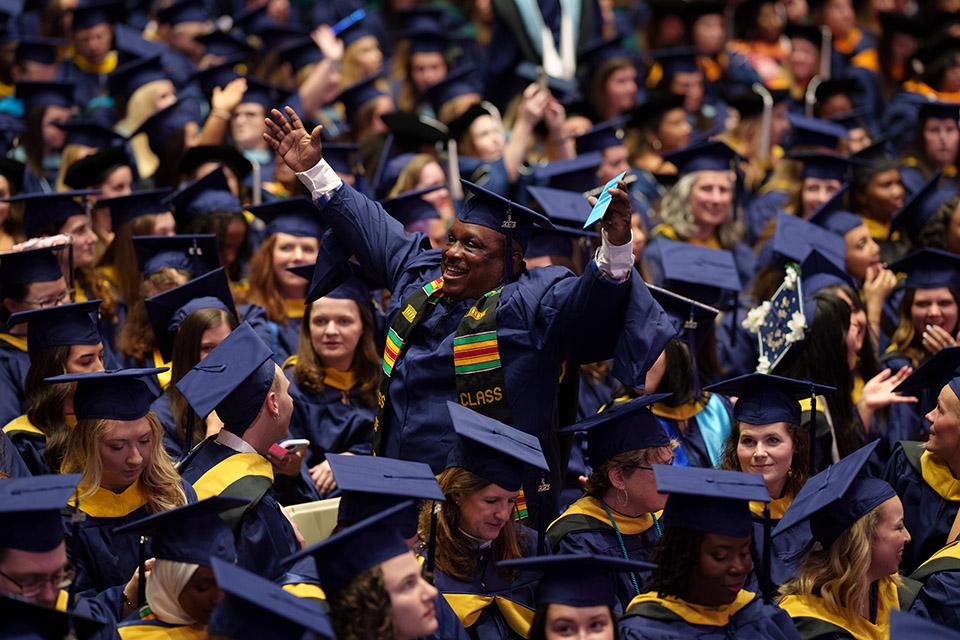 On Friday, May 19, Simmons University Graduate students processed into the MGM Music Hall at Fenway. In the first commencement ceremony to take place at the MGM, graduates filed in with triumphant smiles. Some graduates' mortar boards were decorated with messages of gratitude (i.e., "Thanks Dad!" and "Proud daughter of immigrants") and celebration. Simmons awarded 1,800 graduate degrees during the 118th commencement, and will have awarded nearly 2,500 graduate degrees, certificates, and undergraduate degrees during this academic year.
Regina Pisa, Chair of the Simmons Board of Trustees, initiated the opening remarks, conveying to graduates that "your leadership of yourselves, your peers, and Simmons have helped us all get to this day. As President Wooten has taught us, it is everyday leadership that powers successful people and institutions."
President Lynn Perry Wooten praised the graduating students for their dedication to their studies and urged them to keep Simmons in their hearts: "As you launch this next chapter, I hope you will carry Simmons with you – this commitment to doing well and doing good as inclusive leaders, wherever your careers – and life – take you next."
Professor Gary Bailey offered an invocation for the graduates, featuring quotes from the Bengali poet Rabindranath Tagore (1861-1941): "I slept and dreamt that life was joy. / I awoke and saw that life was service. / I acted and beheld, service was joy."
With the assistance of Professor Johnnie Hamilton-Mason, President Wooten granted an Honorary Doctor of Library and Information Science degree to the inaugural director of the Smithsonian Libraries and Archives, Simmons graduate Tamar Evangelestia-Dougherty '03MS.
In her introduction of Evangelestia-Doughtery, Wooten praised her work to strengthen the connections between these spaces and members of the community. "You understand the power of libraries and archives and the vast knowledge, memories, and ideas they contain," Wooten said, granting the honorary degree "in recognition of your commitment to elevating the national profile of history and culture; for your continued service to this country, for your strong advocacy on topics related to equity in bibliography, administration, and primary-source literacy; and for the everyday inclusive leadership you demonstrate."
Dr. Tamar Evangelestia-Dougherty delivered a commencement address, reflecting on her own experience as a Simmons graduate student in the wake of September 11, 2001, and drawing parallels between living and learning through that national crisis with the global pandemic today's graduates faced. "I was a library student, interrupted," she recalls, praising the brave community of Simmons students, faculty, and mentors who supported her, "during a time of resigned perseverance."
Evangelestia-Dougherty described obtaining a master's degree as "an act of self-preservation and self-care." As an archivist and a graduate of the U.S. News and World Report #1 school for archives and preservation, the preservation of history is a core value of her work. She derived inspiration from Simmons graduate Vivian G. Harsh, the Chicago Public Library system's first African American librarian and the creator of their Afro-American History and Literature collection. She said, "If Vivian could do it, so could I."
Evangelestia-Dougherty addressed the risk of curating yourself to fit the expectations of others. She touched on the career of Belle da Costa Greene (1879-1950), the personal librarian of J.P. Morgan who passed as white in her professional career. "She was surrounded by scrutiny and truncated by narratives of a Black woman who was passing for white, which often eclipsed her formidable talent for building the extraordinary manuscript collections of the Morgan Library... Say what you want to about Belle, but she paved [the way in] her librarianship... This example shows that no one can tell a better story about yourself than you can."
As someone who works in archives, Evangelestia-Dougherty expressed the importance of archival traces for everyone, not just librarians: "Working in archives involves acts of preservation.... Librarians and archivists facilitate discoveries of collections for researchers by creating finding aids. We serve as a guide to the making of history and collective memory. Archives embody evidence. And like all living beings, you will leave something behind that is evidence of your existence."
Sharing a quote from author Bernard Iddings Bell (1886-1958), "A good education is not so much one which prepares a man to succeed in the world, as one which enables him to sustain a failure," Evangelestia-Doughtery instructed the graduates, "Remind yourself that not only did you master success, you are all badasses who rocked it." She also shared a special message to graduates of the School of Library and Information Science, "Your work is not invisible, your labor is not invisible…we serve the information needs of the world, and don't you forget it. Congratulations."