Alumnae/i Feature
Rama Srinivasan '10MA Pursued Interests in Gender, Sexuality and Law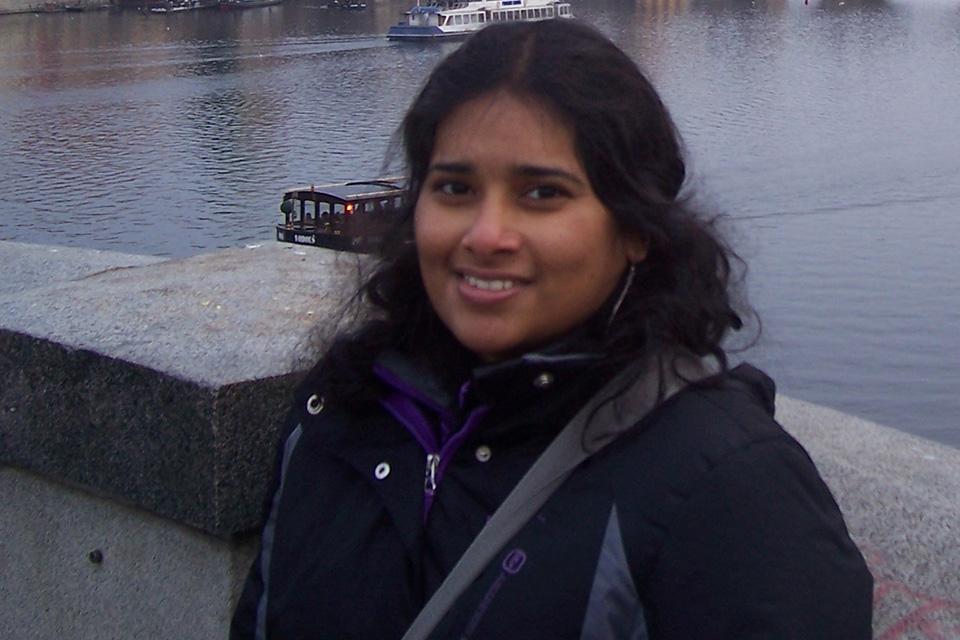 Rama reflects on how reading and engaging with critical theory in GCS helped her to navigate her PhD in Anthropology.

What attracted you to the MA in gender/cultural studies (GCS) program at Simmons?
I was very keen on a cultural studies MA at that time. I wanted to attend a program with a lot of theory-heavy courses, and the focus on gender and sexuality just made GCS very attractive. 
How did Simmons prepare you for your PhD program?
The GCS program prepared me to read and engage with critical theory, a skill that has helped me navigate much of my PhD program. My PhD program on Cultural Anthropology had many thematic continuities with GCS, though the disciplinary orientations are vastly different. 
In your experience, what was the best feature of the program?
It worked really well as an interdisciplinary program, weaving together expertise from faculty members who had substantially different research interests, teaching methods, and theoretical leanings. I received exposure to recent critical interventions on gender and sexuality studies from different disciplinary perspectives, something that has been very helpful with my chosen research topic. 
Describe the personal and professional relationships you cultivated within your GCS cohort.
I have remained in touch with a few of my cohort members, both people who are in higher education administration and those who went on to join PhD programs. On a personal level, being in touch with GCS friends through social media has been especially important in the current political climate. It is like we have found a small community of our own to fight the isolation the political events have engendered. 
What was your favorite class at Simmons? 
Professor Laura Prieto's GCS 410: Gender, Race, and Imperialism in Historical Perspective: It had a wonderful, near-perfect syllabus. The student mix was just right and, steered by Professor Prieto's expertise and knowledge in the topic, the discussions were provocative, challenging and hugely rewarding. I was able to connect my regional interests with transnational approaches and perspectives. It has been seven years since I took the course but I still, at times, consult the syllabus. 
Are there any faculty/staff members that especially impacted you in your time at Simmons?
Apart from Professor Prieto, who has been a good friend since I graduated, Professor Jyoti Puri has had a huge influence in my academic career. Her books have guided my research and writing in many ways. She graciously agreed to join my PhD committee as the external reader despite time constraints and sent extensive and provocative feedback on my dissertation. It is partly due to her comments and questions that my dissertation defense was such an intellectually stimulating experience.  
What advice would you give to a prospective student who is undecided about applying to Simmons?
The GCS program is what one makes of it; there is a lot of flexibility, which also means greater responsibility on the student to make the right choices with regard to courses. Any prospective student should carefully read abstracts of courses that have been offered in the past years and decide whether the program is the right fit for them. Lastly, if you have reservations about reading "too much theory", this program may not be the right one for you. 
What do you believe was your greatest accomplishment at Simmons? 
Simmons provided a safe, nurturing environment. In the company of GCS colleagues and respectful professors, I started believing in my academic potential and, eventually, applied to doctoral programs.