Faculty Spotlight
Professor Nanette Veilleux Receives Undergraduate Research Faculty Mentoring Award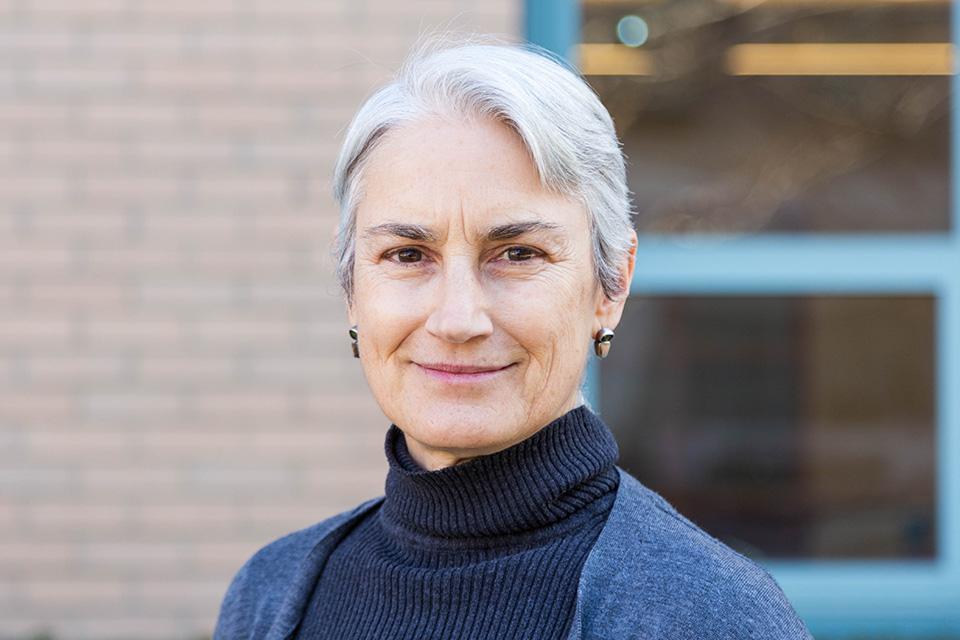 The award reminds me that I have touched many lives and many lives have touched me.
On March 17 at the Special Interest Group on Computer Science Education (SIGCSE) in Toronto, Professor of Mathematics, Computing, and Statistics Nanette Veilleux received the Computing Research Association-Education (CRA-E) Undergraduate Research Faculty Mentoring Award. This award recognizes faculty members within the field of computer science who have provided exceptional mentorship to undergraduates. Veilleux's superb mentoring is crucial to help ensure the flourishing future of computing research.
"I am honored by the recognition, but what really impresses and touches me the most is that I have students who have put me up for the award," says Professor Veilleux about receiving the CRA-E mentoring award. "I have mentees who feel so strongly about me that they wrote letters and testimonials on my behalf. The award reminds me that I have touched many lives and many lives have touched me."
To be considered for this award, faculty members must be nominated by professors in (or related to) their department, deans of their school, and former students from their home institution. Veilleux's nominators emphasized how, as a leading woman in STEM, she is an inspiring role model for young women in a male-dominated field. Veilleux's pedagogical approach combines theoretical knowledge and real-world situations. Former students remarked upon the sheer exuberance of her teaching style, which piqued their curiosity and prompted them to fall in love with the discipline of computer science.
In their co-written letter of nomination on behalf of Veilleux, Associate Professor of Mathematics, Computing, and Statistics Amber Stubbs and Division Director of the School of Library and Information Science Laura Saunders highlighted the unique relationship that she builds with students: "as instructors, we are often warned against 'being friends' with our students, for fear that if we treat them as peers they will not take us seriously as teachers or authority figures. Nanette's approach demonstrates that, in fact, it is possible to be a friend, mentor, teacher, and even counselor, at the same time. Many times over, we have seen how comfortable students are around Nanette. She builds an environment of trust and respect, not just in the classroom but all around her, so that students are able to ask questions and explore ideas without fear of failure or ridicule. She is able to support and reassure students as they explore new ideas, while also challenging them to stretch their limits and take intellectual risks. By being transparent about her motives and approaches, Nanette involves the students directly in their own education, and we have seen firsthand how engaged and excited the students are as a result."
Veilleux is a computational linguist, and much of her own research examines prosody (i.e., how you say something, not what you say), and the use of computer models that help us better comprehend prosody. To be clear, Veilleux's research has nothing to do with actual computers. "I have never done a project about the machine," she clarifies. "It's all about thinking about these problems and using this tool, which happens to be a computer."
Veilleux helps undergraduates navigate projects that transcend the narrower focus of her research. "As a mentor, I work with students who are interested in finding out a thing, and I've been able to help them identify the best way to understand that thing without interfering or doing it for them. Basically, student research is loosely related to my research — computer science, algorithms, and systematic issues — but it explores different avenues of inquiry."
With her guidance, Veilleux's mentees have taken on a wide variety of research projects. One student investigated the issue of authorship concerning the book Incidents in the Life of a Slave Girl (1861). Over the decades, historians have tried to ascertain whether Harriet Jacobs (the enslaved woman) or Lydia Maria Child (her white mentor) authored the text. Working with Veilleux, the student was able to make a model demonstrating that Jacobs wrote most of the text, while Child likely did heavy editing for the introductory paragraphs.
Another student, who participated in the SURPASs Program (Summer Undergraduate Research Program at Simmons), combined her academic research in computing with her experience on the crew team by studying the erg, or rowing machine, and determining the most efficient ways that people can use it.
For Veilleux, mentorship constitutes a long-term process. "My relationship with my students does not end when they graduate. I have a big party in my yard every September for students, which now includes alums. I usually welcome around 50 guests. I keep track of people and oftentimes know where they are," she says.
Many of Veilleux's former students have gone on to obtain graduate degrees from prestigious universities, including Stanford, Rice, and Brandeis. Others choose not to take this route, as the job market for computer science-related positions is robust. "My students are able to do interesting work right away with just a bachelor's degree. . . . They are very intellectually curious and are able to satisfy their curiosity in industry jobs," says Veilleux. "Even though Simmons is a small school in Boston and we are competing with other institutions, our students are doing very, very well."
According to Veilleux, getting to know students, personally and professionally, is the most rewarding aspect of mentoring. "When you mentor a person, it's more than just giving them a series of instructions," she explains. "You really need to know them: know what their strengths are, what their weaknesses are, and advise them on how to offset their weaknesses and play to their strengths. A lot of our conversations circle back to the question: what gives you joy? What will make you thrive in this world?" Ideally, students should leave Simmons with the ability to balance their personal passions with pragmatic skills.
In academic circles and beyond, Veilleux has been an advocate for women. "One of my first jobs was at a women's domestic violence center. Throughout my life, women have been a top priority for me, and I have been advocating for them to be promoted in this world and get their equal share," she says. "Going into the field of computer science, which has so many opportunities, is a great thing for women to do."