Faculty Spotlight
Professor Kristie Thomas Pairs Social Work With Action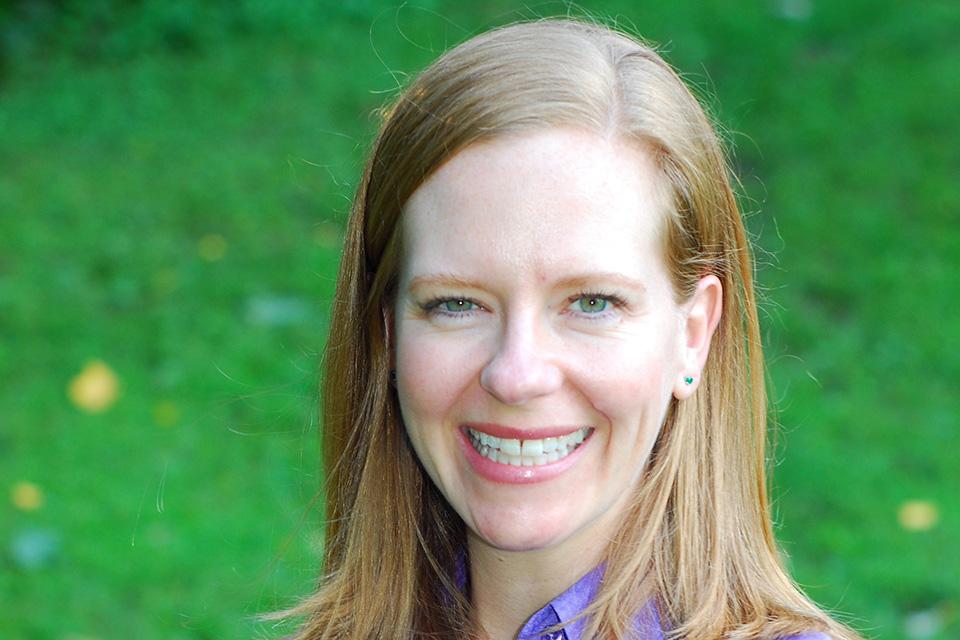 Professor Thomas tells us how Simmons is commemorating Domestic Violence Awareness Month.

What inspired you to pursue your academic discipline?
I've been committed to anti-violence work for as long as I can remember. I chose to pursue an MSW and PhD in social work because of the field's emphasis on social justice, which aligns with my own values and aspirations for the world. Also, because social work is so dynamic and diverse, I'm able to be an educator, researcher and practitioner. In my opinion, all three are necessary to effect lasting change. 
What do you teach at Simmons? 
I teach courses across the Master of Social Work (MSW) and PhD curriculum. I designed the course "Evaluation in Social Work Practice" for our online program, and I teach that course both on-ground and online. Other on-ground MSW courses include a clinical course called "Domestic Violence and Family Welfare," and a social action course called "Leadership in Anti-Violence Work," developed to honor the life of domestic violence advocate Susan Schechter. In the PhD program, I teach a course called Social and Behavioral Theory, which I love because I'm a theory nerd. Recently, I was awarded the Simmons College Provost Award for Student-Centeredness in Graduate Teaching – a true honor.
Tell us about the "Our History, Our Future: Community Approaches to Domestic Violence Advocacy and Education" event.
It's going to be a fantastic, action-packed event! The goal is to celebrate the 30th anniversary of Domestic Violence Awareness Month through a series of presentations and a panel discussion. We are honored that the Massachusetts Lieutenant Governor, Karyn Polito, will provide opening remarks. One of the presentations will be about the Clothesline Project, which Simmons hosts every October to commemorate Domestic Violence Awareness Month. We will have survivor t-shirts hung throughout the room to help us remember why our work is so critical. Finally, we have a panel of amazing domestic violence experts from a variety of local and national organizations. They'll share details about their work and their unique perspectives on the domestic violence field. I'm thrilled that we're hosting this event and I'm grateful to Simmons and the School of Social Work for their sustained commitment to supporting domestic violence education, practice and research.
This training was developed in 2002 by Dr. Ann Fleck Henderson, Professor Emeritus, and was the very first training of its kind in the country. For the past two years, I've worked with a team of fabulous community stakeholders to update and reimagine the training. During the event on October 4, Ann and I will provide the history and content of the training and we will formally acknowledge the many people who have contributed to it over the years.
Why should Simmons students attend this event?
This event will be an incredible learning opportunity, about not only domestic violence but also social work and social action! Students will hear directly from an array of political and thought leaders who have been engaged in anti-violence work for many years. In my opinion, it's impossible to look toward the future without also looking at the past and present. To that end, students interested in anti-violence work can learn about the successes, missteps and initiatives that will shape their own work going forward. My hope is that all attendees exit the event feeling connected to domestic violence community and brimming with new ideas and a renewed passion for anti-violence work!
Fill in the blank: When I'm not teaching I'm:
Conducting research and writing peer-reviewed journal articles. My research agenda keeps my very busy! I wouldn't have it any other way, though. I'm also a proud co-founder of the Domestic Violence Program Evaluation and Research Collaborative here in New England, which works to bridge research and practice. In addition, I love to include MSW and PhD students in my projects; it makes the work more worthwhile and, quite frankly, more fun. If you're interested in learning more about my research, please visit me on LinkedIn.