Faculty Spotlight
Professor Elizabeth Scott: We Can't Forget the Lessons of this Pandemic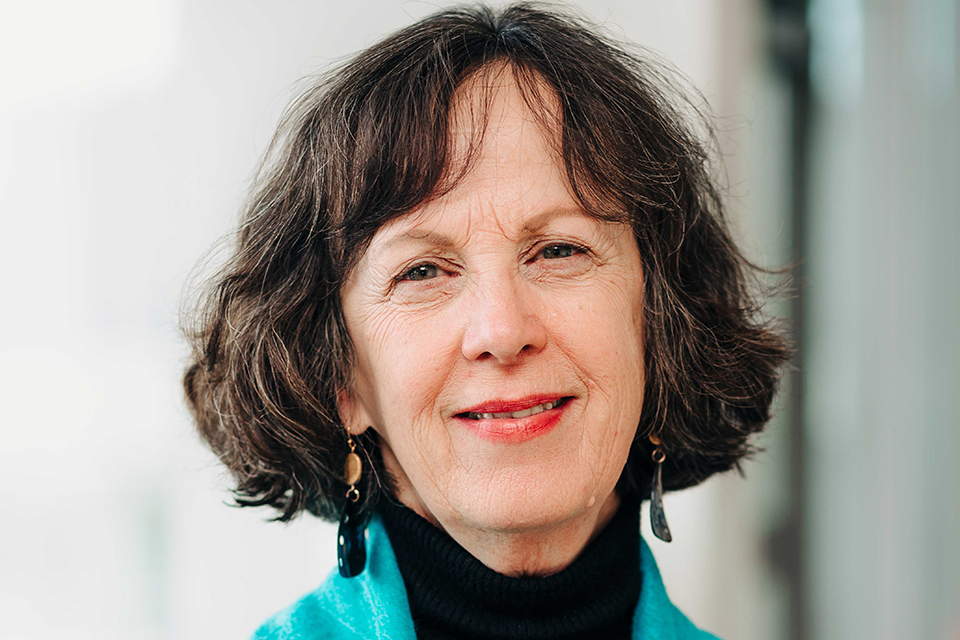 I've always been worried about pandemics. I would tell my students that we need to be aware and be prepared because sooner or later, it's going to happen. And as we all know now, unfortunately, it has.
Unlike most people who rarely thought about a possible pandemic before COVID-19, the potential for a widespread infectious disease has been a longtime concern for Simmons Professor Elizabeth Scott.
"I've always been worried about pandemics," Scott says. "I would tell my students that we need to be aware and be prepared because sooner or later, it's going to happen. And as we all know now, unfortunately, it has."
Scott, an applied microbiologist, is Associate Dean and Professor of Biology at Simmons. She has spent much of her professional career over the past 40 years studying bacteria and pathogens—where they live in the environment, how they move around and the ways in which they get transmitted.
After college, Scott's first job was to manage a project in London that evaluated more than 200 family residences for bacterial content. The study, published in The Journal of Hygiene in 1982, was the first of its kind to analyze bacteria in the home. Since then, she has continued to build on this foundation of knowledge, writing and research. Today she serves as the co-director and founder of the Simmons Center for Hygiene and Health in Home and Community. She is also on the Scientific Advisory Board of the International Scientific Forum on Home Hygiene—the leading scientific authority on home hygiene.
Scott is deeply committed to finding strategies to inform the public about various aspects of microbiology and infection control. Many of the practices now common during the pandemic— including the frequent washing of hands and disinfecting of high-touch surfaces—are things Scott has been a longtime advocate for as a way to break the chain of infection. For example, even before the pandemic, Scott has never been one to shake hands. She often says hello by way of a namaste greeting.
"Students used to look at me like I had completely lost it, but by the end of a semester, they would understand," Scott says. "I've talked to former students since the pandemic began, and they're sort of amazed that so much of what we discussed is now happening in real time."
Scott's research and expertise have given her a keen understanding of the steps necessary to stop the spread of disease. And it's a key reason why she has become a go-to source for reporters during the pandemic. Media inquiries vary widely. Some come from traditional health and science reporters who are extremely well-versed in these areas. Other outreach comes from newer reporters who operate primarily online and write for home, fitness and wellbeing publications.
"Communicating effectively to the general public is vital for an applied microbiologist, so I never turn anyone down," she says.
During the past several months, Scott has been quoted in a variety of publications and outlets, from the Wall Street Journal, Chronicle of Higher Education, WBUR and Business Insider, to HealthDay, Consumer Reports, WebMD and Maxim, among many others.
"Pandemics permanently change people's behavior," Scott says. "This is a moment for all of us in my field to communicate key information and best practices that individuals can adopt moving forward."
While the pandemic has been incredibly difficult and painful for so many Americans, Scott is optimistic about the prospect of a future vaccine.
"We will have a vaccine, but we can't forget the lessons of this pandemic," she says. "By taking simple steps such as wearing a mask and washing your hands, you aren't just protecting yourself, but others. I hope and believe we will be more aware of how bacteria and viruses spread. And that's a good thing."