Alumnae/i Feature
Pamela D. Curtis '74 Named on 2021 Top 25 Women Leaders in Cybersecurity List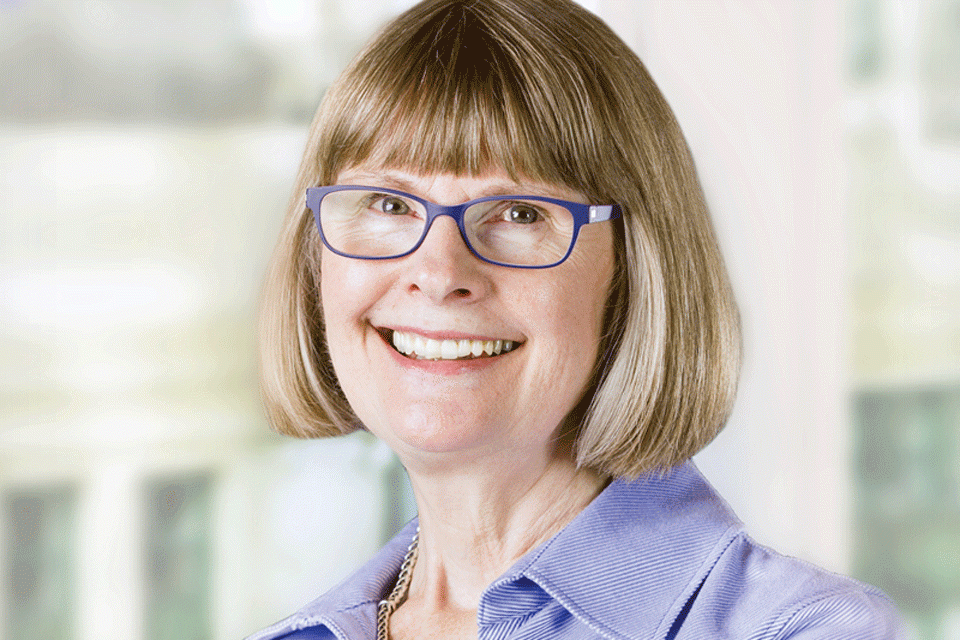 Pamela D. Curtis '74, a management major while at Simmons, is now vice president of Process Engineering at Axio Global, Inc. As vice president, she conducts cyber insurance coverage analysis, participates on client delivery teams for workshops, appraisals, and model-based improvement, and contributes to the evolution and codification of Axio's foundational processes and methods.
In 2021, she was named by The Software Report as one of the top 25 women leaders in Cybersecurity. She recently shared her thoughts on how Simmons shaped her career.
---
How did studying management at Simmons influence your career path?
Entering the management program at Simmons was a change in direction. I started college at a different school as a French major, but I realized I couldn't envision myself earning a living with a degree in French. I started looking into alternatives. I was strongly influenced by my father, who was an executive with a small business. When I learned about the management program at Simmons and the prominent women teaching there, it had great appeal for me.
I transferred to Simmons in my sophomore year without a clear idea of what I wanted to do after graduation, but I knew that a solid foundation in business practices and principles would prepare me for any number of possible paths. And that turned out to be the case. I've had a number of different types of jobs, and in every one, the business knowledge I gained at Simmons has helped me to succeed.
How did you become interested in cybersecurity?
It started when I got involved in information technology in the late '70s. I was working as a researcher at a management consulting company that specialized in mergers and acquisitions. I had been there a number of years when they started automating some of their office and research processes. I was chosen to work with the systems analyst on the project, and I realized this was work that I would enjoy doing. I did a Master of Science in Management Information Systems program at Boston University, which was a combination of computer science courses and MBA courses. What I had learned in the management program at Simmons served as a great foundation.
After a number of information technology jobs over many years, I landed at the Software Engineering Institute at Carnegie Mellon University. There I got involved in best practices for securing information technology and data and improving how they implement those practices. The company I'm working with now, Axio, was co-founded by one of my colleagues at the Software Engineering Institute. We are still working on cybersecurity best practices and other strategies to help companies defend themselves against the pernicious and relentless cyber-attacks that all companies experience these days.
I've had a number of different types of jobs, and in every one, the business knowledge I gained at Simmons has helped me to succeed.
What leadership skills did you learn while at Simmons?
The foundational concepts that I learned through the management program were invaluable: conducting business, making decisions, and insights into human behavior in organizations. These were all vital to me as a manager for several years at the Software Engineering Institute, and more recently, as vice president at Axio through its years as an early-stage startup.
Having that understanding of all the aspects of what makes a business work — product innovation and development, marketing, human resources, communications, project management — has been so helpful to me in contributing to Axio's growth and success.
Do you have any advice for current Simmons students?
Be open to possibilities after you graduate, and don't be too worried if things don't turn out as you planned. I graduated during a recession and wasn't able to find a job in the field I wanted, but I eventually found a job, and I met people who offered different opportunities. I ended up thriving, doing work that I loved, in a field I hadn't known anything about when I was in college. Now at the end of my career, I have the best job of my whole career. I'm working with people I admire and enjoy. I could never have planned it all out in advance.
A verse in the Bible, in Proverbs chapter 20, says, "It is the Lord who directs your life, for each step you take is ordained by God to bring you closer to your destiny." Knowing that you have a destiny and that as your life unfolds, you are walking toward it can give you a lot of peace when things don't go exactly as you thought they would.