Alumnae/i Feature
School of Nursing Alumnae Rachael Puszczynski '21 and Sarah West '21 Publish Award-winning Research on Screen Time and Social Anxiety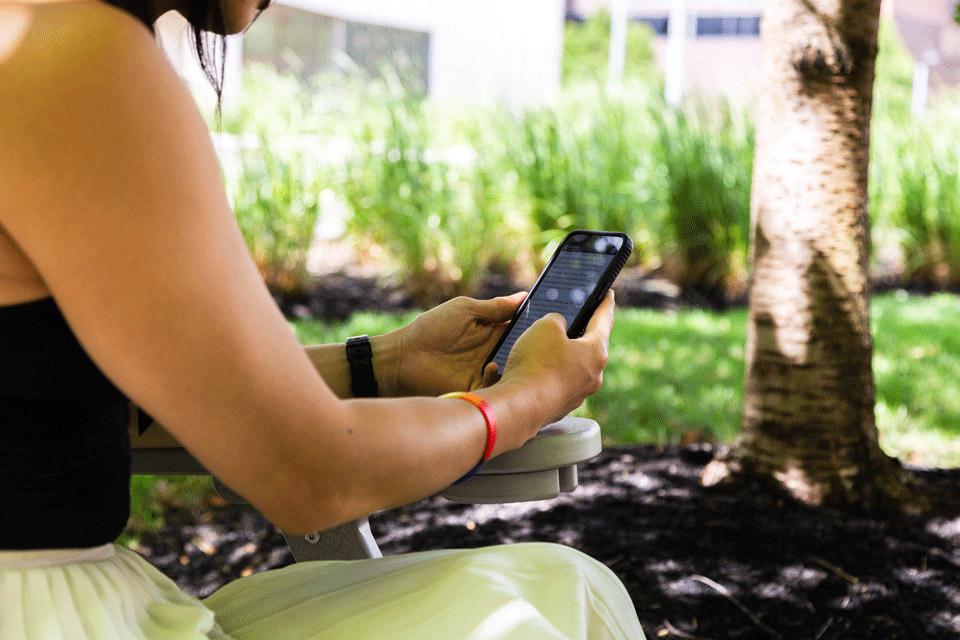 When finishing their nursing program at Simmons in the spring of 2021, Sarah West and Rachael Puszczynski published "Exploring Recreational Screen Time and Social Anxiety in Adolescents" in Pediatric Nursing (April 2022). Their article won the Donna Wong Writers' Award, and they have been asked to appear on the Pediatric Nursing podcast to share their research.
How did this research project come about?
West: This was part of my family nurse practitioner curriculum at Simmons, specifically part of the research series and scholarly inquiry class taught by Professor Tanya Cohn. She was amazing. As one of the authors on the project, Professor Cohn helped Rachael and I with all of the statistics and other aspects of the research.
One of my passions is mental health with teens, so I had approached Rachael with the idea of collaborating. As an online student, I was living in Oregon and had a connection with a local high school. I suggested that we conduct surveys with the students at this high school and begin our research.
Puszczynski: Sarah and I have a mutual love for pediatrics, so it was a great idea to collaborate. I think this topic is not discussed often enough, so it's good to increase awareness. When we began our research, we realized that very little had been published on the correlation between screen time and anxiety.
What are your principal findings?
West: We were interested if increased anxiety prevented teens from, say, picking up the phone and talking to a potential employer or making a doctor's appointment. And we did find that the higher levels of screen time — and this was defined as recreational, non-educational, or non-work-related screen time — did impact their anxiety, especially when it came to advocating for themselves. The higher their screen time was, the more anxious they became in these kinds of social situations.
However, one of our biggest findings was what it revealed about gender. We found that teens who identify as boys were more affected by how much time their parents spent on screens. There was a correlation between how anxious they felt and how much they felt that their parents were using screen time. This was an unexpected finding for us.
Puszczynski: We found that kids were actually anxious in a social setting. And there is a connection between feelings of increased anxiety with teens who spend a greater amount of time on screens. These teens were found to have the most social anxiety speaking in front of audiences or placing orders in restaurants. The teens who identified as boys were most affected by parents and their screen time. Boys who thought their parents spent too much time on screens reported more social anxiety symptoms. We found this aspect very interesting because as much as we do not spend a ton of time thinking about it; children tend to mimic their parents' behaviors. We also found that teens who were being raised in a single parent home had more overall anxiety scores. The teens who reported doing after school activities such as sports or hanging out with friends had lower amounts of screen time usage which correlated to lower levels of social anxiety.
What do you think the impact of this research will be?
West: In the community where we did the research, there has already been some impact. Teachers at the school asked if they could share the research findings with their students. We worked with two health teachers who integrated this knowledge into their classes. I think the impact of our research will grow as I interact with more children and parent populations. And we also hope to make ripples when we discuss our findings on the Pediatric Nursing podcast. Parents think about limiting their teens' screen time, but they probably never think about limiting their own screen time.
Puszczynski: I hope it can bring more awareness in the medical field to mental health. There is not enough attention being given to adolescent mental health, so we hope this research starts a larger conversation.
How did Simmons help you prepare for this accomplishment?
West: I thought that this would just be another long paper for graduate school, but I decided to do something that I am passionate about and team up with a like-minded student. Professor Cohn was so encouraging and helped us get published. Her guidance was invaluable. So this project began as a requirement for Simmons, but it ended up as an amazing accomplishment.
Puszczynski: Simmons is a great school. While I did not always like writing papers, that experience of researching and writing certainly prepared me for this opportunity. Dr. Cohn was amazing through the entire process.
Do you have any advice for nursing students with similar interests?
West: Be comfortable with getting told no, and at the same time be confident about your idea. Be willing to put the time in to bring something to fruition, but also be flexible, as the final product might be different from what you first envisioned.
Puszczynski: You should take advantage of research opportunities. This is the time to grow. At Simmons, you will have faculty members who will help you realize your goals.