Faculty Spotlight
Making Simmons a Safe Space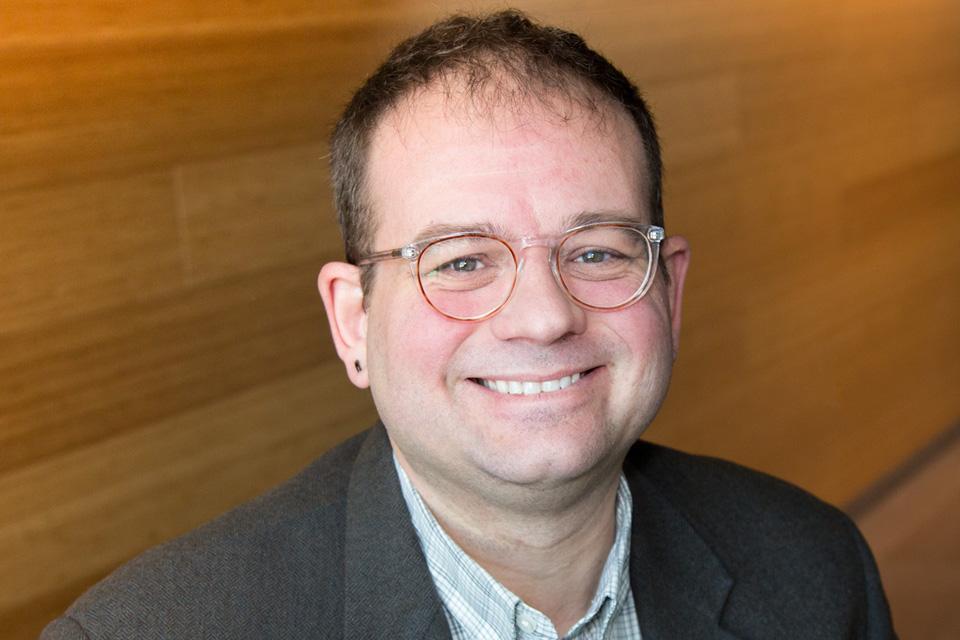 Professor Rich Gurney shares his previous experiences at Universities that didn't support community members who were LGBTQIA+, and how he knew that Simmons was different.
Where did you study?
I spent 16 years in Catholic education institutions, including college, and there was no safe space available for me. I was from Chicago and moved to Indiana for graduate school.
When I started graduate work at Purdue University in 1994, I went with a lab partner to listen to him perform in a band. We went to a bar where an entire fraternity showed up with [anti-gay slogans] printed on their shirts. A month after that, a KKK rally was held less than a mile from campus. Twenty people showed up in white sheets but 2,000 turned up to protest. Still, the school didn't say anything about it, they just ignored it. No one in the department was "out," at all.
After 25 years of living with the fear of being who you are, I was just done with that. My graduate advisor was also done with that, and he moved his entire research group out to Seattle, Washington.
Now I serve on the Chemistry Department Advisory Committee for Purdue, and I can see how it's improving. When I attended, of 50 faculty members in the Chemistry department, only four were women and none were people of color. Of 78 graduate students, 68 were men and there was one person of color, and she was harassed. Now I have good friends on the faculty who are creating change there, and they've made great improvements.
What brought you to Simmons?
After graduate school, I interviewed at eight universities before coming to Simmons. Seven out of those eight asked, "Should we plan for a job for your wife?" or "Will your children be going to school here?" One of those was my alma mater, which has fired faculty for being gay even if they don't announce it publicly, as it doesn't adhere to values of a Benedictine institution.
On the flipside, Simmons is such a welcoming place. When I started here, I had a 17-inch braid. It was my way of knowing whether or not I was in a safe space, by seeing how people reacted. Where elsewhere it was criticized, at Simmons I felt like I was home. I didn't need the rattail anymore, but when I cut it off people said, "why did you do that? You look normal now." But I could finally let my hair down and be safe. A student in my first class at Simmons said that I was too fashionable to be a chemistry professor. She asked, "Are you gay? My brother is gay." At Simmons I was comfortable to become more of myself.
A big turning point I had at Simmons was in 2007, when LQBTQIA+ students were trying to get faculty to recognize the Day of Silence [held annually in April, to protest harassment and discrimination of LGBTQ people in schools]. I was teaching three sections of Chemistry 111, with 80 students in each. I wanted to support the Day of Silence, so I came to class and put what I wanted to say on pieces of paper on the projector, one at a time. It said, if you're observing, I want to support you, but after 25 years, three months, and fifteen days of being silent, I choose never to be silent again.
That made a big splash with students. I wasn't prepared for how many people would come to me needing help, having questions, needing support. That made Simmons even more important to me — I knew there were quite a few LGBTQIA+ individuals at Simmons, but had no idea the magnitude. For the next couple weeks, I had 35 or 40 students coming to my office asking to talk. I walked many of them over to student services. It was a bit overwhelming.
I'm happy that Simmons now has more well-developed services. Students can go to the Counseling Center, or I can reach out to the REEF Support Center to find out who to call.
Any advice for prospective students?
Come to Simmons! It's a very special place. Times are changing, and as we have seen since 2016, there are places in this country that are less welcoming and less safe. At Simmons, can join TANC or Alliance, or other student groups or local organizations.
Also, I've noticed parallels between LGBTQIA+ students and first generation students. In both cases, students may not have family to turn to for guidance. They need to find mentors with similar experiences on campus. First generation students need to meet each other, and I'm thrilled that Simmons also has the first to finish program to support those students.