Alumnae/i Feature
Lynne Passanisi '11 Reflects on the Broad Career Field a Math Degree Can Make Possible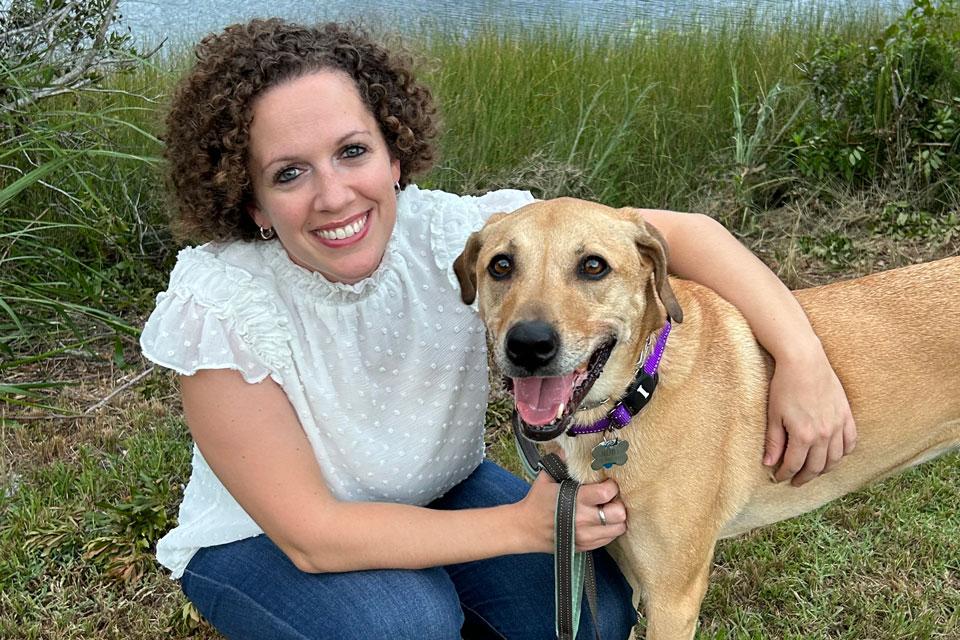 Going to Simmons was the most impactful decision of my life. It opened my mind to a variety of professional opportunities, and other ways of thinking.
What made you choose to study Mathematics at Simmons? 
Simmons had a great, small, close-knit community, with the bonus of being in the larger city of Boston — it had a little of everything! When I first visited Simmons, I didn't know it was a women's-centered institution. It wasn't something I was seeking, but I think it has helped me enter a male-dominated field with the confidence to voice my thoughts and challenge others. Simmons offers the perfect environment where it's okay to fail and to learn from your mistakes.
I was originally studying mathematics to be a high school math teacher. I knew that math was tough for a lot of students; I heard a lot of people going into it saying, "I know I'm gonna hate it." I wanted to show my students what you can do with math, what careers you can have. Math is transferable to a lot of different industries; my professors at Simmons showed us everything a math degree could do. Then I thought, I should explore those positions so that later I can teach and say, "look at all that I did with math!"
You are currently a Senior User Experience (UX) Researcher at Ad Hoc LLC, Government Digital Services, Software Development in Washington, D.C. Can you tell me about your work?
Ad Hoc LLC builds and improves digital services — like websites and apps — for government agencies. A part of that is studying how people are interacting with these products. We're trying to understand what users of the product want, how they use the product, and if they are getting what they need out of it in the easiest way possible. It's fun doing this work behind the scenes; it's also my first role outside of the private sector and I love it. I see a direct impact on citizens who really need these services. 
I work for the state of Colorado, helping modernize their data ecosystem. I like being able to interact directly with people who use the product. Ironically, I told myself I wouldn't go into government work because you can't fix [the government], and now I'm at a company that is honestly solving government problems! They're trying to bring the government into the 21st century.
How did Simmons prepare you to become a leader in your field?
Mathematics has become a philosophy for me. It has taught me how to think through problems logically. Some of our research projects require thinking about the nitty gritty details, while also looking at the big picture. A big part of user experience research is analyzing data and finding trends and patterns and outliers that might be telling a story. 
I've learned, both from Simmons and my experience in the field, that a leader is not just someone with a leadership position, it's someone who can create change. I saw that at Simmons; I could tell that the faculty were passionate about their work. A lot of them work in the field outside of teaching, and they really care about how the world is interacting with what they teach. Their passion was contagious.
I had opportunities at Simmons to explore leadership roles through student activities and leading groups. I was one of the facilitators for the first year seminar, where we teach incoming students how college works, how to write a resume, and other basic life skills. I also worked with Professor Nanette Veilleux on a study looking at how STEM students connect with their programs and communities in college. We used a variety of qualitative and quantitative research methods, and the experience prepared me for research and taught me how to collect and analyze data.
What advice can you offer students considering a major in Math?
Anything involving analysis of data is very trendy right now! Data is collected everywhere. There is always a need to look at it, to see if it's telling us a different story than what industry experts know. You can really go anywhere with analytics, same with user experience. Explore the company's values, to make sure they align with your own. When you know you can really support what a company is providing, that makes the work more rewarding. 
As a recent graduate I thought, "I'll take anything!" Now, I would challenge students to not think that way. Think through what is most important to you. Is it a great next step? Is it physically where you want to be? Is it with a team that can help you grow? Is it with a company doing interesting things or an industry you have interest in? Remember that interviews are also for you to interview the company. Ask questions about company culture, opportunities for growth, team structure, and the [likelihood of] independent work.
Going to Simmons was the most impactful decision of my life. It opened my mind to a variety of professional opportunities, and other ways of thinking. When the world opens up like that, you can't close it back up, and that is a great thing. I don't know if I would be where I am now without that.