Campus & Community
Looking back at the 42nd Annual Simmons Leadership Conference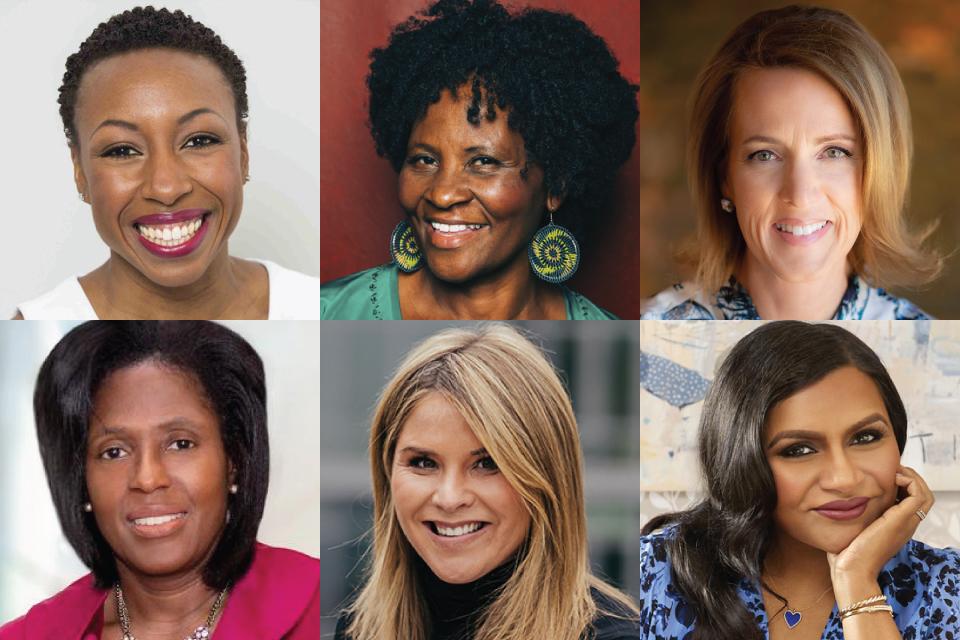 The Simmons Leadership Conference, produced by the Simmons University Institute for Inclusive Leadership, was filled with inspiring messages and powerful leaders — we're still buzzing with excitement! The day featured incredible speeches from Tiffany Dufu, Tererai Trent, Whitney Johnson, Lynn Perry Wooten, Sandi Fenwick, Jenna Bush Hager, and Mindy Kaling — as well as authentic stories and leadership advice from business leaders from Dell Technologies, Cisco, Raytheon Technologies, Mercury, 2U and Liberty Mutual Insurance.  
You can experience all the empowering moments from the conference with these articles and inspirational quotes below. Be sure to relive the event through our Instagram highlight and by checking out #SLCBoston on Twitter!
Media Coverage
Moving Moments
Joyce Kulhawik
Emmy Award-Winning Journalist
"The source of our power, as leaders, is our authenticity. I define this as when one is being truly oneself. It requires incredible self-awareness and courage. When you are yourself, you have to be vulnerable."
"Today we're going to explore what it means for women to be themselves and what happens when women are not their authentic selves."
---
Susan MacKenty Brady
Deloitte Ellen Gabriel Chair for Women and Leadership; CEO, Simmons University Institute for Inclusive Leadership
"I liken resilience to a badge that every woman has but hasn't asked for… I can imagine that most all of us have faced some need to adapt and adopt."
---
Tiffany Dufu
Author & Founder of The Cru
"If you want something you have never had before - you must do something you have never done before."
"In a world of uncertainty, life is a lot simpler when you know why you are here."
---
Dr. Tererai Trent
Author & Educator
"Your dreams will have greater meaning in this life when they are connected to the greater good."
"That's the power of resilience. Don't give up on your dreams. Surround yourself with those who believe in you."
"Remember, in this life, when one woman is silenced, we are all silenced. When women are awakened, the world heals. Women, we have the power to change this world, whether we like it or not. Women, we have the power to heal this world. Women, we have the power to create a fertile ground for other women to rise."
---
Unpacking Authenticity at Work Panel
"The last year has shown a humanness in all of us. In the last year, I was tested on what authenticity looks like at home." — Rhonda Henley, Senior Director, Global Partner Organization, Cisco Systems
"Authenticity is showing up every day as who you are, but being ok that authenticity comes with a price." — Millette Granville, Vice President, Diversity, Equity, and Inclusion, 2U, Inc.
"Authenticity: know who you are. Know what you love to do and ultimately stay true to yourself." — Stephanie Georges, Senior Vice President and Chief Marketing Officer, Mercury
"There are times when we're called out for not being our authentic selves and we need to sit in that vulnerability." — Kerry Seitz, Vice President, Women's Leadership, Simmons University Institute for Inclusive Leadership
---
Whitney Johnson
Award-winning Author, Speaker & Executive Coach
"When things seem to be working, start looking for your no stats all-stars, find ways to say thank you."
"When you understand what growth looks like, you can affect it."
"In mending the broken, you find the beauty."
---
Dr. Lynn Perry Wooten
President of Simmons University
"Resilience is essential because it prepares you and unlocks the potential for your future."
"There are four stages of resilience: acknowledge when you're in a fear mode, take a graceful pause, commit to learning and ride your growth trajectory."
---
Unpacking Resilience at Work Panel
"Don't hide your authentic self." — Caitlin Gordon, Vice President of Product Management for Integrated Solutions, Dell Technologies
"We do less so we can be more. Go slower so you can go faster." — Jean Guan, Senior Vice President, Manager for Medical and Siu Claims Operations, Liberty Mutual
"We thrive on hope and it is on the horizon." — Kim Ernzen, Vice President, Naval Power, Raytheon Missiles and Defense
"Turn a bad day into good data." — Elisa van Dam, Vice President, Allyship and Inclusion, Simmons University Institute for Inclusive Leadership
---
Sandra L. Fenwick '72
CEO of Boston Children's Hospital and recipient of the Helen G. Drinan Visionary Leader Award
"Three things have shaped my journey: to have courage and be resilient, to have vision, and to be a moral leader."
"I come from humble beginnings, but imprinted in me was service to others. This formed who I am."
"I have tried to foster and reward intellectual innovation and curiosity. I'm inspired to make the impossible possible by those whom we serve: our patients and their families."
---
Jenna Bush Hager
Co-host, TODAY with Hoda & Jenna
"If I wanted to see the world look different, I could evolve. I don't need to be perfect, I can just be me."
"I find inspiration in the women who have come before me. I find that resilience is built with a tribe of awesome women who have your back."
"Leadership revolves around listening. It's so easy to shout your opinion, it's much more impactful to listen to someone else."
---
Mindy Kaling
Writer, Producer & Actor
"I hope my daughter believes in herself the way that I believed in myself."
"Authenticity for me has taken time, because I used to be scared of what people would think of my voice. It took me having life experience to realize who I was being authentic to."
"My mom used to say this and I didn't understand it until I was older: 'You can't say I love you before you say I.'"