Alumnae/i Feature
Lolita Walker '03MBA: Walk in Your Own Greatness and Shift to Renewed Action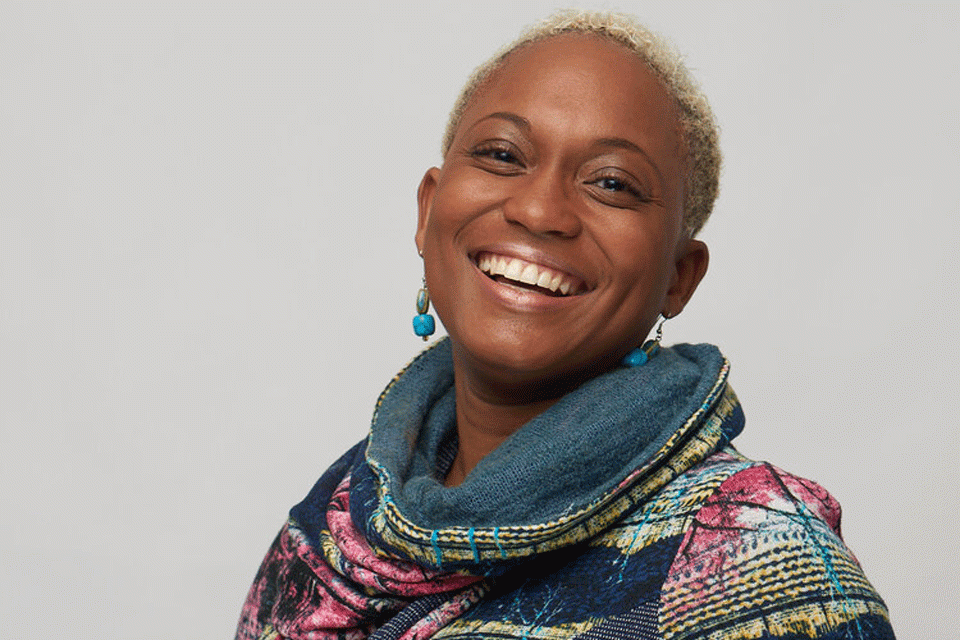 I drive home the importance of clarity, confidence, and commitment. When you are clear on where you want to go, then you can commit to your end goal. I listen intently, and I show people the value that they bring.
A certified life, leadership, executive coach, and self-described "change champion," Lolita Walker '03MBA works with individuals and companies to lead their employees beyond their own greatness. "Personal development is growth for the employee and the company, ultimately leading to professional success," says Walker. "I drive home the importance of clarity, confidence, and commitment. When you are clear on where you want to go, then you can commit to your end goal. I listen intently, and I show people the value that they bring."
The seeds for Walker's own achievements were sown at Simmons, where she attended evening classes in Business Administration. Professor Emerita Stacy Blake-Beard was pivotal in Walker's transformation. "I remember her saying to me, 'You have a powerful voice. There's more of your authentic voice inside of you, and I want to pull that out.' Her words gave me a rush of adrenaline.
Inspired by Blake-Beard, Walker returned to journaling and writing poetry, and her words lingered long after graduation. "That was a pivotal moment in that class," she recalls. "Such an instrumental piece of me finding my most authentic me."
Walker had a bachelor's degree in industrial engineering and job experience in operations when she started her MBA. "What I learned at Simmons about operations management and organizational leadership, I was able to apply right away in my day job. The application was in real-time."
Walker worked at Gillette as a manager of an operations department and was a member of the site leadership team. "I was also able to share my real-world experiences in the classroom. Being able to do that strengthened me as a leader. Feedback from my professors and peers shifted how I thought. I listened more intently."
At Simmons, Walker learned how to determine her own strengths, and she later shared these skills with others. After years in the corporate world, she knew she needed a change.
"I began supporting people who were being laid off in 2017, helping them reassess what they needed to propel them forward," explains Walker. "I took them through a step-by-step process, and they found immediate and immense value in that."
This is one of my strengths — I am a connector.
Inspired by this experience, Walker got her certification in coaching. "I had never thought about entrepreneurship — the corporate world was all I knew since I had finished my undergraduate degree. I founded Walker & Walker Enterprises, a personal and professional consultancy, to guide people toward the goals that they wanted and absolutely deserved."
She also delved back into writing, reflection and self-discovery. The result was her book, The Intersection of You and Change (Walker & Walker Enterprises, LLC, 2018), for which Blake-Beard wrote the forward.
"Change is difficult," says Walker. "Will you choose to go forward, which is scary, or stay put, which is complacency? Where do you go, and how do you get there? That is the goal of the book, to guide women through the unknown."
Then the pandemic of 2020 — an unknown experience felt worldwide, presented new challenges and opportunities. "It affected me financially — in times of crisis, people stop investing in development for themselves. Then the national uprising over racial inequality reached a pinnacle when we were forced to face our realities on constant repeat. The world felt the pandemic. The world felt the pain. We were each standing right here. We needed to talk about it."
Walker held Zoom meetings for people who struggled with the complications of lockdown and political upheaval. From those weekly Zoom sessions, Walker's podcast, "Coaching, Cocktails, and Conversations," was born. "This is one of my strengths — I am a connector. Some people couldn't pay for coaching, so this is a way for me to offer inspiration of soul work, for people to pause and consider on their own."
Like Simmons, Walker's team aims to cultivate clear, confident leaders and helps their clients navigate foreign spaces that may at first appear intimidating — not unlike graduating from college. With that in mind, Walker shares advice specifically for Simmons graduates as they embark on their professional journeys:
"You are Simmons grads! Put your diploma on your wall and know that you are already amazing.
By the end of this year, what do you want to be doing? Post your goal, make it visible, and share it with others. Put it in your calendar. Imagine how you will celebrate when you achieve this goal.
Value yourself and know what you bring to the table. Write a list of ten of your strengths. Ask your friends, parents, coworkers, professors, and peers what your strengths are and how you demonstrate them. Make a note of the examples. When tough times come, you will have this list to return to as an affirmation of your strengths.
Vulnerability is contagious; share your story with others. You are never going through something someone else hasn't gone through before, though it may feel that way. How can you make the uncomfortable comfortable? Reach out to friends, a professor. Join online networks of people who have had similar experiences. That is the power of connection and communication.
Here is one of my favorite affirmations: "'I am the greatness that others have yet to see. I leap because my faith and my strengths have wings that will protect my fall. I believe and trust my core values and remember that I already walk in greatness.'"