Student Story
Library of Congress Internship Leads to New Opportunities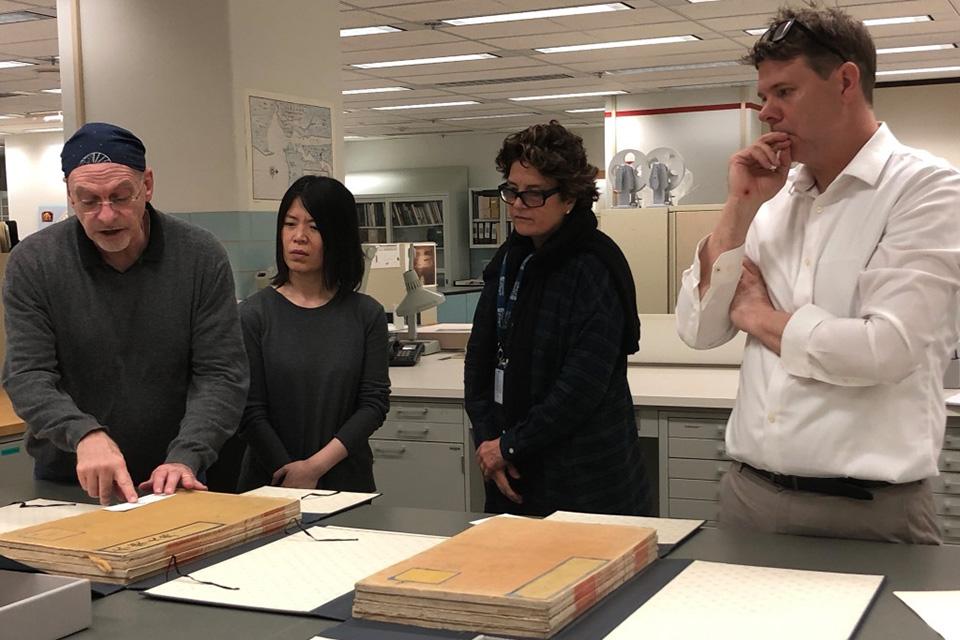 Ann Roddy '19MS shares details from her internship in the Library of Congress' Asian Collection Division.

Can you tell us about your internship/your daily tasks? 
I was assigned two core projects during my internship with the Library of Congress, based on new acquisitions to the Asian Rare Books Collection, and the Asian Art Collection. In all of my projects, I developed skills in creating original descriptive bibliographic records.
The first project was assisting with the original cataloging of a large inventory of 17th and 18th century gazettes. The gazettes, zhi, are far more than local histories, although many zhi prefaces (each zhi typically contains several) note that "The country has formal dynastic histories, counties have regional treatises." In the words of historian Endymion Wilkinson, "…They provide valuable information to assist incoming officials in effective management of their jurisdictions." (Chinese History, A New Manual, Fifth Edition, Cambridge: HUP, 2018).
The gazettes are often arranged, especially in the opening chapters, in a sequential order mimicking traditional leishu (similar to encyclopedias in western classification, except that in addition to word glosses, they contain complete texts which may not survive elsewhere), beginning with the 'heavenly' tian or astronomical realms and guiding constellations, then descend to 'peripheral and settled territories' on earth, yeli and dili. Once the heavenly and earthly positions have been charted, the treatise goes on to describe topographical features, transport and communications, educational institutions, temples and shrines, military holdings (including remarkable steeds), customs and festivals, natural and manmade disasters, and miscellaneous entries. The information in these categories was arranged by maps and charts, records, tables, treatises, and biographies. 
The second project was "The Great Encyclopedia of the Yongle Era," Yongle Da Dian. The Yongle Da Dian, first published in 1407 during the Ming dynasty (1368-1644) is a global outreach digitization project, undertaken to make the most complete extant edition of the largest Chinese collectanea, composed of 370 million characters, available to all libraries. This massive work contains texts that do not exist in any other collection, and is a significant contribution to understanding traditional Chinese history, culture, literature, religion and art. In this project I edited the descriptive translations fields of the Yongle Da Dian, to render some of the more arcane ritual terms and practices into English, and offer general English language suggestions and grammatical solutions. 
Can you tell us about the collection?
The Library of Congress collections contain over 162 million books, periodicals, manuscripts, maps, music, recordings, images, and electronic resources. Their Catalog contains 17 million records describing these collections. Of the 162 million books, just over 2.5 million belong to the Chinese collection; it is the largest Asian collection outside of East Asia.
During my internship with the Library of Congress, I worked with the China team of the Asian Collections Division. The China team was established after a divisional reorganization in 2004, when the Japanese and Korean Sections became the East Asian division, and the China division began to incorporate Chinese, Mongolian, Manchurian, and Tibetan collections. The divisions work together on collection development, references services, and outreach programs; as well as managing several special collections, including the Asian Rare Books Collection.
How did your classes prepare you for the internship?
All of my Simmons coursework came to life in this internship, but two core courses continuously served my success: LIS 445 Metadata with Assistant Professor Kyong Eun Oh and LIS 448 Digital Stewardship with Assistant Professor Peter Botticelli. I referred to what I learned in Metadata frequently, and Digital Stewardship was very useful when I worked on the Yongle Da Dianproject. I also attribute the success of my internship to the unflinching and professional guidance of Associate Professor of Practice Donna Webber.
I am now at a crossroads of having learned enough to feel confident in many diverse aspects of original cataloging, and beginning to understand the library work environment as one of constant change and renewal. Since I began my internship with the Library of Congress, working with the China team of the Asian Collections Division, I have learned to read the development of library classification systems in each bibliographic record. When I was introduced to BibFrame, the newest classification model that is more narrative than predominantly machine readable schema, and having learned the inherent structural codes of organization systems, I could actually read the organizational system as a form of text! BibFrame will become the most versatile and advanced system, from the perspective of the Library of Congress, for making more information easily accessible in any item format. 
From this macro-level of renewal and change, my internship experience also yielded a micro-level of renewal and change: each topic and assignment was related to what I studied during my core curriculum courses. It was as though the pulse of life working in library science had been created in those courses, and grew in strength and expression throughout my internship. 
What plans do you have for your career?
Currently I am the Asian Collections Curator and Research Specialist at the Elling Eide Research Library and Preserve. When I complete my MLIS, I will be Director of the Elling Eide Research Library. I hope to continue research in the Library of Congress.
What advice do you have for other students looking forward to internship opportunities?
I would look at an internship as a wealth of diverse opportunity, and approach it as an open source education. Stay aware of what your environment presents to you, and be generous in how you respond to tasks and challenges. Keep in mind the reciprocity of an internship experience. An intern can reveal to the host institution areas for development and improvement that may not have been apparent before your presence and contributions. This is equally important to the institution as the tasks you have helped complete, and the institutional goals you have helped it to realize. Throughout the internship, summon creative approaches and ingenuity, as this creative alignment can contribute to personal and institutional development.