Student Story
Learning Outside the Classroom: A Boston Culture Palace, Right Next Door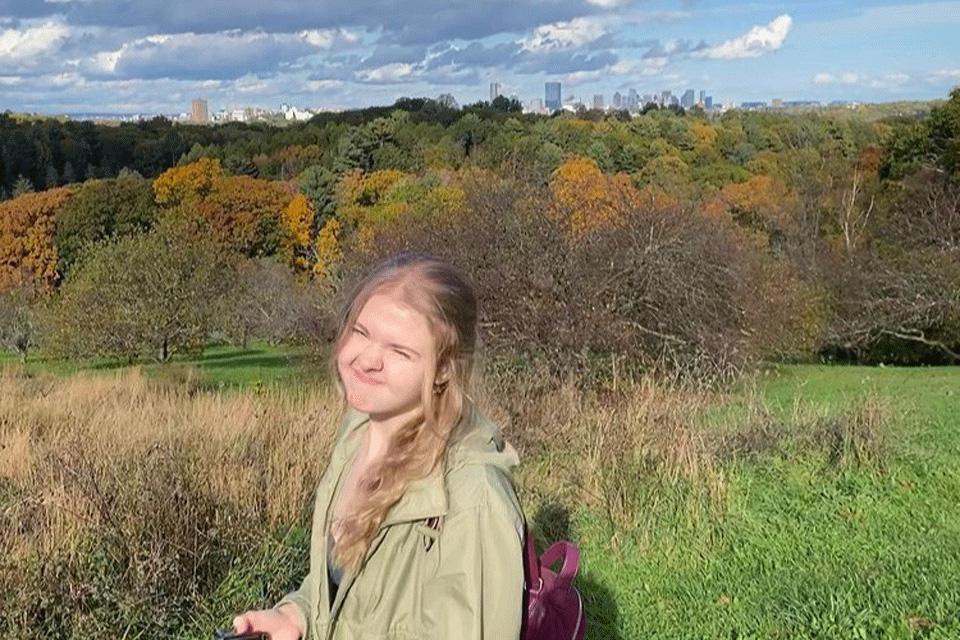 When nursing major Holly Wright '25 came to Simmons last fall, she didn't expect to spend so much time studying art. As part of the Simmons PLAN (Purpose Leadership ActioN) core curriculum, Wright registered for the Boston course, "Isabella Stewart Gardner and the Building of a Culture Palace," taught by art and music Professor Gregory Slowik. The Isabella Stewart Gardner Museum is located next door to the Simmons academic campus, and students can visit for free.
"It was amazing. That first time we visited, that courtyard took my breath away. It's gorgeous!" says Wright, who was also enchanted by the Little Salon, with its floral wallpaper, tapestries, and rose chandelier. "There is history behind every piece she collected, and we learned so much. I had no idea this museum was even there, and it's now my favorite museum, ever." It is also the site of an infamous art heist in the 1990's, which took Wright by surprise. "I hadn't known about the theft. I loved learning about the Gardener, and about Isabella, herself, the woman she was."
Professor Slowik sees the Boston courses as a way to engage in the city where students will live and study for the next four years. "Education does not stop at the classroom door," says Slowik, "There is an entire world to experience and learn about. The Boston course can be the first step on a life-long journey of discovery and excitement. Along the way, students polish their ability to think clearly and communicate well."
The Boston course is a writing course, which offered a clear departure from Wright's course of study. "I'm a nursing major, and writing isn't my best subject," admits Wright, "but it was so much more than that. I got to meet new people in my class who aren't nursing majors. I got to talk about something other than science. It's good to have that balance." The novelty of the course enhanced the experience, offering a common ground for students of different majors. "And it definitely improved my writing skills," says Wright.
For his academic research, Professor Slowik focuses on Isabella Stewart Gardner's support of musicians. "Her patronage of music has been fascinating to me ever since I first performed in a concert series in the museum's Tapestry Room," says Slowik. "One of my favorite parts of teaching my Boston course is introducing Simmons students to one of the most fascinating women in Boston's modern history. Students are amazed by the accomplishments of one widowed woman living in turn-of-the-century Boston."
Wright echoes that focus on Isabella, herself. Her final presentation was a research paper on Isabella as an educator. "She was definitely a leader, and she continues to educate people. In her will, she left the museum to the public. People visit from all over the world." And the course gave Wright the opportunity to educate. "When we gave presentations at the end of the class, we were teaching our own lessons about Isabella. Now I can bring my friends when they visit and teach them what I've learned!"