Alumnae/i Feature
Giavanna Worthy '20MA: Simmons Helped Me Steer My Interests Into Clear, Feasible Goals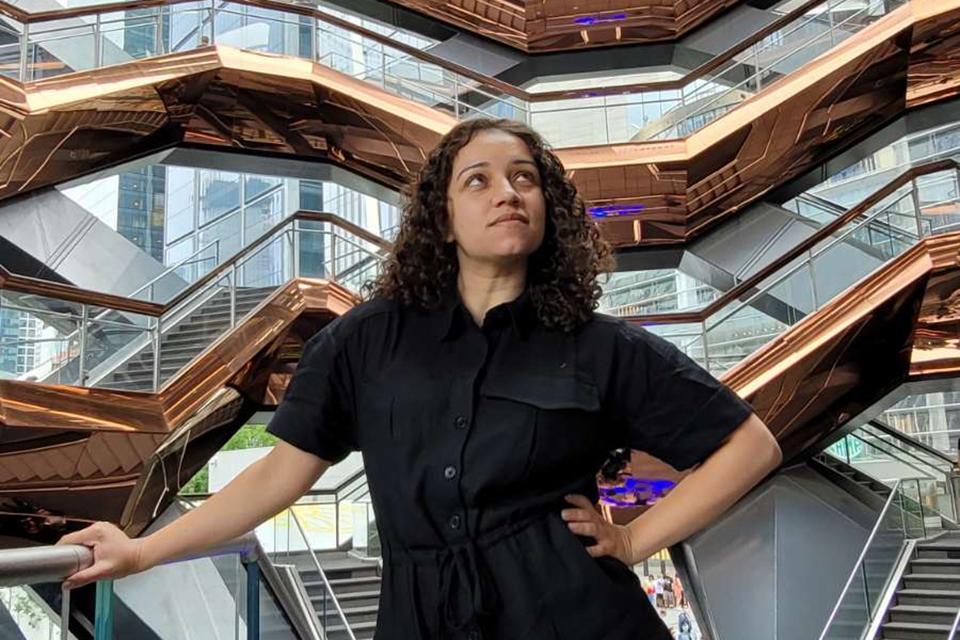 Without a doubt, I wouldn't have been hired if it wasn't for the tools Simmons gave me to prepare for the interview and the job itself.
Why did you choose to attend Simmons for a master's in gender and cultural studies?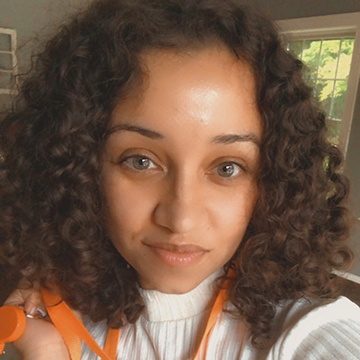 There was a large part of me that was drawn to Boston and the city life. I wanted to go where there were always opportunities to experience something new, both in the classroom and beyond. I couldn't have chosen a more perfect setting, and I've missed it every day since I had to leave in 2020.
While there are so many colleges in Boston, Simmons stood out to me as an environment that was small but effective in meeting my needs as a student. I believe that the personal is political, and my life experiences reflect larger conversations about our society. I wanted to take the knowledge that I already had and expand on it. I love to learn and challenge myself with different perspectives. I believed Simmons would provide that for me — and I was right!
In your experience, what was the best feature of the program?
For someone like me who has never been able to commit to just one area of interest, the interdisciplinary nature of the gender and cultural studies program allowed me to touch upon all of my passions in life. I wrote about how Blackness is treated in the television show Survivor, a project which took me to several conferences and beyond. I was blessed to complete my thesis on Pleasure Activism and the Amber Rose Slutwalk, which led to many deep discussions and reflections on the intersections of gender, sex and sexuality, economic status, and cultural norms.
There were times I doubted myself during the early stages of the program and at the beginning of the pandemic while I was finishing my thesis. However, the support system I developed at Simmons — the faculty, staff, and my fellow students — was with me every step of the way during this incredibly challenging time.
I love to learn and challenge myself with different perspectives. I believed Simmons would provide that for me — and I was right!
Tell us about your position as HIV Prevention Instructor with the YWCA.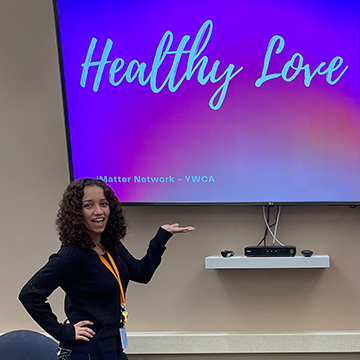 Amid the pandemic, I was apprehensive about finding a job once I graduated. I knew I had a unique skillset and areas of interest, and it didn't seem like those types of jobs were hiring in the middle of 2020. But then, I was referred by a friend to apply for an HIV Prevention Instructor position at the YWCA, and it was the perfect fit for me.
As a Prevention Instructor for the iMatter Network (a subdivision of the YWCA), I help address the linkages between HIV and intimate partner violence (IPV). Research shows that those living with HIV are at a higher risk of experiencing IPV at some point in their lifetime. By the same token, survivors of IPV are at a higher risk for HIV. This issue is especially concerning in Springfield, the city we focus on (and the city I grew up in). Springfield is the third-largest city in Massachusetts, but it accounts for over twice the HIV infection rate in the state.
I help address these disparities through our program's youth-based initiatives and informative training. I supervise a Youth Advisory Board (YAB) comprised of college students across Hampden County with my cofacilitator. We work with these students to build awareness on their college campuses through HIV and IPV prevention projects.
How have the lessons learned at Simmons translated to what you're doing now?
I felt very lost when I was coming to Simmons. I knew I had a wide array of interests, but I had no direction for them. I wasn't even confident in my own capabilities and anxiously waited for my first round of grades to see if I "belonged" in graduate school. My time at Simmons helped me steer my interests into clear, feasible goals.
I sharpened my skills in learning about the intersections of race, gender, and sexuality, which all contribute to the work I do now. My coursework at Simmons also challenged me to question my own pitfalls and privileges and work to overcome them. As an HIV Prevention Instructor, you have to understand that HIV and AIDS are not only physical illnesses, but also socioeconomic ones. You won't reach the clients who need it most if you're not open and receptive to all the socioeconomic factors impacting their lives and their risk for HIV.
One of my favorite parts of Simmons was how I grew more confident in presenting in public settings, both in classes and at conferences. Now public speaking is the majority of what I do. Without a doubt, I wouldn't have been hired if it wasn't for the tools Simmons gave me to prepare for the interview and the job itself.
My time at Simmons helped me steer my interests into clear, feasible goals.
What's your favorite part of your job?
My favorite part of the job is our approach to HIV prevention, which is all about evaluating risk. Forcing your ideology on someone is an ineffective way to help protect them against HIV or any STI. Instead, we educate our clients on how HIV works, how it can be transmitted, and different methods of protection they may want to use. This could mean condoms, abstinence, PrEP, PEP, communicating with your partner or partners, getting testing regularly, or some combination of any of these suggestions. Our program participants can look at the many ways to lower their risk of HIV or other STIs and decide what is the right choice for them. I believe this method of risk evaluation is one of the most effective ways to lower the rate of HIV infection significantly.
Can you tell us more about your connection to Survivor and expanding it to your studies?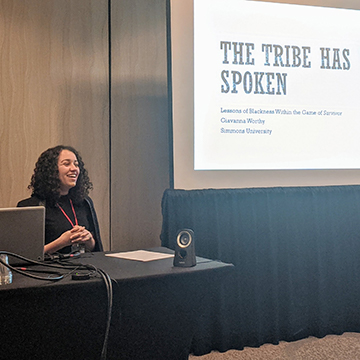 Survivor is a show that I will always hold near and dear to my heart. I grew up with it, having started watching as a kid, and have now seen all 40 seasons, plus some international versions. Growing up as a Black, biracial kid, I would grow attached to many of the players of color that appeared over the years. However, I often noticed that these players, particularly Black players, were on the receiving end of microaggressions and sometimes even explicitly racist behavior. Of course, I didn't know to call them microaggressions when I was nine, but I still knew something wasn't right. For a show I love so much, it was a heartbreaking truth that was a repetitive issue on-screen. It was my version of "the problem that has no name." And when I did name it, I wanted to address the issue head-on.
By the time I got to Simmons, I knew that I wanted to write about how Blackness is treated on Survivor at least one point during my time there. It started as a 20-page paper for my "Cultural Studies" class, but I knew it could be better, more polished, more concise. So, with the help of Suzanne Leonard and my fellow students' feedback, I revised it and turned it into an 11-page paper that I brought to several pop culture conferences. I got wonderful reviews on it, both from Survivor fans and people that had never seen the show. I was blown away by how many people had taken an interest in it. Then I posted about this paper on Twitter, and it caught the attention of actual Black Survivor players!
This is how I was asked to be a part of the Survivor Diversity Campaign (SDC), an initiative created by Black Survivor alumni to push for effective diversity initiatives both in front of and behind the camera. For my part, I help run the SDC's Twitter page with a small team of other superfans. Since I was asked, CBS has committed to casting at least 50% BIPOC contestants for all of their non-scripted shows! Finally, that Survivor paper I had worked on throughout graduate school has reached its final form (at least, this version of it). It is now published on Inside Survivor, a website covering Survivor news both in the US and around the world, and I couldn't be prouder of it!