Student Story
Explore Peer Leader Alexis Gallotto '23 Guides First Year Students Through Time Management, Homesickness, and Public Transportation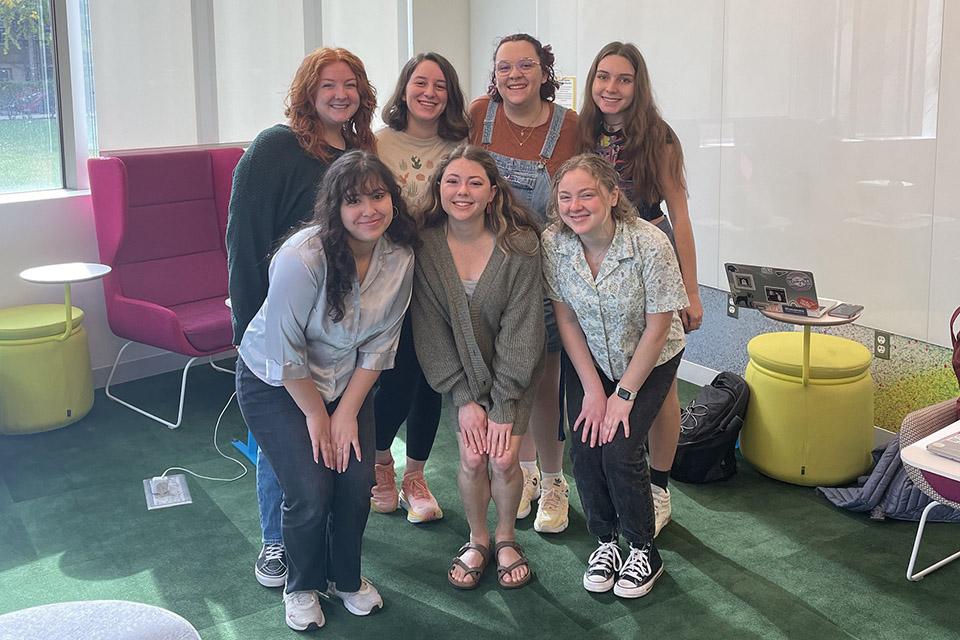 What is the Explore course?
The Simmons Course is a part of the PLAN core curriculum. First year students take Simmons: Explore, which is an introduction to college life, study strategies, and on campus resources. Each year, the courses build on those basics and cover topics that include writing resumes, navigating job and career portals, and a focus on personal finance. The finance one is a really useful guide - you create a budget based on an estimated salary in your future career, and how much you might pay for housing, groceries, transportation. It connects college with real world scenarios, and it has helped me a lot.
Another benefit of the core courses is branching out from your major. As a nursing student, all of my classes are with other nursing students. Through the PLAN courses, I've bonded with a lot of amazing people at Simmons I may not have met otherwise.
Tell us about the Explore Peer Leaders (EPL).
Christy Lusiak, Assistant Director of the Jennifer Eckert Center for Leadership & Engagement, is an instructor for these courses and has spearheaded the Explore Peer Leaders program to engage with students in the program.
This is our first full year of the EPL program, and we hope our work will jumpstart it into a larger scale program. The goal is to offer peer support to students in the first year Explore course, planning events outside of class based on course curriculum. For example, we had our first game night this semester, with board games and lawn games on a Friday evening. We offered a panel for EPLs to share tips on how to balance academics with extracurricular clubs. Recently, EPLs took students on a "coffee crawl" through Fenway, exploring the neighborhood. We visited Chinatown earlier this month, based on this year's Community Read. We visited an art center and ate dumplings, which we related back to the book. We have "Comfort Food Cookbooks" on 10/20; "Harry Styles/Taylor Swift Trivia Night" on 10/22, and "Tricks and Treats" on 10/31!
A big part of it is to get new students acclimated to the city and willing to explore. EPLs can take students on a walk around the neighborhood, get on the T, or teach them about the local bus routes. Anything in the Fenway area is a five minute walk from the Residence Campus, but that makes it easy for students to not venture further out. Boston has so much to offer and so much for students to do, and we want them to experience it. I've discovered a lot of student discounts that I didn't even know existed, and I'm in my senior year! We're trying to plan based on what students need.
As a nursing major with clinicals at different hospitals around the city, I've found that using the bus is so much easier than the T! I never used the bus before, but it's much more direct and not as crowded. The buses go to a lot of places, and there are points of access near the academic and residence campuses. We want to inform students about the bus and get them comfortable using it on their own.
What's your role?
Part of my job is collecting information on programming, both on campus and free off campus events. We send a weekly newsletter of what's going on in all categories, including events planned by organizations and departments on campus, including the REEF, Multicultural Center, Wellness Ambassadors, and SAMs. There is so much to do and sometimes students don't know where to look and may miss something.
EPL events are optional, but we're trying to promote and encourage attendance. The "Explore Wars" are a way of doing that: each student gets a punch card, and for each event they attend, they get a punch. It's a tally system, and midway through the semester we'll tally all of the attendees per class. The class with the highest attendance will win a party, maybe ice cream or pizza, along with bragging rights and a trophy for the class.
There are currently six EPLs. Throughout the semester we'll visit classrooms, and each student has been assigned a Leader to contact, or visit during office hours. Mainly we're a support system, and we're here for students who are feeling homesick or struggling with settling in. I know that I needed that extra support my Freshman year, and I want to be here to support students who need it.
How are leaders chosen?
A sister position was the original blueprint for the EPL role. This year, Orientation Leaders were opened to apply for the roles because we have the training needed for EPLs and we needed to build a foundation. We hope to expand the application process to more students next year! While it was easier to start with a few students and create a guideline of what we want to do, we hope this process gets more traction and more students get involved. What we do will be the foundation of what next year's EPL will be.
Year 1: The Simmons Course: Explore
Fall Semester, 2 credits
This course supports Simmons students in their transition to college. The primary goals of the course are to introduce students: to Simmons, to navigating cultural differences, to self-management and to what it means to engage with your community.
Year 2: The Simmons Course: Experience
Fall or Spring Semester, 1 credit
The second year Simmons Course focuses on academic and career planning, further development of self-management skills and developing competencies in diversity, equity and inclusion. The course also prepares students to design their 3D cluster and to engage in directed course planning in order to fulfill this requirement.
Year 3: The Simmons Course: Excel
Fall or Spring Semester, 1 credit (online)
In the final segment of The Simmons Course, students finalize their 3D plans. The course also includes a focus on career and life planning, and students engage in a series of self-directed learning assignments designed to help them navigate their professional, financial, academic, and personal futures.