---
Year 1
The Boston Course
Fall Semester, 4 credits
In this writing-intensive first-year seminar, students will engage with the City of Boston and develop writing skills, information literacy and critical analysis. Based on faculty expertise and passions, these courses run the gamut of disciplines.
The Simmons Course: Explore
Fall Semester, 2 credits
This course supports Simmons students in their transition to college. The primary goals of the course are to introduce students: to Simmons, to navigating cultural differences, to self-management and to what it means to engage with your community.
The Leadership Course
Spring Semester, 4 credits
This course is designed to begin students' leadership development journey during their time at Simmons. The course enables students to examine how they think about everyday leadership and how they think about themselves as leaders. Students will develop two basic skills associated with leadership: public speaking and team leadership.
Sample Boston Courses
Grassroots Boston (Instructor: Meghan Doran) Boston has a long and storied history of its citizens coming together to make change. How has this activism shaped the City, as we know it today?  In this course we will draw on the interdisciplinary lenses of urban and social movement studies to understand how grassroots community groups have shaped and continue to shape the lived experience of Boston--where people live, how they get around, and where they go to school. Along the way, we will identify some critical elements for understanding the role of activism and consider how we define change and success. We will investigate the City in order to uncover the impacts of efforts to make social change and have an opportunity to learn from grassroots activists.
A Field Guide to Art in Boston (Helen Popinchalk) A Field Guide to Art in Boston visits Boston's world-class institutions such as the Museum of Fine Arts, Gardner Museum, Institute of Contemporary Art, university and contemporary galleries. The course is about learning to look and express visual concepts through writing and analysis. The study of different times and cultures will enrich understanding of art of our own time.
Women Astronomers of Boston, New England, and Beyond (Russell Pinizzotto) Women have made pivotal contributions to astronomy for millennia. In Boston, a team of women known as the "Harvard Computers" established principles fundamental to astrophysics. Maria Mitchell of Nantucket became Professor of Astronomy at Vassar College in 1865. Sara Seager is currently a Professor of Physics and Planetary Science at MIT. In this course students will discover the contributions that women have made to astronomy throughout history from Aganice in ancient Egypt to Caroline Herschel, the first woman to receive a salary as a scientist, to Katherine Louise Bouman, who led the development of the algorithm for imaging black holes.
Sample Leadership Courses
Redefining Leadership Through Historical Review and Self-Discovery (Instructor: Mikel Satcher) Through a limited review of leadership theory and the leadership practices of contemporary and historical figures--such as Naomi Osaka, Ruth Bader Ginsberg, John Lewis, Malala Yousafzai, Harvey Milk, Alexandria Osasio-Cortes, Fannie Lou Hamer, Muhammad Ali, Greta Thunberg, Serena Williams, Mother Theresa, Martin Luther King, Jr., etc.--this course will lead students into the self-discovery of their own leadership skills and styles which will be used to redefine leadership for themselves, create strategies for societal change, and assess how their newly discovered understanding of leadership might be applied to real case studies and hypothetical scenarios, some of which include the challenges of collaborative leadership in a community context.
African Resistance Movements (Instructor: Jessica Parr) This course will use literature and film to reflect on resistance to colonization, beginning in the twentieth century. Topics will include anti-colonization movements, such as the anti-Apartheid movement in South Africa. This course will place a specific focus on Africa, and primarily on African women from the independence movements in the 1960's onward.
Boston Women Leaders (Instructor: Erin DeCurtis) This course will explore women leaders in Boston. The course will identify trends common to these women leaders as well as the unique leadership practices that successful women leaders in Boston enacted that contributed to the social, economic, political and personal successes they achieved. Students will use lessons learned to develop their own leadership philosophy. The course will include interviews with current women leaders in Boston from business, nonprofit and government sectors.
---
Year 2
The Learning Community
Fall or Spring Semester, 8 credits
The Learning Community will provide students with an opportunity to understand a topic from multiple disciplinary perspectives. This approach to integrative learning will allow students to grasp the habits of mind and intellectual methods of two disciplines (via two 3-credit courses) and how they may be brought to bear on a topic, issue, or problem (via a 2-credit integrative seminar jointly taught by the two course instructors).
The Simmons Course: Experience
Fall or Spring Semester, 1 credit
The second year Simmons Course focuses on academic and career planning, further development of self-management skills and developing competencies in diversity, equity and inclusion. The course also prepares students to design their 3D cluster and to engage in directed course planning in order to fulfill this requirement.
3D–Design Across Diverse Disciplines
12 credits
Before spring registration of their second year, students will design and propose a cluster of three courses that address a topic, problem, or issue from various disciplinary perspectives. Students will explain the rationale for their selection of these courses, focusing on the intellectual coherence of the courses they have chosen.
Sample Learning Communities
Coding and Digital Stories: This Learning Community takes an interdisciplinary approach to digital storytelling and introductory programming. Students work individually and in teams to produce an interactive story that will include elements such as short-form video documentaries or historical narratives, accompanying audio pieces, photography, and a story script – all based on solid storytelling techniques. Students will gain a foundation in coding basics using Python, which also serves as the entrance to Computer Science.
Mind and Body: New Perspectives: All human cultures distinguish the concept of mind/will/volition from the physical body/its biology. However, as behavioral biology and related disciplines progress, lines between physiology and consciousness blur, calling into question the limits of free will and mind-body duality that permeate much of our philosophical and cultural heritage. As newer work within philosophy of mind and begins to address these questions, it is important for students to have an opportunity to recognize, contextualize, and thoughtfully/respectfully discuss the issues present at the junctions of these disciplines in an intellectually well-rounded manner, with balanced instruction from both disciplinary backgrounds (biology and philosophy).
Community Food Systems: This Learning Community addresses the central question of what policies and practices are needed to develop sustainable and just community food systems. The LC offers an interdisciplinary approach to examining community food systems with particular emphasis on urban areas, using Boston as an example. We examine the many ways food shapes urban sustainability, public health, community, and economic development. We also consider federal, state, and municipal food policies along with urban planning initiatives for community-based food systems.
---
Year 3
The Simmons Course: Excel
Fall or Spring Semester, 1 credit (online)
In the final segment of The Simmons Course, students finalize their 3D plans. The course also includes a focus on career and life planning, and students engage in a series of self-directed learning assignments designed to help them navigate their professional, financial, academic, and personal futures.
---
Year 4
The Capstone
Fall or Spring Semester
All students will take a Capstone experience in their major, which will be designed by individual departments. Regardless of discipline, Capstone experiences will address career and graduate school preparation. (One Capstone in a student's major is required to fulfill PLAN requirements; students with multiple majors may be required to fulfill Capstones in each major, depending on major requirements.)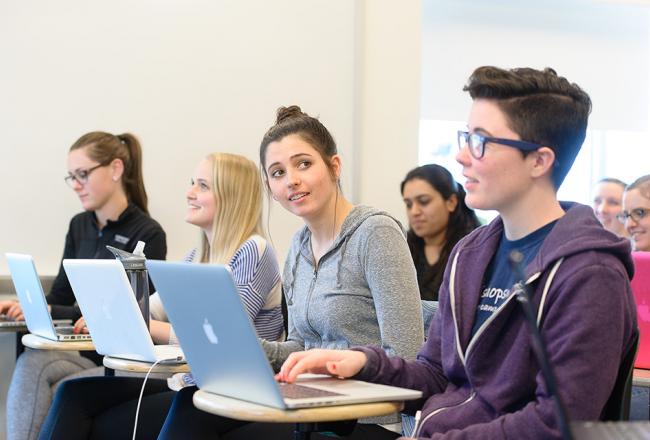 PLAN Courses
See a full listing of PLAN courses.
PLAN Courses