Alumnae/i Feature
Emese Parker '06 BSN Integrates Women's Health and Creative Approach in New Book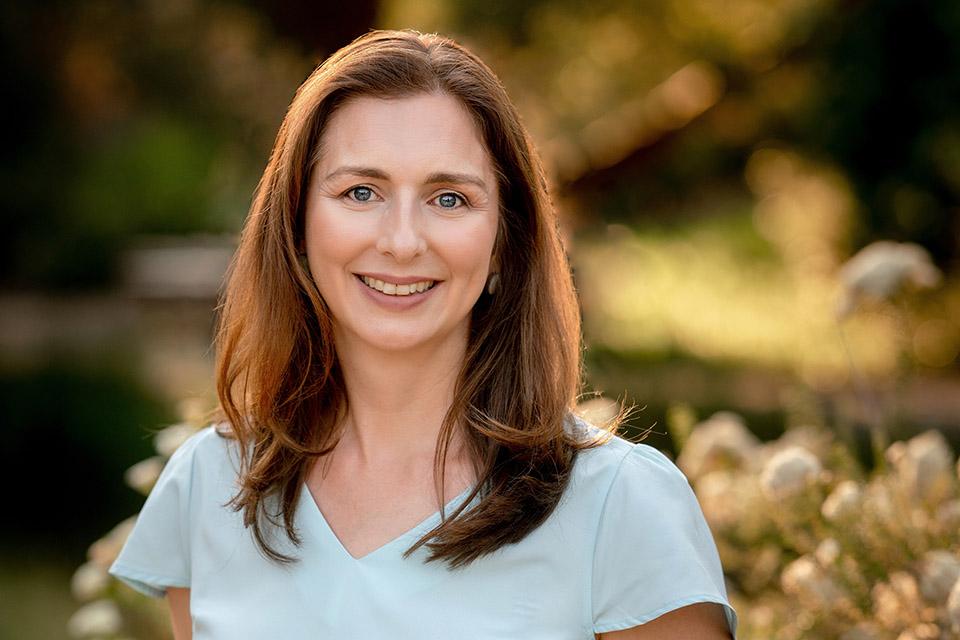 In her debut book, To Carry Wonder: A Memoir and Guide to Adventures in Pregnancy and Beyond, Emese Parker combines personal experience with her expertise in women's health. Her holistic approach aims to help any mother-to-be discover knowledge and inspiration.
"I think women are remarkable," says Emese Parker. "I love to help them make informed decisions about their bodies and advocate for them."
Indeed, Parker has spent her entire career supporting women. For fourteen years, she has worked as a nurse practitioner in various OBGYN departments, and now works at Dignity Health in Davis, California. "We offer a number of women's health services that cover a woman's lifespan, from teens to geriatrics," she says. "Some of my work includes family planning, menopause, PMS symptom management, and prenatal and postpartum care."
Parker has had a longstanding interest in women's health. For a project in sixth grade, she got to shadow a working professional, a fellow student's mom who was a midwife. During the middle of the night, while at a slumber party, the phone rang. "Guess what! The mother's in labor. I'll pick you up in 15 minutes and take you over to the hospital to see the birth," her mom shared. Parker quietly gathered her belongings, tip-toed out of the house, and a few hours later "saw life bring forth life." "The whole thing was so surreal and amazing," she recollects.
As a college student at the University of Puget Sound, Parker first pursued exercise science. She was interested in fitness training, health, and physical therapy, but eventually realized that she would rather broaden her focus. "I went back to women's health, a topic I was interested in from childhood," she recounts. "Nursing was a really great fit. It has a more holistic approach and involves health promotion, disease prevention, and allows me to advocate for patients. There are so many ways to be involved in the nursing profession — teaching, research, clinical practice, public health — so I knew I would never get bored in this field."
Throughout her life, Parker has always loved writing. So, it didn't take long for her to realize it was time to write a book about motherhood. When she herself became pregnant, she realized the limitations of the books about pregnancy, which were either dry and scientific or entirely subjective. "I wanted to create something cutting-edge--holistic and hybrid; evidence-based information paired with stories and art," says Parker. "And so here we are! My book is designed to supplement the prenatal care that most women in the U.S. experience. I really hope it helps people feel nurtured, inspired, and equipped."
Parker believes that a holistic approach to pregnancy and postpartum care can more authentically address the biological, psychological, and social aspects of this extraordinary time in a woman's life.
Like pregnancy itself, To Carry Wonder had a long gestation period. It took Parker twelve years to create the appropriate format and tackle her research and writing. "Writing a new type of book was not the most efficient thing I've ever done, but it sure was an adventure," says Parker.
Parker decided to self-publish the book to ensure that it would turn out as she always dreamed — a beautiful and fun-to-read pregnancy book. Part of this process meant being able to commission illustrators (Christa Pierce and Rafaela Perasinic) and a graphic designer (Ariel Garcia) of her choosing. "It was fascinating working with them," Parker recalls. "I told them what my vision is, and they would come back and offer a sketch or two, which we would then discuss and they'd tweak. . . . They are so talented, able to adapt their style to conform to scientific and anatomic principles while still creating incredible artwork."
The resulting whimsical illustrations strike the right balance. "I love how it turned out! The illustrations celebrate diversity, and people have something fun to read, look at, and relate to," says Parker. "In pregnancy, we all expect to grow physically, but we don't necessarily realize the transformative changes that go on within, including the mental health impact. So, I hope that the book normalizes this process and guides self-discovery during pregnancy and motherhood."
Parker credits her Simmons education with deepening her clinical experience. "Simmons has committed, knowledgeable, and supportive faculty, as well as excellent clinical rotations that gave me a lot of exposure. I especially loved taking classes from [former Professor] Susan Neary and working with [former dean of the College of Natural, Behavioral, and Health Sciences] Judy Beal," she says.
For Parker, her career is most rewarding when she is "partnering with women, and forming a relationship in which they feel comfortable and can be honest about their health care concerns. Once you have established that trusting relationship, that's when people are able to make informed decisions and promote their own wellness."
To Carry Wonder will be released on April 5. It is available for (pre-)order here: ToCarryWonder.com