Campus & Community
Cut, Paint, Print, Sew: Mindful Creativity in the Simmons Makerspace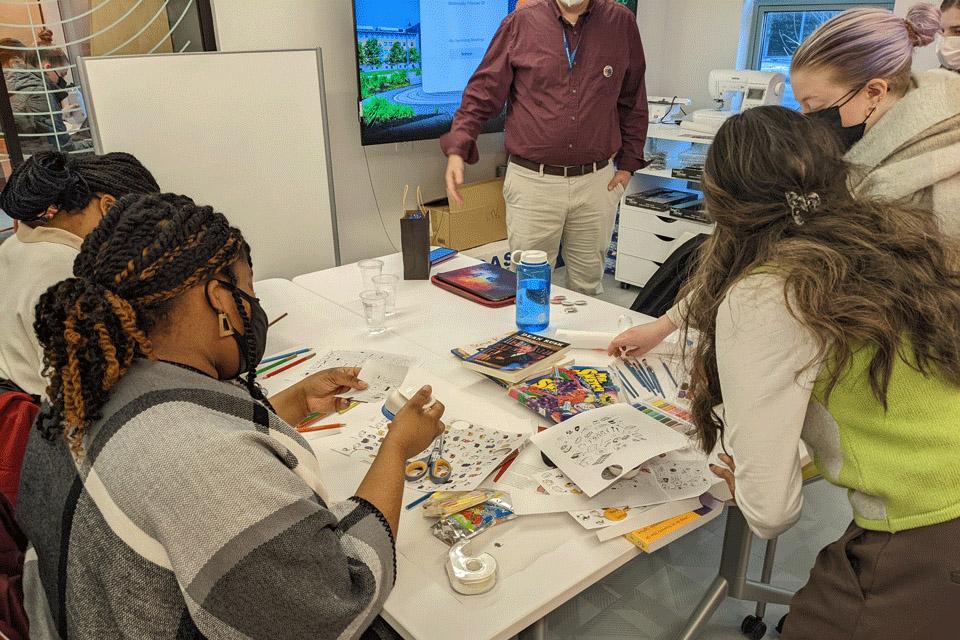 "We have a vision for the Makerspace," says COCIS Technology Manager Joseph Di Lascio.
That vision encompasses the entire Simmons community, for which the Makerspace will serve as a focal point for mindful, collaborative creativity. Much of the creative exploration will be led by students; the "MakerSharks" are trained student workers who will manage and support the activities that take place in the Makerspace.
"On an individual level, we want to offer students a way to spend their time creatively," says Di Lascio. Studies have shown that taking time to engage the mind and hands in a tangible craft has benefits for our mental health. The Makerspace offers an opportunity for students and faculty to take a break from their usual routine. "They can visit to learn a new tool, or make a gift for a friend. Ideally, you can get to a point where these creative endeavors are a normal part of your life."
There are already a variety of tools available for use in the Makerspace, including standard art supplies: watercolors, acrylic paints, pastels, colored pencils, and paper. There is also a Cricut, a precision cutting and drawing machine. "You give it a file of what you want it to cut out. We have iron-on materials and an iron, so you can bring your own t-shirt and cut your design out of iron-on vinyl with the Cricut," says Makerspace Facilitator Abby Lance '26PhD. "I really love showing people what it can do. You don't have to be a photoshop expert to create your files." Lance notes that the jewelry-making supplies were popular in the focus groups conducted last semester. "We have supplies for block printing, where you carve a rubber block and print it on to fabric or paper." For a fun, easy task, Lance suggests trying the button maker. She plans to set up a 3D printer this semester, and is working with faculty to choose robotics kits that best support the curriculum.
"The Makerspace can provide hands-on learning," says Joe Braitsch, COCIS Director of Operations. "Faculty want to integrate their curriculum with the tools available, to enliven the delivery of the content beyond the classroom. It's not just robotics and art, but occupational therapy, business and statistics and modeling. Very intentional learning can happen in a space like that. The more engaged our students are, the more they will learn and grow." Braitsch also hopes that some MakerSharks will be able to teach him to sew; the Makerspace already has a sewing machine, which can also do embroidery.
Di Lascio sees a potential service element in what students choose to create. "We can offer ways to spend your time learning and creating, while also contributing," he says. "We want to make things that make a difference to people." Braitsch also emphasizes possibilities for collaboration. "Working with people on larger projects will accomplish a lot more than I can on my own."
Further, the Makerspace is for everyone. "Though the Makerspace is being driven by COCIS, this is for the entire University," says Di Lascio. "Any student, at any level of experience, in any major can visit and use these tools. Any faculty member who wants to collaborate or host classes, they can reach out to us to schedule the space."
The Makerspace is located on the first floor of One Palace Road, and is open weekdays, 11 a.m. - 6 p.m. Individuals are not required to schedule time, but will need to swipe their Simmons ID to enter the Makerspace. There will be a student stationed in the Makerspace to help people use the tools. Faculty and students can contact [email protected] to schedule the space to use for a class or a meeting.