Student Story
Cheeznah Milord '21 Creates RISE Mentorship Program for Boston Scholars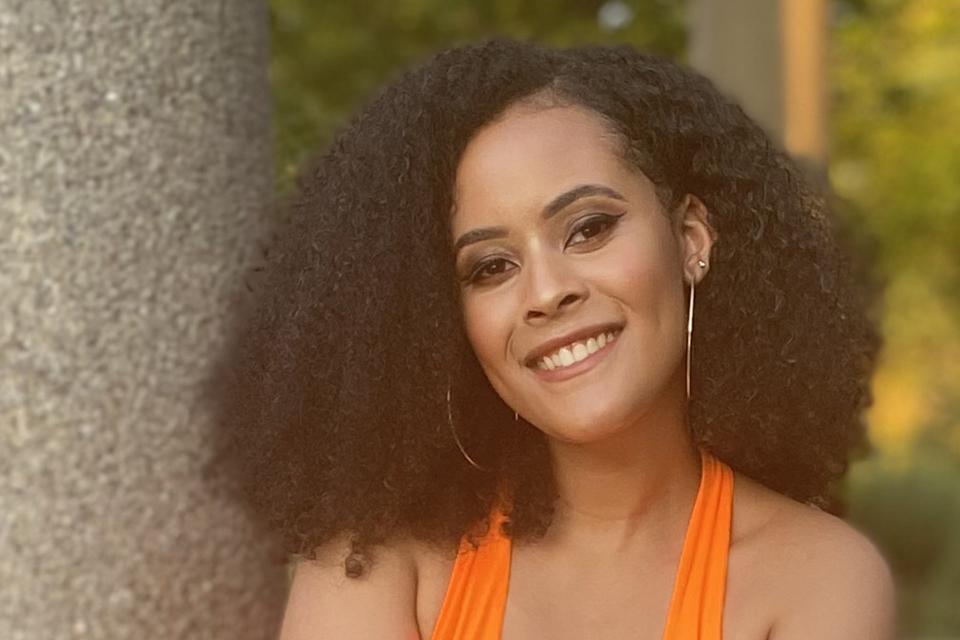 This experience has taught me that my voice matters and that I shouldn't be afraid to step up and pursue the things I feel passionate about.
What inspired you to pursue your major?
Choosing a major was a bit challenging for me — I just knew I wanted to be on the pre-medical track. After talking to a few people, they suggested that I major in biochemistry because it lines up well with pre-med. By the end of my first year, I felt unhappy and discouraged. This is when I took a step back and asked myself, do I really want this? I wanted to be passionate about my major and my future goals, but at that point, I did not feel like I found those.
By sophomore year I decided to major in biology to pursue a career as a physician assistant (PA). I knew nothing about PAs before my friend Chiara Beauvais '21 told me about the career and how it might be more up my alley. She was right. What drew me to follow the pre-PA track is the work-life balance it allows. I love medicine and being able to impact people's health directly. Outside of that, I value family and those I care for, so work-life balance and flexibility are important to me.
Sometimes I wished I majored in business or public health, but being a bio major has allowed me to push myself out of my comfort zone and try courses outside of my major or the sciences. I'm incredibly thankful for that because most of those courses turned out to be my all-time favorites.
Why did you decide to attend Simmons?
Simmons provided me with a sense of community and care before I even walked through the doors. The entire college application process was very stressful and overwhelming for me. Simmons was one of the few universities that actually made me feel heard and cared for throughout the process. The admissions and financial aid office worked with me and my high school college counselor to provide me with all the resources and help they could offer. I was automatically drawn in because Simmons made a stressful and overwhelming process feel manageable. Something I didn't receive from other colleges.
To top it all off, I was awarded the Boston Scholarship. To me, this meant more than having my tuition paid off. I looked forward to engaging with the Boston community and getting involved with my community at Simmons. After four years, I'm happy to say that I have found myself at Simmons and my passions. A considerable part of that is the Boston Scholarship program, which encourages me to strengthen our community, both at Simmons and around Boston.
Tell us about the RISE mentorship program.
The RISE Mentoring Program is an extension of the Boston Scholarship, allowing the cohort to have additional resources outside of financial aid. RISE aspires to promote retention, innovation, support, and empowerment. Recipients of the Boston Scholarship are Boston public and charter school students that excelled academically as well as in their extracurriculars. Being a Boston Scholar always reminds me of my commitment to my community, whether it is Boston, Simmons or wherever I find myself.
As an eager first-year, I soon realized it was not as easy as I thought it would be to fit in and find what I am passionate about outside of academics. Eventually, I started feeling isolated and out of place. In addition to this, my first year was very rough for me academically.
Unfortunately, I felt I had almost no one to turn to. Over time this started to change — more targeted events were held for the Boston Scholars to meet each other as well as the program coordinator, but there was still room for improvement.
I didn't want the incoming Boston Scholars to feel alone and not know who to turn to during their first year. At first, I was unsure how to strengthen the community and the program, but I knew talking to Dr. Nakeisha Cody would be a start. With her help, I was able to create the RISE mentoring program during fall 2020. This would also not be possible without my friends and mentors: Chiara, Shauntina Powell '21, Susana Donkor '21, and Nyasa Stuppard. With this program, first-year Boston Scholars now have upperclassmen Boston Scholars as mentors to support and guide them through their first year of college.
Being a Boston Scholar always reminds me of my commitment to my community, whether it is Boston, Simmons or wherever I find myself.
What did you learn from this experience?
This experience has taught me that my voice matters and that I shouldn't be afraid to step up and pursue the things I feel passionate about. When this all started, I never thought it would turn into a fully functioning mentoring program, and now it has. It's great to see students feel they have the support to get through their first year and someone to turn to, whether for academic or personal reasons.
How is Simmons preparing you to become a leader in your field?
To me, a huge part of being a leader is the ability to work within a team. Simmons has given me the opportunity to meet and work with so many different people. Whether through group work, on-campus jobs, or other activities in the various organizations on campus. Collaboration is so valuable to my future as a physician assistant because PAs rely on teamwork.
Do you have a favorite Simmons memory?
I have so many great memories that I will forever cherish. It is so hard to pick just one! If I really had to narrow it down, it would be my trip to Colorado with Simmons Alternative Spring Break. I got to meet a lot of new people and helped build a home for a family. It was my first time doing something like this, and I'm so happy I decided to go.