Faculty Spotlight
Challenging Racial Inequity Through Critical Consciousness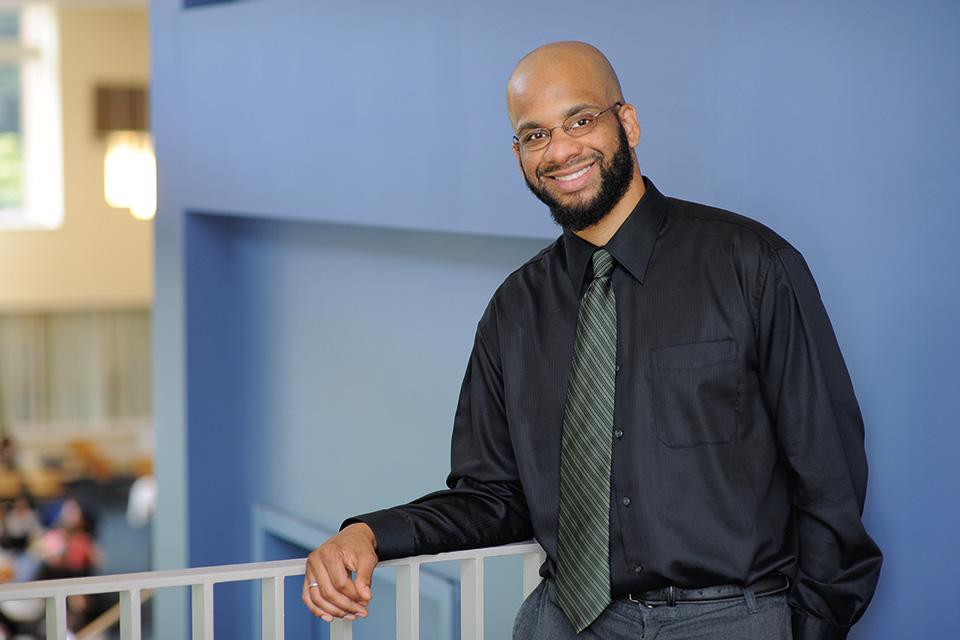 Professor Daren Graves researches how students are recognizing and navigating racial inequity, power and privilege.

What made you make the move to teach at Simmons?
I love to teach, and I knew Simmons to be an institution that valued teaching as an essential function of their faculty. As a teacher educator, I also knew that Simmons had a reputation for producing quality teachers that could hit the ground running.
Did a particular experience or person inspire you to pursue your career?
I come from a family of Black educators. The importance of education, especially as it related to our sense of racial identity and community responsibility, was instilled in me from a young age in many different ways. As I grew older, I recognized the privileges my education afforded me, while simultaneously recognizing the ways that too many other Black youth were being denied the opportunities that I was afforded. All of this inspired me to go into the field of education to work closely with students and teachers in order to learn about and implement practices/approaches that would help afford students (especially students of color) the opportunities that I had. In other words, my success comes from when subsequent generations succeed.
Tell us about your research of critical consciousness.
There have been so many events and issues that have captured the attention and passion of our nation that speak to issues of power, privilege and justice. My colleague and co-Principal Investigator, Dr. Scott Seider of Boston University, and I are both deeply interested in the ways that schools can explicitly give students the intellectual and practical skills to make sense of and do something about these issues. We're defining critical consciousness as both an awareness of oppressive forces as well as a sense of efficacy in navigating and challenging these forces. So we recruited 6 schools in the Northeast, each of whom purport to raise the critical consciousness or civic engagement of their students as part of their mission. We followed students from the Class of 2017 in each of these schools from their first to their senior year of high school. We conducted extensive observations of students in their classroom environments, as well as having conducted yearly interviews and surveys of students. Our research asked 3 things:
What are the different approaches that schools take in terms of developing critical consciousness?  
To what extent are these approaches producing empirically-verifiable results? 
What does the process of developing critical consciousness look like over time?
What is one of the most interesting topics in your field right now?
One of the biggest topics in education right now is culturally responsive teaching. In other words, educators, families and policy-makers are looking for teaching approaches that connect the functional and critical academic skills that educators need to build in students while also honoring and building on the knowledge, expertise and values of the communities that our students of color and working-class students come from. Too often for students of color and working-class students, there is either a disconnect between the knowledge and values present in schools and their communities, or a blindness to the real forms of expertise and values that these students and their communities bring to the classroom.
Do you have any advice for students who are considering studying race and education?
Make sure your work is embedded in schools, working directly with young folks. There are so many problems and challenges to overcome as it pertains to race and education. It can become very depressing to do research on these topics from afar. Working with young folks builds my sense of hope because I'm always inspired by the ways they are resilient in the face of many challenges.