Alumnae/i Feature
Celebrating Visionary Leader Sandi Fenwick '72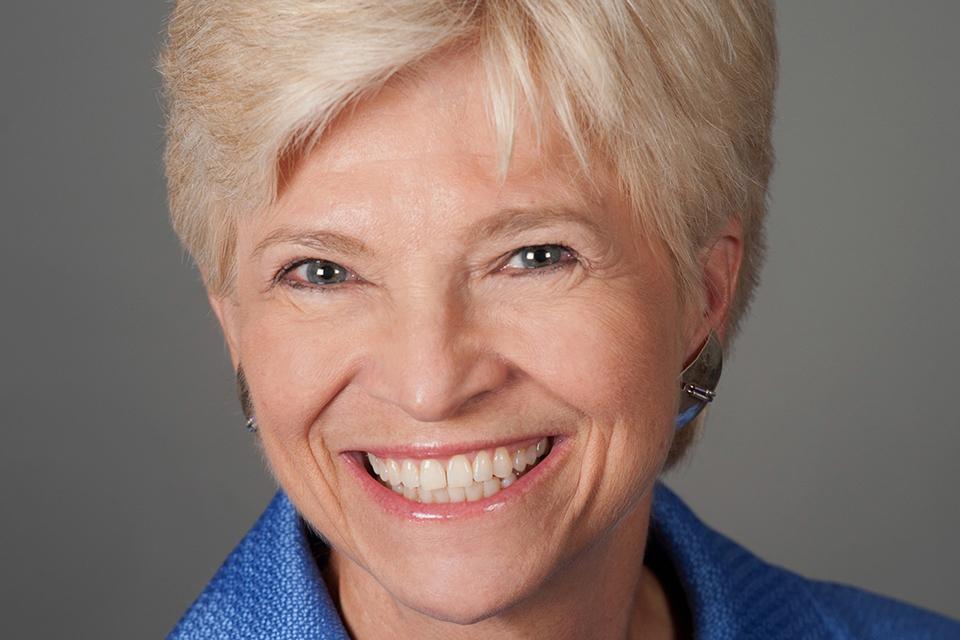 Simmons gave me an enormous amount of confidence and courage thanks to the education I received, as well as inspiration from my classmates, and support from faculty who treated us as future leaders and contributors.
Sandi Fenwick '72, CEO of Boston Children's Hospital, is the recipient of the inaugural Helen G. Drinan Visionary Leader award, which was presented to her during the Simmons Leadership Conference on March 23. Prior to the ceremony, we asked Fenwick her thoughts on the award, her career, and what it means to be a visionary leader.
---
Tell us about your role as CEO of Boston Children's Hospital.
It has been an extraordinary honor to lead the number one children's hospital in the world, and I'm proud of all that we have accomplished over 22 years — advancements in medicine and improvements in the health and well being of children, locally and also around the world. My job has been to support the extraordinary people who have provided the care, pushed the boundaries of knowledge and science, pioneered new treatments for children and educated the next generation of medical professionals. Any success I have experienced is not singular, it is thanks to all of those incredible people.
As a CEO, I've had to think strategically about the challenges and opportunities, the market conditions, and the future direction of the hospital. I gather opinions and attempt to form a consensus, but it's also my responsibility to make a decision in order to drive results and make progress. You have to be optimistic and inspiring and align people toward a vision and purpose — engaging and empowering people is the most important thing a CEO does. It is also vital to build organizational capability to reach those goals by hiring and nurturing the best people to be their best selves and do their best work. That is vital to how I lead.
Is this the work you imagined you would pursue when you graduated from Simmons?
Actually, no. I pursued biology and chemistry, both pre-med degrees, thinking I would get a MD or PhD degree in science. I had a number of wonderful role models on the Simmons faculty — Marie Sacks, Phyllis Brauner, and Martha Berliner — who got me excited about science and biology, and about working in the field. I decided to work first before moving on to advanced degrees, and my first job — thanks to Simmons Professor of Biology Martha Berliner — was a research position at Harvard School of Public Health.
After that, I was sent to Saudi Arabia to run Harvard's research program there, where I garnered both management and research experience. I was working with patients, getting approval from government officials, and navigating the harsh laws and unique customs of the area. I was working to improve the lives of people, but not necessarily via direct care or research. Having had a taste of leadership in that role, and having been told I was good at it, changed my whole view of what I wanted to do. I pursued a master's in public health and it changed the course of my career.
How does it feel to be the inaugural winner of the Helen G. Drinan Visionary Leader Award?
I am deeply honored and humbled to receive this award in Helen Drinan's name. Helen has always been a role model for me — an inspiring leader who accomplished so much for Simmons — and I consider this award a perfect capstone to my nearly 50-year professional journey. Simmons gave me an enormous amount of confidence and courage thanks to the education I received, as well as inspiration from my classmates, and support from faculty who treated us as future leaders and contributors.
What are the top three qualities that make a visionary leader?
Passion for what I do and who I serve has guided me and allowed me to have a vision and inspire other people to be a part of this impossible dream.
Having the courage and resiliency to take risks, and being willing to fail.
It isn't just what you do, but how you do it. Morality is vital for a leader, to lead with integrity, honesty, humility, and authenticity. 
Any advice for current Simmons students?
First of all, find your passion, believe in yourself, and be authentic. Look for strong role models. That doesn't mean you need a mentor — there is so much power in observing how people make decisions, lead, behave, and how they create a vision for what can be. Also, take a long view, both for yourself and for your work. Life is a book of chapters, and we shouldn't try to live them all at once, as each chapter can be extremely rich. This year, especially, we're trying to cram so much into our lives because we've had to. Remember to put things in perspective — if we can't get it done now, there may be another time. Enjoy the journey.