Alumnae/i Feature
Brian Jadro '21PhD on Using Behavior Analysis to Support Sustainability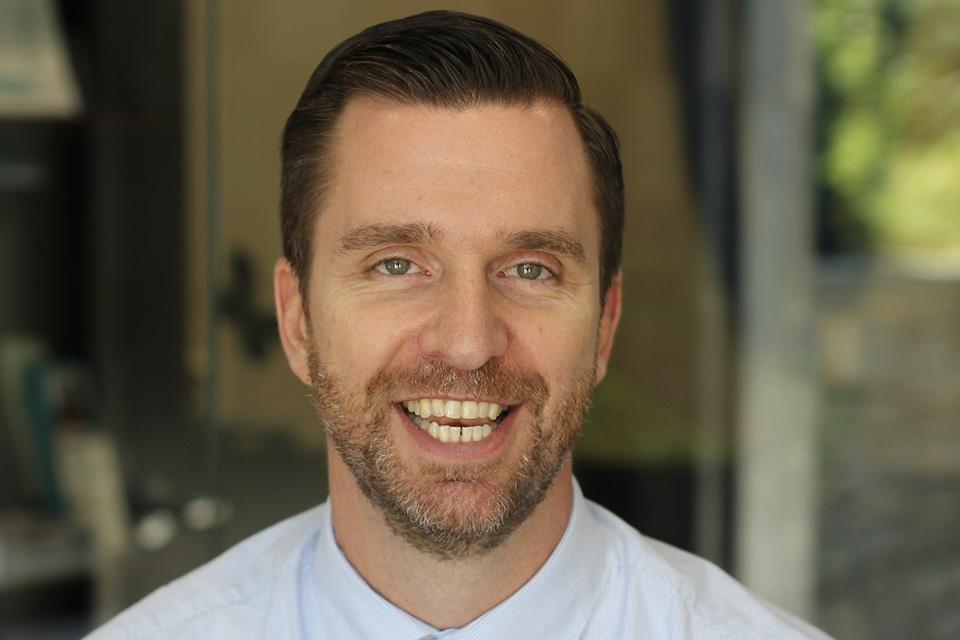 I finished my master's in Human Behavior and Organizational Psychology and worked in a variety of schools and residential programs. I was considering a Ph.D. at the time, but there was only one program in New Jersey for Behavior Analysis. I had recently visited Boston, and knew there were a variety of schools in the area. I visited Simmons, walked through campus and got lunch in the Fenway area and immediately loved it.At the time, I was living on the outskirts of Boston and working in the Newton School System, and though we initially considered moving into the city, Simmons was verys accessible from where we were in West Roxbury.
Also, Simmons has incredible professors and offers great research opportunities. There is a lot of funding available for adolescent autism services, but the Simmons program presents information broadly enough to be applied to a variety of fields of study, which sets it apart from other programs. The Behavior Analysis program provides opportunities to develop skills and conduct research in both basic and applied areas of the science, as well as areas such as Organizational Behavior Management, Verbal Behavior, and Sustainability. I've had great opportunities to extend the application of behavior analysis because of the professors and colleagues that I worked with at Simmons.
Tell us about your role as Director of Service Operations at Grow Associates, Inc.
Grow Associates, Inc. has been around for nearly 50 years, providing services to adults with disabilities. It's a well established organization and that has been fantastic to work for. In my role as Director of Service Operations, I oversee the current programs, including our day habilitation program, community-based supports, and supportive employment programs.
We've recently purchased our building, which gives us the opportunity to accommodate new programs, and to expand the current programs in a new space, to better serve the community and continue Grow's legacy. Coming to Grow has been a game-changer for me, as the mission and values are aligned with what I want to do in my career. I've prioritized my mental health and well-being and aimed to find a position that allowed me to focus on the important things in life. The experiences and training I've been provided at Simmons have prepared me for a variety of positions; from clinician, to consultant, to director- and senior-level positions.
During my time at Simmons I conducted a research study as part of the requirements of a course with Dr. Gretchen Dittrich, Associate Professor of Practice and Chair of the Behavior Analysis Department and Director of the Master's Program. We were tasked with finding something we were passionate about, conducting a research study, and submitting the resulting paper for publication. I've done a lot of independent work with people with intellectual and developmental disabilities and children with autism, but I was interested in researching sustainability and decreasing emissions with the goal of saving more humans.
As part of that research project, I was put in touch with people who had done research and taught courses in sustainability. We worked on the research study together, and as a group decided to start an organization based on that research. We present our research at conferences and try to get other people involved in this important work. In fact, members of this group recently presented as part of an Invited Tutorial at the Berkshire Association for Behavior Analysis and Therapies (BABAT) conference in October.
How does this sustainability work connect with your values?
I was a boy scout growing up and did, and still do, a lot of camping. I take bike rides and hikes with my family. I think it's important to keep children off screens and technology (though I'm not perfect and still give my kids screens more than I should!) and get them out in nature — and we need to do our best to preserve what's out there. Though, in all fairness, our climate work is more focused on the lives of humans than the earth itself. The planet will be fine, it's the humans that will have the biggest issues managing the effects of climate change.
Thanks to my education and training, I understand human behavior. I've done research on issues in sustainability, participated in research in health and wellness, and even gave input on the behavior analytic concepts involved in — cell phone addiction; specifically how behavior is reinforced every time you pick up your phone, which keeps you coming back for small bits of reinforcement. Behavior Analysts can be a valuable asset to the field of sustainability by addressing behaviors like recycling, driving, minimizing use of resources — these are all behaviors that can be intervened upon, and that can play a big role in saving human lives.
How did Simmons prepare you to become a leader in your field?
Simmons allowed me to connect with people in the field in a variety of fields, research areas, and occupations. The opportunity to meet people and develop relationships to discover what I'm most passionate about through these interactions is invaluable, as is being in Boston, where there are so many talented people in so many different fields. Simmons encourages thinking of science in a broad manner, which results in a focus and training that are different from the norm. Simmons has given me so many valuable opportunities and has made me more confident in my personal and professional life.