Faculty Spotlight
Associate Professor Vanessa Robinson-Dooley Co-Edits Groundbreaking Book on Black Men's Health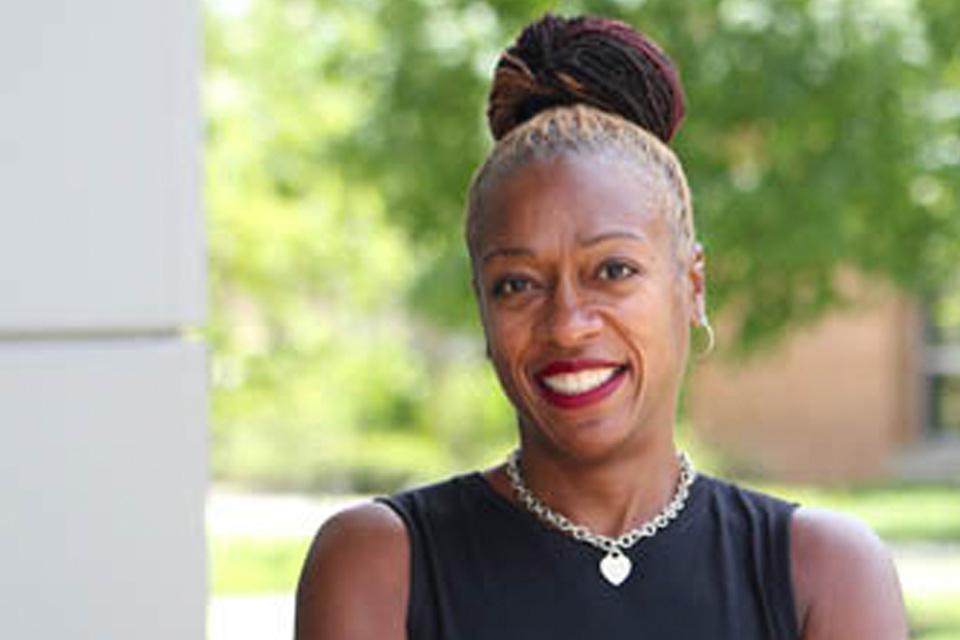 Simmons School of Social Work Associate Professor Vanessa Robinson-Dooley just published the co-edited volume Black Men's Health: A Strengths-Based Approach Through a Social Justice Lens for Helping Professions. In this book, Robinson-Dooley and her co-authors explore Black men's health through various lenses, including behavioral health, chronic disease, policing, sports, and more.
How did this book project come about?
I am interested in issues regarding behavioral health and chronic illness among Black men. Before the pandemic, I shared my research at a conference alongside some colleagues who were also researching new perspectives on Black men's health. At the conference, a representative from the academic publisher Springer complimented our research and suggested that we co-write a book on the subject. My colleagues and I decided that a new and holistic approach to Black men's health would make a great book. We disseminated a call for contributions and received an overwhelming response.
The book contains 13 chapters that examine Black men's health from the perspectives of physical health, mental health, societal health, racism, police violence, non-profits, sports, and social justice. My particular contribution makes a case for mental health in youth sports and I also co-wrote a chapter with my research team on self-management of chronic disease.
What was the research process like for you?
Prior to Simmons, I was at Kennesaw State University in Georgia where I was on a research team with two colleagues, Dr. Evelina Sterling and Dr. Carol Collard. We all have an interest in self-management of chronic illness, and especially how these illnesses intersect with mental health. We did a pilot study using self-management curriculum for Black men in a residential substance use facility in downtown Atlanta. We found that the curriculum, which was considered the gold standard, was a dismal failure for this population. During our focus groups, the men gave us such rich feedback about what was problematic with this program. They cited many cultural factors that made the curriculum unsuccessful.
This inspired us to create something more culturally flexible. We applied for a grant from the National Institute of Health (NIH) and eventually received one. Our idea was to train Black men to deliver self-management courses in their communities. We began doing focus groups with Black men before COVID. These were some of the best focus groups I've had in my whole career. Later on, we were able to do focus groups with support networks and mental health practitioners. We wanted to discover how Black men could develop self-efficacy and advocate for themselves. After compiling and transcribing our notes, we created a self-management curriculum for Black men.
My research around self-management and chronic illness is what spawned the idea for the book. I wanted to look at Black men's health from a broader perspective, and my co-editors provided additional perspectives. It was important for us to focus on change – we are not just reporting the news about deficits in health. We wanted to put forward what can be done to create an impact. That's the social justice lens.
What are some of the most significant findings in the book?
I learned so many new things from our authors. One of the biggest findings for me came from Dr. Michael A. Robinson. He wrote a chapter on research relating to policing and Black men, and he found that there is no database in this country that tracks police violence. This hit me pretty hard because my father was a police officer. I am conflicted because I have a love and respect for law enforcement from my father, but the Social Worker in me also sees the problems, and I am raising three Black sons. Robinson's article was one of the most striking for me.
There is also a chapter by Hans Skott-Myhre and Kathleen Skott-Myhre, who do interesting work on masculinity. They write about the psychological colonization of Black men, in which the mental health services offered to Black men is not what they need, and was created by a white society. I think people will be surprised that what they traditionally understand as an ally might not always be an ally. This was really enlightening for me.
Did you and your colleagues have to overcome any challenges when you were working on the book?
COVID. I think everybody lost a couple of years of their life with COVID. Before the pandemic, our research was full throttle, and then we hit an abrupt stop. This of course presented challenges to the editors and the writers. We stretched out our time so that everyone we accepted could be a part of the book. We also decided to launch our own peer review process, which was time consuming, but we are so passionate about this topic that we were determined to do it right and to do justice for Black men.
What do you envision the impact of your book will be?
I hope that more people will think about Black men but not just what social media tells us, or what the news media tells us is the Black experience. I hope people will take this book and think about Black men within a broader spectrum. There is a lot of emphasis on their deficits, but Black men also have strength and resilience that we will never understand, and they are making significant contributions to our society. The book also shows some of the work that needs to be done in terms of activism and advocacy to change systemic problems and do more justice to this population than we have done in the past.