Announcement
Associate Professor Colin Rhinesmith Named 2021 Outstanding Information Science Teacher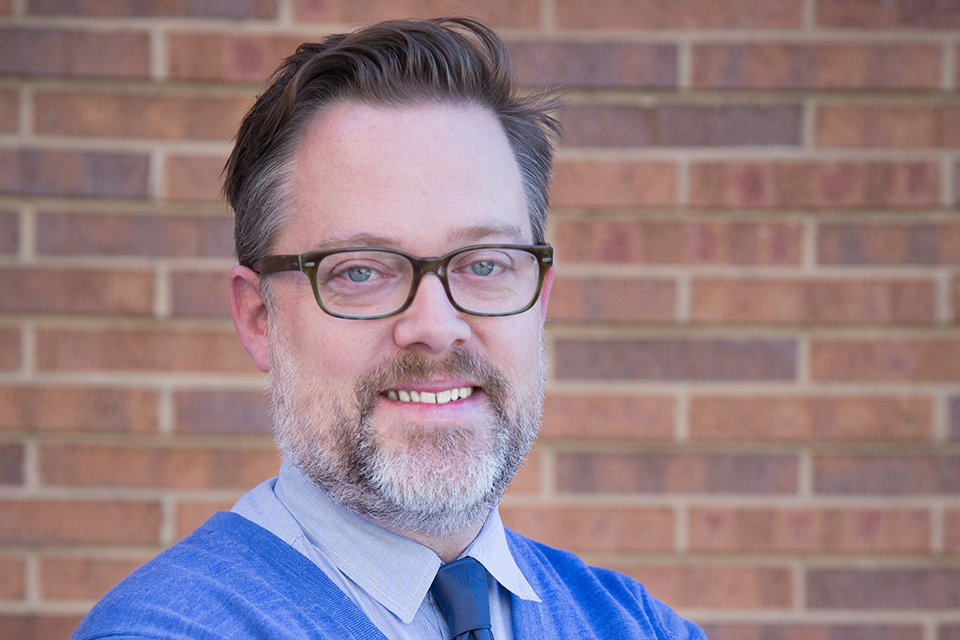 Since his arrival at Simmons in 2016, Colin has demonstrated his dedication to SLIS students and to fostering a safe environment for the challenging and vital discussions that Social Informatics can inspire.

— SLIS Director Sanda Erdelez
Recognized for his dedication to students, Associate Professor Colin Rhinesmith has been named the 2021 winner of the Association for Information Science and Technology (ASIS&T) Outstanding Information Science Teacher Award.
"Since his arrival at Simmons in 2016, Colin has demonstrated his dedication to SLIS students and to fostering a safe environment for the challenging and vital discussions that Social Informatics can inspire," says School of Library and Information Science (SLIS) Director Sanda Erdelez.
His students agree. Alessandra Seiter '19MS says of her experience in his classroom, "I felt able and encouraged to grapple with the transformative potential of libraries in society…he acts as a conversational facilitator as much as a communicator of knowledge."
Lena Gluck '18MS made note of his incorporation of social issues in library and information science (LIS) coursework. "Rather than hiding behind a claim to 'neutrality' which serves only current power structures, Professor Rhinesmith consistently encouraged students to explore the complex tangle of power relations in every area of LIS. His courses delved into the uncomfortable realities of our work, requiring us to actively contend with our roles within the institutional white supremacy of our profession."
Similarly, Teddy Schneider '20MS appreciated the diverse points of view reflected in the assigned materials and the effort Rhinesmith made to create a safe space for discussion.
"Talking about social justice topics in the field of information science can be difficult waters to navigate," says Schneider. "He makes the boundaries of his classroom clear from the beginning, and his students are effectively supported in their learning as a result."
Gluck was also impressed by Rhinesmith's willingness and ability to change course to meet the needs of a particular class best. "His willingness to interrogate his own practices, change, and adapt based on new information created a respectful and collaborative space that always made me feel my insight was genuinely valued."
The value Rhinesmith places on student insight extend beyond the classroom, as demonstrated by his involvement of students on his research projects.
"At my expression of interest in his groundbreaking work on broadband-based community empowerment, he invited me onto his grant-funded hotspot lending pilot programs as a graduate research assistant," says Seiter. "He encouraged me to ask questions and proactively sought out my thoughts on research findings, clearly invested in the intellectual contributions as much as in my raw labor."
In 2019, Rhinesmith traveled with two graduate students to present a segment of their research at the 17th Community Informatics Research Network Conference at the Monash University Centre in Prato, Italy.
As his students will attest, his approach to teaching can be transformational, and his support extends beyond time spent in the classroom. "Dr. Rhinesmith's dynamic approach to teaching and generous support of students makes him especially deserving of this award," says Erdelez.