Alumnae/i Feature
Amy Stewart '13MA on Being a PhD Candidate in Philosophy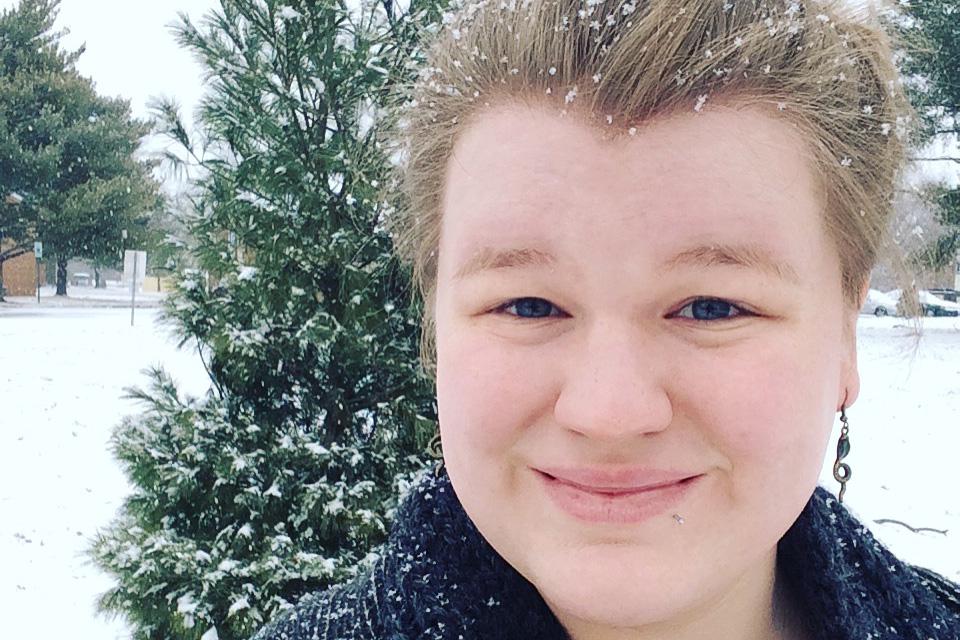 Amy reflects on the skills she cultivated at Simmons in preparation for doctoral work.
After finishing my undergraduate work in psychology and gender studies, I knew that I wanted to focus my graduate work in the interdisciplinary field of gender and cultural studies. What attracted me to the GCS program at Simmons was the fact that, compared to other established graduate programs in women's studies, Simmons was one of the only graduate programs in the United States that brought gender and cultural studies together in an intersectional and interdisciplinary manner. Because my aim was to engage with psychoanalytic scholarship at the intersections of race, gender, and sexuality, the opportunity to work closely with faculty members such as Sheldon George was another significant reason for choosing Simmons.
How did Simmons prepare you for your current position or studies?
My transition from graduate work in gender and cultural studies to my current doctoral work in philosophy at Southern Illinois University Carbondale was undoubtedly facilitated by the quality of and emphasis on interdisciplinary research at Simmons. Between the intensive graduate seminars and my work as a research assistant and fellow, there were ongoing opportunities to cultivate the skills necessary for doctoral studies. Although I am now completing a PhD in philosophy, my areas of specialization (psychoanalysis, feminist philosophy, and LGBTQ studies) were shaped greatly by my work at Simmons. The knowledge that I gained in the GCS program also influenced my own capacities to educate others, as I now design and teach courses on sexual diversity and transgender studies for my university's women, gender, and sexuality studies program. 
In your experience, what was the best feature of the program?
The best feature of the GCS program was the opportunity to develop invaluable relationships with faculty members, as their support and insights have continued to help shape me professionally. I also appreciated the intimate classroom dynamics, which often sparked deeper conversations on the material and greater opportunities to cultivate personal and professional relationships.
Describe the personal and professional relationships you cultivated within your GCS cohort. 
I have only fond memories of my GCS cohort. We were always so genuinely interested in and supportive of each other's intellectual projects, and I am so thankful for the many lively conversations had over food and wine! Some of us have also had children recently, and it is really special to have GCS friends that you can reach out to for sharing strategies for intersectional parenting. 
What was your favorite class at Simmons? Why?
Sheldon George's seminar, "Race and Gender in Psychoanalytic Discourse", was indispensable for my ongoing engagement with psychoanalytic scholarship. The careful applications of psychoanalytic discourse for thinking through race, gender, and sexuality that we explored in his seminar have remained essential to my own dissertation work on Kristevan psychoanalysis and transgender embodiment. I must also mention Laura Prieto's "Gender, Race, and Imperialism in Historical Perspective" seminar because it captured precisely the level of intersectional scholarship necessary for graduate work in gender and cultural studies. I often find myself directing my students to many of the readings that we covered in her seminar! 
Are there any faculty/staff members that especially impacted you in your time at Simmons?
Sheldon George, who advised my thesis on Lacanian psychoanalysis, had and continues to have a great impact on me both personally and professionally. We have presented at academic conferences together, published in the same journal, and I recently had the opportunity to index his brilliant book, Trauma and Race. 
What advice would you give to a prospective student who is undecided about applying to Simmons?
My advice to prospective students would be to embrace the opportunity of studying gender and cultural studies in a wonderful city where there are endless possibilities to volunteer or engage in activism that reflects the intersectional framework at the heart of the GCS program. Boston is truly a beautiful place to bridge theory and praxis! 
What do you believe was your greatest accomplishment at Simmons? 
My greatest accomplishment at Simmons was being appointed the first Hazel Dick Leonard Research Fellow on Gender. Working closely with faculty to develop the budget and research seminar for the Hazel Dick Leonard fellowships, which generously fund student research on gender, was an unparalleled opportunity that I am still so thankful to have had. The fellowship also supported my own research that was published in Psychoanalysis, Culture & Society and subsequently awarded the Holly Jackson Publication Prize by Simmons.