Alumnae/i Feature
Alumna Georgia Harper '22 Receives Prestigious Teaching Position in France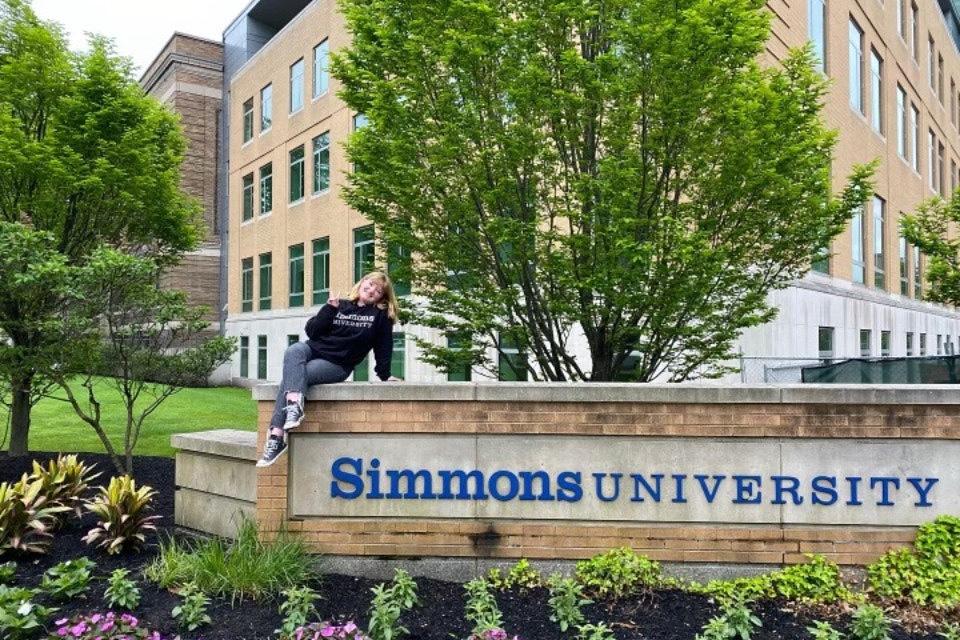 Georgia Harper '22, who recently completed a double major in French and Francophone Studies and Political Science, will soon begin a fellowship known as the Teaching Assistant Program in France (TAPIF). This competitive program recruits French-speaking Americans to work as teaching assistants in French schools. Participants may teach elementary, middle, or high school students for approximately 20 hours per week. In these supplementary English lessons, Harper will focus on accent work and functional language so that her students can speak English more naturally. Starting in the fall of 2022, she will be based in Montpellier, France.
Harper had planned to spend her junior year abroad but could not travel at that time due to COVID-19. The TAPIF opportunity will help fulfill her aspirations to spend more time in France and enable her to obtain a visa and acquire more classroom experience.
Tutoring French at Simmons helped prepare Harper for this position. "It's really fun to watch people learn a language," says Harper. "Every educator talks about how exciting it is to see things click for students, so it will be great to do that on a more regular basis."
This unique teaching opportunity abroad will also help prepare Harper for her future goal of attending graduate school abroad — preferably in France or Switzerland — and working in higher education. "Many of the theorists and cases I study tend to be French or part of the broader Francophone culture," she explains. "Having French language skills is very useful because I can work with the theorists I am interested in and read them in their original language. Therefore, I do not have to deal with the issues that come with translation."
Harper first developed an interest in French language and culture in middle school. She chose Simmons because of its reputation for cultivating confident women leaders, and she liked the fact that Simmons also welcomes trans and non-binary undergraduates. Harper credits her Simmons education for having such a successful application to TAPIF.
"Because of how challenging my French professors have been, I was able to apply with a higher level than what was required, which made my application much more competitive," says Harper. "It also helped that my Simmons French classes were very small, so I got to know Professor Messay and Professor Febles very well. Since I have been taking classes with them for four years now, they know a lot about me, and they were able to write strong recommendation letters on my behalf." Simmons students have a good track record with TAPIF: last year, Lindsay MacIntyre '21 was selected for the teaching fellowship, and spent seven months tutoring students at a high school in the Côte d'Azur region of Southern France.
For Harper, honing her French skills has influenced her secondary interest in political science. "Being able to read literature with a political lens is really beneficial," she explains. "Studying French literature challenges you to humanize the other things you are studying. You can read about colonization all day but to read a novel about the psychological and social impacts that colonization has on people or to watch and film about it forces you to confront the humanity of it all."
Professor Eduardo Febles is thrilled with Harper's success. "Georgia represents the very best of Simmons: intellectually curious, socially aware, and extremely hard-working. I will miss her next year but I'm extremely excited to see her embark on a journey as she travels to Montpellier in the South of France to teach English. Félicitations, Georgia!"