Dr. Adunni Slackman Anderson '73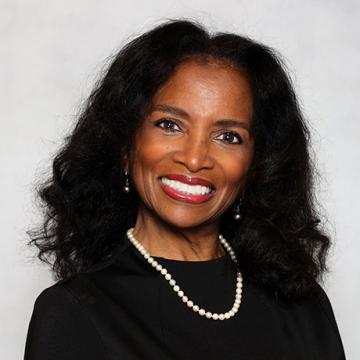 Dr. Adunni Slackman Anderson is a resident of South Orange, New Jersey, with a family legacy in the community that began in the early 1900s. She is a graduate of Simmons University, Harvard Graduate School of Education, and Seton Hall University. During the pandemic, she completed a courser specialization in Positive Psychology through the University of Pennsylvania. Her academic background includes a BA with distinction; a Masters degree; advanced graduate studies in Learning Environments, Educational Psychology and Human Development; and a Doctorate in Education, Management, Leadership and Policy. For more than half a century, as learner and facilitator, she has been proactively involved in the "work" of social justice, multicultural education, diversity, equity, access, and inclusion.
Adunni has lived and worked in a variety of professional and educational settings from Massachusetts to Louisiana to Kansas to New Jersey. She is a "career educational leader" with expertise in teaching and learning, and has served for over 20 years as a Principal for the Montclair Public Schools, and for 10 years as the Lower School Head/Primary School Director for Kent Place School, a private, independent school for girls in Summit. Prior to her PreK-12 educational career, Adunni's related work experience included federally grant-funded programs (e.g. Director of Educational Talent Search programs in Boston YWCA & New Orleans) and Higher Education (e.g. Tulane University; Southern University NO; St. Mary College, KS; Kean University; Seton Hall University; and the NJ Alternate Route Education Commission). She is now "retired" (note the lower case "R"), and able to devote uninterrupted time to her volunteer passions - social justice, the arts, and human development.
Adunni is active in civic, church, community and DEI work, and has held Board, Honor Society, and Membership positions in numerous professional organizations. Currently she is a Board member with Girls Action Network, Inc. (GAN); an Advisory Board Member of the African American Cultural Committee of the Montclair Art Museum; the Lead Coach for the South Orange-Maplewood Chapter of the New Jersey Orators, Inc, and a proud member of First Baptist Church of South Orange; Alpha Kappa Alpha Sorority, Inc.; North Jersey Chapter of The Links, Inc. - co-chairing, respectively, Services to Youth and National Trends & Services; the F.E.W. Harper Collaborative-National Association of Colored Women's Clubs, Inc., and is the Chaplain for The Bibliophiles, Inc. - the oldest, continuously operating, incorporated, Black Book Club in America. She is a former trustee with Montclair Film, Inc.; the South Orange-Maplewood Community Coalition on Race (VP-Executive Board); and The Theater Workshop, Inc. Her latest project is educational consultant for NOMMO Productions, Inc. - raising consciousness through film - and the promotion of the documentary, The August Wilson Center ~ Building On A Legacy.
Other recognitions of note include: the national and international honor societies of Phi Delta Kappa and Kappa Delta Pi; Outstanding Young Women of America; Who's Who in Education; Geraldine R. Dodge Fellowship Award in Leadership; NAACP Excellence in Education Award; Regional Magnet School Principal of the Year by the National Association of Magnet Schools of America; Woman of Distinction by the Zonta International Association of Essex County; Outstanding Community Service Award by the Montclair Chapter of the Omegas; Montclair Fund for Educational Excellence, Inc.; Educator of the Year by Up Rising Stars, Inc.; Simmons University Leadership Award; South Orange-Maplewood Community Coalition on Race Award; and the 2020 Beloved Community Award from the South Orange Civic Organization.
Dr. Anderson's published dissertation, A Descriptive Study of the Criteria Used for School Choice Selection and Preference Among African American Parents/Caregivers in an Integrated Magnet School District of Choice, was inspired by her life's work and commitment to promoting equity in the schooling experience, fostering high student achievement, closing disparities in student performance, and bringing out the best in others.