Stephen Ortega
Associate Professor and Graduate Program Director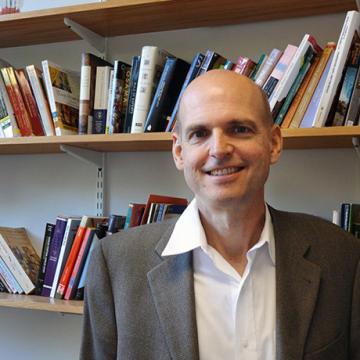 About Me
My name is Steve Ortega, and I teach in the History Department at Simmons University. I have a Bachelor's degree from New York University, a Master's degree from Harvard University and a PhD. from the University of Manchester in the United Kingdom. I am the director of the History MA program, which includes dual-degree studies in History/ Archives Management and History/MAT. We also have an MA program in History, which offers clusters of classes in gender relations, cross-cultural contact, conflict theory and public history.
My primary teaching fields are Middle Eastern, Mediterranean and world history. I am very interested in trans-national contact between people of different places, and I spend a significant amount of time in my classes trying to help students think beyond traditional notions of geography and identity. As the American cultural and social landscape changes, new questions are constantly being raised about what it means to be a global citizen, and I actively look to have the students think about the ways that people have defined and continue to re-define themselves. I believe that this type of inquiry helps students think broadly about the ways that history can help them think critically and creatively about both local and global challenges.
I use a multi-media in most my courses to facilitate discussions that compare contemporary representations of the past and primary sources. In my World History class, I ask students to watch the film 300 and compare it to Herodotus' Persian Wars. While movie adaptations can distort historical understanding, they also can act as a portal into new ways of thinking about history. From my experience, students feel empowered when they are provided with skills to critique the around world them. I teach a class in History though Novels and Films in which one of the books I use is Margaret Atwood's The Penelopiad. The text provides a feminist critique of the Odyssey and tells the story through the eyes of Penelope, Odysseus' wife.
My research to date has also focused on cross-cultural topics. I have a world history textbook coming out in September 2014--Thinking Past (Oxford: Oxford University Press)-- in which every chapter ask different questions such as: What is an empire? What led to the rise of universal religions? My scholarly book-- Negotiating Trans-cultural Relations in the Early Modern Mediterranean: Ottoman-Venetian Encounters(Aldershot: Ashgate Press) ( due out by the end of 2014) centers on relations between Venice and the Ottoman Empire. In the work, I examine the different personal, institutional and regional connections that existed between Ottomans and Venetians and between the two states and others in the Mediterranean such as the Spanish empire. The book seeks to dispel the notion of on-going civilizational conflict and looks to see how power was projected from different sites throughout the region. While religious differences played a major role in how people defined themselves, legal decision making, gender relations and status was defined by similar thinking and similar cultural sensibilities.
What I Teach
Hist 100-101 World Civilizations I and II
Hist 205 Global Environmental History
Hist 231 Understanding Islam in Historical Perspective
Hist 254 History through Novels and Films
Hist 251 World Historical Perspectives on 9/11
Hist 361-561 Cross-Cultural Encounters: Contacts, Connections and Conflict
Hist 365-565 9/11 Narratives
Research/Creative Activities
My present research looks at ways that video games can be incorporated into the history classroom. I am interested in video games as motivational tools that can help students understand issues such as historical contingency and expansion. I am also interested in examining the ways in which video games reflect contemporary attitudes about the past. I will also start a project in Barcelona this summer (2014) which I will attempt to examine the legal mechanisms used to support economic and political expansion over both surrounding territories and places in the Mediterranean.