Anne-Marie Barron
Professor Emerita
School of Nursing
Behavior Analysis
Biology
Chemistry and Physics
Nutrition
Physical Therapy
Psychology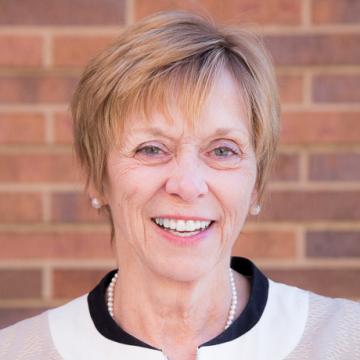 Education
Ph.D. Nursing, Boston College
M.S. Psychiatric and Mental Health Nursing, University of Massachusetts, Amherst
B.S. Nursing, Boston College
About Me
Anne-Marie Barron PhD, RN, PMHCNS-BC, FNAP is Associate Professor and Associate Dean for Students and Curriculum in the School of Nursing at Simmons University. Dr. Barron received her B.S. in nursing from Boston College, her M.S. in Psychiatric and Mental Health Nursing from the University of Massachusetts at Amherst, and her PhD from Boston College. Dr. Barron has taught across the undergraduate curriculum in a number of courses: Psychiatric Nursing; Leadership and Management; Nursing Research, and Caring at the End of Life. As well, she has integrated psychosocial content across the undergraduate and graduate curricula. Dr. Barron's teaching, practice, and research interests are focused on meaning and illness and the understanding and alleviation of suffering. Her central goals in nursing education are to guide and support students as they develop perspectives and skills that enable them to offer healing presence in the lives of their patients.
Since 2006, Dr. Barron has served in academic leadership roles at Simmons. She has been in the roles of Associate Chair and Chair for Baccalaureate Nursing, President of the Simmons University Faculty Senate, and currently serves as Associate Dean.
Dr. Barron currently practices part-time as a Psychiatric Clinical Nurse Specialist on the Inpatient Oncology and Bone Marrow Transplant Unit at Massachusetts General Hospital where she consults with the staff on the psychosocial dimension of oncology care. Dr. Barron holds an appointment as Faculty Nurse Scientist at the Yvonne Munn Center for Nursing Research at Massachusetts General Hospital. The focus of her research agenda has been on understanding integrative interventions, with an emphasis on Therapeutic Touch, that promote caring and comfort, and address the management of distressing symptoms for oncology patients.
Since 2009 Dr. Barron has had the privilege of consulting on nursing education in Bangladesh as part of a larger interprofessional initiative with Simmons and colleagues from Massachusetts General Hospital. The overall goals of the team's work in Bangladesh are to elevate the healthcare of the people of Bangladesh and to enhance the education and image of nurses in Bangladesh.
Dr. Barron was recently inducted as a Distinguished Scholar in the National Academies of Practice. 
What I Teach
My responsibilities are largely administrative as Associate Dean. Each spring I enjoy co-teaching the course, Caring at the End of Life with Professor Karen Teeley. I teach and serve in academic leadership in nursing because I believe the education of nurses, at every level, promotes excellence in nursing care. Excellent nursing is both elegant and scientific and contributes in substantial ways to the health and well being of all citizens. I am passionate about the meaning and power of nursing caring and presence. I consider it a profound privilege and responsibility to practice as a nurse and to educate nurses. Nurses make such a difference in the lives of patients and their families.
Research/Creative Activities
Primary Investigator. An Exploration of the Experiences of the Nurses at Dhaka Medical College Hospital as They Begin to Provide Nursing Care to the First Patients to be Receiving Bone Marrow Transplants in Bangladesh. Ongoing.
Co-investigator: Exploring the Experience and Impact of Therapeutic Touch Treatments to Nurse Colleagues. Massachusetts General Hospital (received $8,000 grant from NIOSH). 2013-ongoing.
Principal Investigator: Enhancing Effective Communication: Building a Stronger Team. Massachusetts General Hospital (received $500 grant from Sigma Theta Tau, Theta at Large Chapter) (2012 – ongoing) 
Research Mentor: Exploratory Study to Understand Autologous Stem Cell Transplant Patients' Experiences of Hatha Yoga. Jennifer Brock, staff nurse, Principal Investigator, Massachusetts General Hospital (2011-ongoing)
Co-investigator: Exploring the Experiences of Nurses Participating in The Spirituality in Nursing Annual Conference. Massachusetts General Hospital (2012-ongoing).
Vosit-Steller, J., White, P., and Barron, A.M. (2010). Enhancing End of Life Care with Dignity: Characterizing Hospice Nursing in Romania. International Journal of Palliative Nursing, 16, 9, 459-464.
Expertise
Psychiatric and Mental Health Nursing, Nursing Education, Academic Leadership, Psychosocial Care of Oncology Patients and Families, Therapeutic Touch as a Complementary Nursing Intervention, Nursing Consultation