About the School of Library and Information Science
Placing students first—that's a Simmons tradition.
Our school is big in many ways — a national leader with top-rated faculty, prestigious alumni, and great locations in Boston, South Hadley, and Amherst, Massachusetts, as well as programs offered online. However, upholding our educational "contract" with students means that the focus is on you. We offer a learning experience that is highly collaborative and much more personal than that of large universities.

You'll have direct and frequent access to faculty who know your name and understand your aspirations. And you'll work closely with classmates in an engaging, supportive classroom environment, be it face-to-face or online. We help students build successful careers, lead meaningful lives, and achieve a powerful return on their educational investment. We view this as an inviolable responsibility, as an educational promise that underscores our commitment to you. As part of the iSchools organization, SLIS is dedicated to advancing the information field.
Quick Facts
Nationally accredited MS in Library and Information Science, ranked in the top 11 by U.S. News & World Report.
Archives Management concentration is ranked 1st among Archives & Preservation programs
Library Services to Children concentration is ranked 7th for Services for Children and Youth programs
School Library Teacher concentration is ranked 9th among School Library Media programs
Cultural Heritage Informatics concentration ranked 13th among Digital Librarianship programs.
A commitment to helping students build exceptional careers in library and information science since 1902.
SLIS faculty and alumnae/i are distinguished experts in their fields and have held top leadership positions in professional associations.
A variety of options for experiential learning, ranging from in-class projects to semester-long internships and practicums to pre-professional opportunities.
Flexible programs, including full- and part-time options, evening and weekend classes, blended and online courses, and post-master's LIS opportunities.
One of the largest alumnae/i networks in the field, providing lifelong professional collaboration and support.
Three Massachusetts locations: the Simmons campus in Boston's Fenway neighborhood, the SLIS West program at Mount Holyoke College campus in South Hadley, and the Eric Carle Museum of Picture Book Art in Amherst.
Our Locations
Boston Campus
Boston was home to many of Americas founding fathers and revolutionary thinkers — architects of the great documents designed to protect and advance our freedoms, such as The Declaration of Independence, the Bill of Rights, and the Constitution.
By many accounts, Boston is the nations best college town, and it is also an international library capital. We have the largest number of libraries of any region in the world, and Simmons students get to use these great resources every day. The Boston Athenaeum is one of the worlds most distinguished independent libraries and a national treasure. Since 1807, the Athenaeum has connected the public to great works of science and learning and cultivated a stimulating forum where scholars, bibliophiles, and community interest groups exchange ideas and inspiration.
In 1848, the Boston Public Library (BPL) became the first publicly supported large, urban library in the nation, introducing the revolutionary concept of book borrowing. Today, the BPL, and the Athenaeum are joined by an astonishing array of libraries, both historic and high-tech, including the Harvard University and Massachusetts Institute of Technology library systems; the Mary Baker Eddy Library for the Betterment of Humanity; the Massachusetts Board of Library Commissioners, which oversees the maintenance and development of library services for all residents of the Commonwealth, including a robust program of regional services and statewide electronic services; and the Massachusetts Historical Society, which houses the 250,000-page Adams Papers Collection of letters and manuscripts.
SLIS shares strong bonds with all these institutions, working with them to cosponsor forums, provide continuing education, and place interns and graduates in jobs. The Boston tradition of idealism and equality — coupled with the city's incredible resources—delivers a truly unparalleled experience to everyone in the SLIS community.
Western Massachusetts Campus
Simmons SLIS also offers a part-time master of science degree program, SLIS West, in Western Massachusetts on the campus of Mount Holyoke College. The campus is located in South Hadley, in the Pioneer Valley, a region renowned for its beauty, as well as its intellectual and cultural vibrancy. Amherst, Hampshire, and Smith colleges, and the University of Massachusetts Amherst, known as the Five Colleges, are all nearby, as well as many libraries, archives, art galleries, and museums. The towns of Amherst and Northampton—both reachable by free shuttle bus — offer a combination of cosmopolitan sophistication and small-town charm. South Hadley is ninety minutes from Boston and two and a half hours from New York City.
Although fewer elective courses are offered, SLIS West supports all concentrations. Depending on specialization SLIS West students may find it necessary to take courses online or in Boston. Increasing online course offerings allow SLIS West students more flexibility in scheduling and more elective courses. Courses are taught by dedicated SLIS faculty and are scheduled year-round. (Please note, however, that admission to the SLIS West program takes place for Fall and Spring only.) SLIS students studying at SLIS West may take courses at the Boston campus. Similarly, students enrolled in Boston may choose to take courses at the SLIS West campus.
Online
Students can complete the master of science program completely online. Additionally, our flexible program welcomes students to take both face-to-face and online courses during their time in the program.
Our accredited asynchronous online program delivers state-of-the-art learning with an intimate "on-campus" feel. The content and learning objectives of online and face-to-face courses are identical. They feature all of the academic rigor that SLIS is known for, combined with a deep commitment to online best practices and exceptional convenience and flexibility.
The asynchronous model means that teaching and learning in the online course environment is not bound to time or place. Online students may access and engage with organized learning materials anytime and anywhere they are connected to the Internet. Online students are still obligated to complete assignments and participate in learning activities by the established deadlines.
Because all MS students may register for and participate in online classes, the SLIS online classrooms have become spaces for local and distant students to learn and network.
Strategic Plan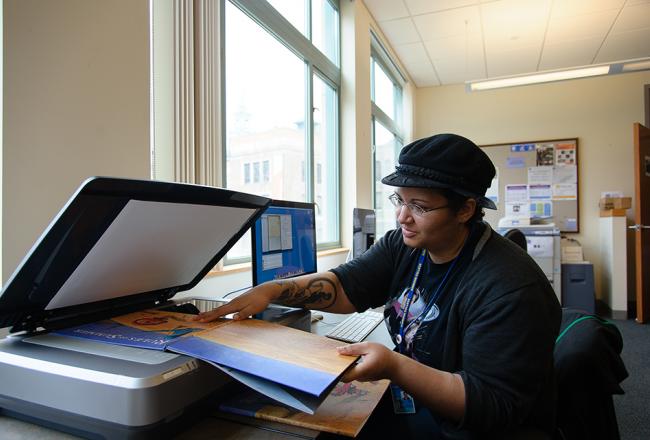 Library and Information Science at Simmons University
See what it's like to be part of our Library and Information Science program.
Graduate Program Videos