Dotson Bridge and Mentoring Program
The Dotson Bridge and Mentoring Program serves African American, Latina, Asian, and Native American (ALANA) students in the nursing programs at Simmons University. Through mentorship, leadership training, volunteerism, and career counseling, the program has empowered ALANA and first-generation nursing students for over a decade, investing in their success as learners, healthcare professionals, and leaders.
The Dotson program serves ALANA students in the nursing programs at Simmons University
The Dotson program is designed to address the social and academic barriers faced by many first-generation and ALANA nursing students, as well as to prepare them for the workplace through the mentoring relationship. Our first priority is to create a robust support network to serve Dotson scholars now and throughout their careers. We are also helping to build a skilled health-care workforce that reflects the growing diversity of the US population.
We are proud to be part of the School of Nursing at Simmons University, which has been a pioneering leader in nursing for over a century. Our program is also guided by Simmons' values of student-centered learning, collaboration, and science and practice for the social good.
Highlights of the Dotson Program
Success indicators: Since 2009, course pass rates among Dotson scholars have increased from 50% to 95% and first-time NCLEX pass rates have increased from 74% to 94%.
Through the Dotson program, more students are completing their nursing education; overall attrition rates among program participants is 1%, compared to 23% in 2009.
Program staff includes a full-time director, a full-time faculty member, and 21 mentors (practicing nurses and/or nursing faculty and volunteers).
The Dotson program was established in 2009 with a gift from Simmons nursing alumna Phyllis Nickerson Dotson '62 and George Dotson.
The Dotson Bridge and Mentoring Program has made a difference in the lives of so many Dotson Scholars and that legacy will change the trajectory of the lives of their children and families for generations to come.

- Ladonna L. Christian, Director of the Dotson Bridge and Mentoring Program and Associate Professor of Practice, Nursing
Program details
Applications: The Dotson program provides academic, clinical, professional, and personal support to ALANA students in the Simmons' nursing programs. Applicants may be recommended by a faculty member, or may self-refer (a supporting faculty recommendation is encouraged). Applicants complete a written application and an interview.
Structure: Once admitted, Dotson scholars complete a learning style assessment, a self-assessment, and a participation agreement, detailing their goals. They are matched to a mentor (a Simmons nursing graduate and/or faculty member) and meet with them weekly.
Poised for growth: Simmons is welcoming larger numbers of freshman ALANA and first-generation students to our nursing programs. To serve more participants and meet students' evolving needs, we plan to add more mentors, online resources for classroom and clinical education, and resources for administrative support and leadership.
Careers
Dotson scholars are working in every area of the nursing profession, and several are members of the Simmons faculty.
The power of mentoring, and community, at Simmons and beyond
In addition to helping Simmons students achieve their goals and thrive in their careers, the Dotson program is adding strength and diversity to the field of nursing, and supporting excellent health care for all patients and communities.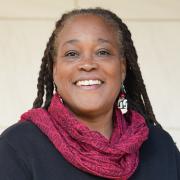 LaDonna Christian
Associate Professor of Practice of Nursing and Director of the Dotson Bridge Program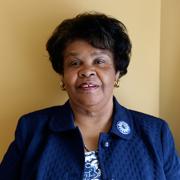 Gloria Cater
Associate Professor of Practice of Nursing