The Simmons Career Education Center (CEC) provides several different recruiting options to allow you to connect with Simmons students and alumnx.
Recruiting at Simmons
Posting Jobs, Internships & Events - Handshake
Handshake is the Simmons online job board, allowing employers to share internships, full-time and part-time jobs, career events, and other off-campus work opportunities with the entire Simmons community of students and alumnx. Employers receive applications directly from candidates, can send follow up messages, and update application statuses as the search progresses.
There is no cost for employers to post jobs for Simmons students and alumnx on Handshake
Visit Handshake and enter in your email address and desired password, then click Sign Up
Follow the prompts to set up your profile
Attend virtual Career Fairs, Information Sessions, and Events
Recommended Recruiting Cycle
To successfully recruit students, we have created a suggested recruiting cycle for you to connect with emerging talent every year.
Fall Recruit: Sept/Oct for Dec Graduates
Spring Recruit: Jan/Feb for May Graduates
Summer Recruit: March/April for Seasonal/Part-time Positions
Become a Partner
We are happy to work with you to offer both in-person and virtual recruitment opportunities. Complete our online form to indicate the volunteer opportunities that interest your company. Thanks for your time in advance, and we look forward to connecting!
Engage with our Students
Career Fairs & Events
Information Sessions
On-Campus Interviewing 
Sponsorship Opportunities
Custom Recruitment Needs
Top Undergraduate and Graduate Degrees at Simmons
| Undergraduate | Graduate |
| --- | --- |
| Nursing | Social Work |
| Exercise Science | Nursing |
| Biochemistry | Behavior Analysis |
| Social Work | Library and Information Science |
| Communication | Special Education: Moderate or Severe Disabilities |
| Public Health  | Physical Therapy |
External Employer Resources
Diversity, Equity, and Inclusion
Disabilities Resources
How much you should pay an intern?
Working with Student Organizations
We have 70 different student clubs and organizations that you can reach a targeted audience based on career interests, diversity initiatives, and/or other criteria.
Getting to Simmons
The CEC offices are located on the Simmons University academic campus (300 The Fenway) in the Center for Student Success in Lefavour Hall. Get information on directions and parking. Contact [email protected] to start a conversation about recruiting at Simmons!
Handshake
Log in today to explore career options, find jobs and internships, sign up for career events, and connect with employers.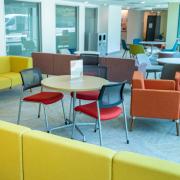 Career Education Center
Center for Student Success
(617) 521-2488

Monday - Friday, 8:30am to 4:30pm

Ground Floor, Lefavour Hall